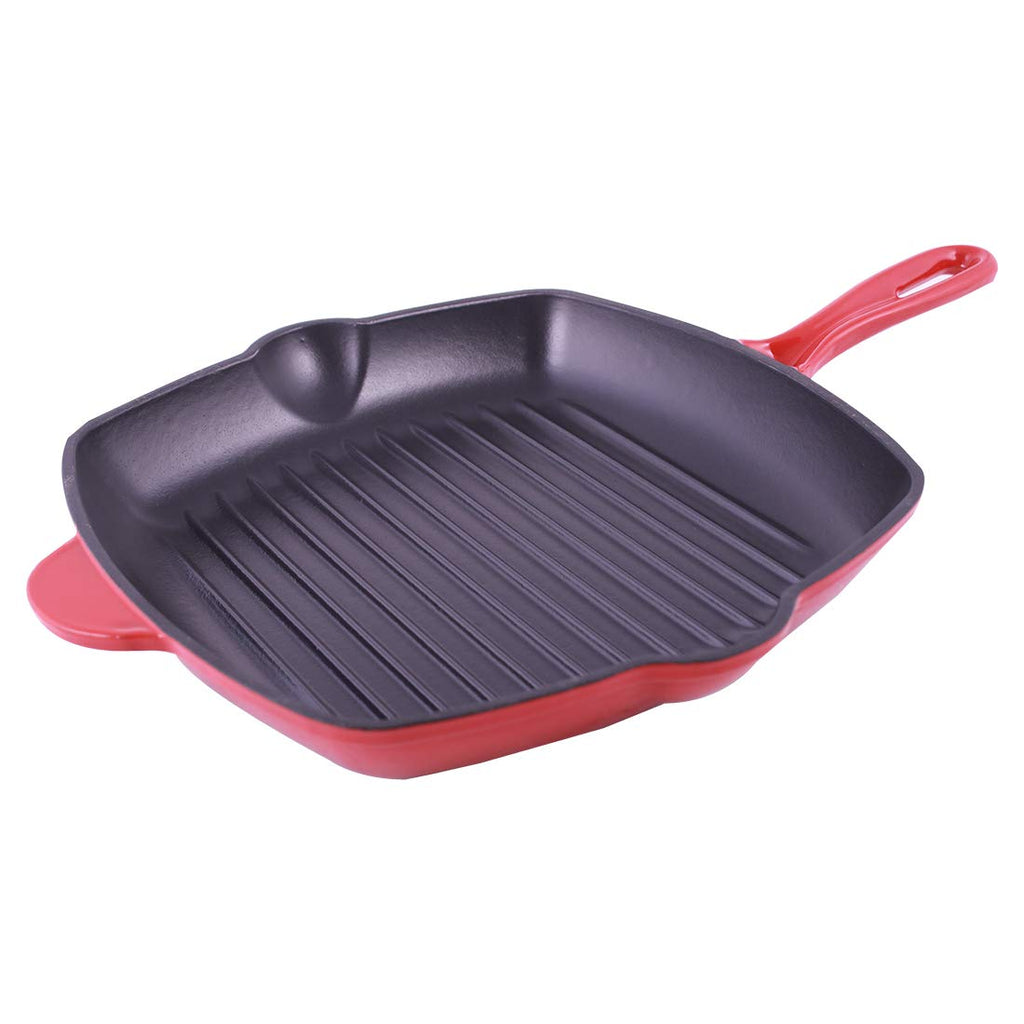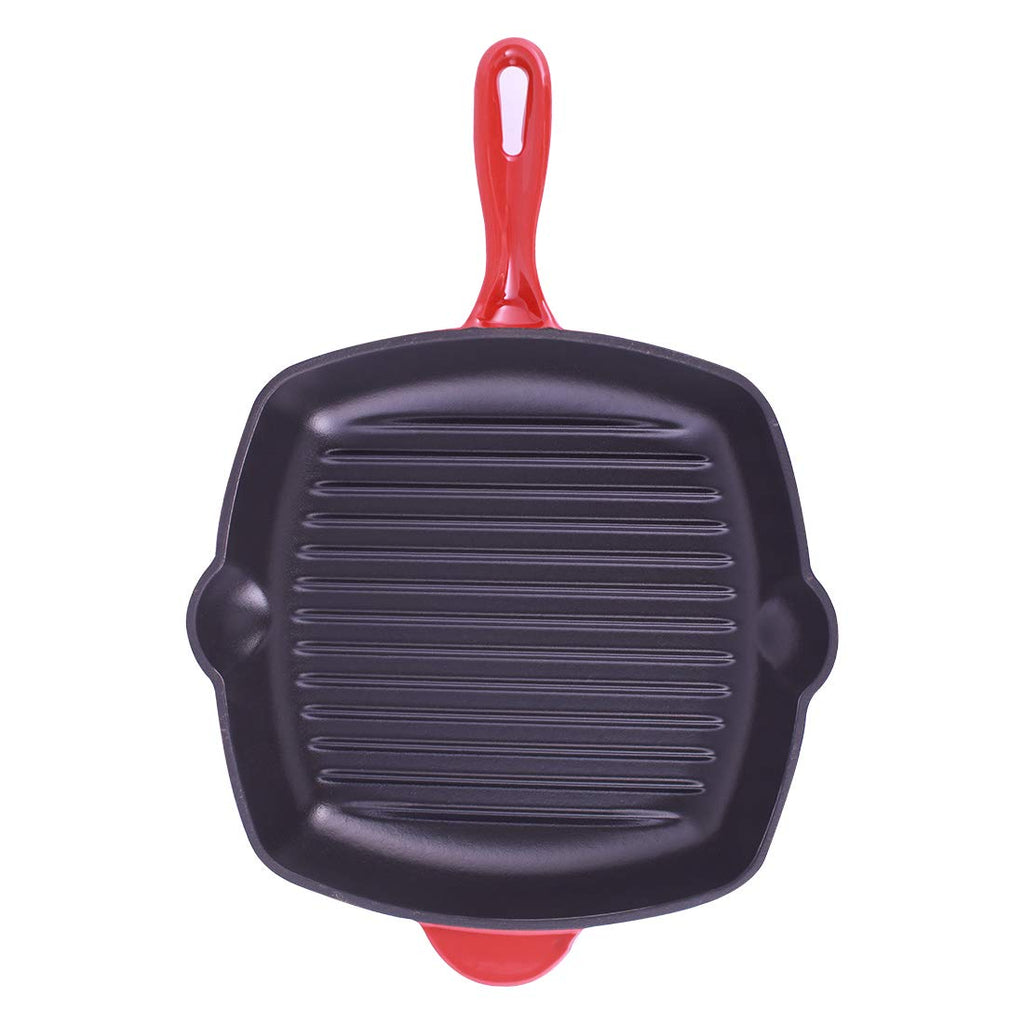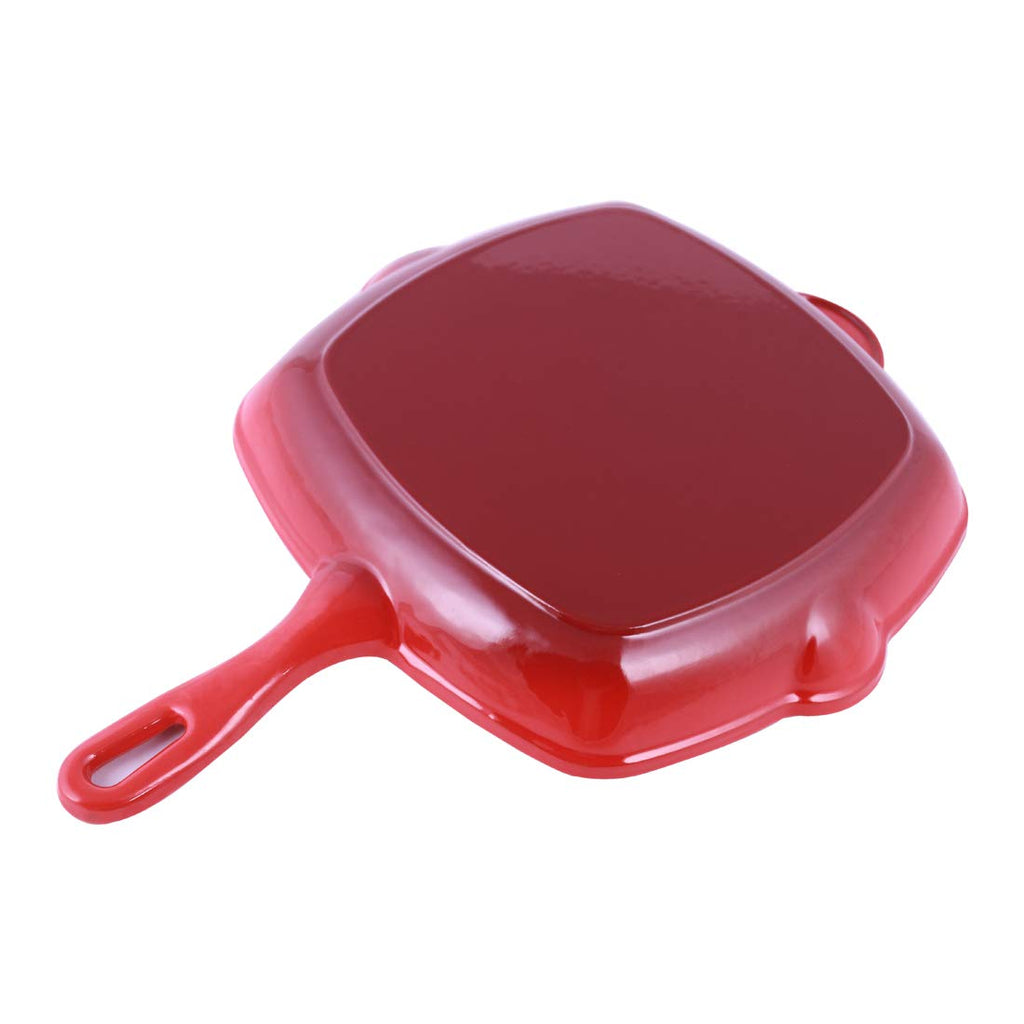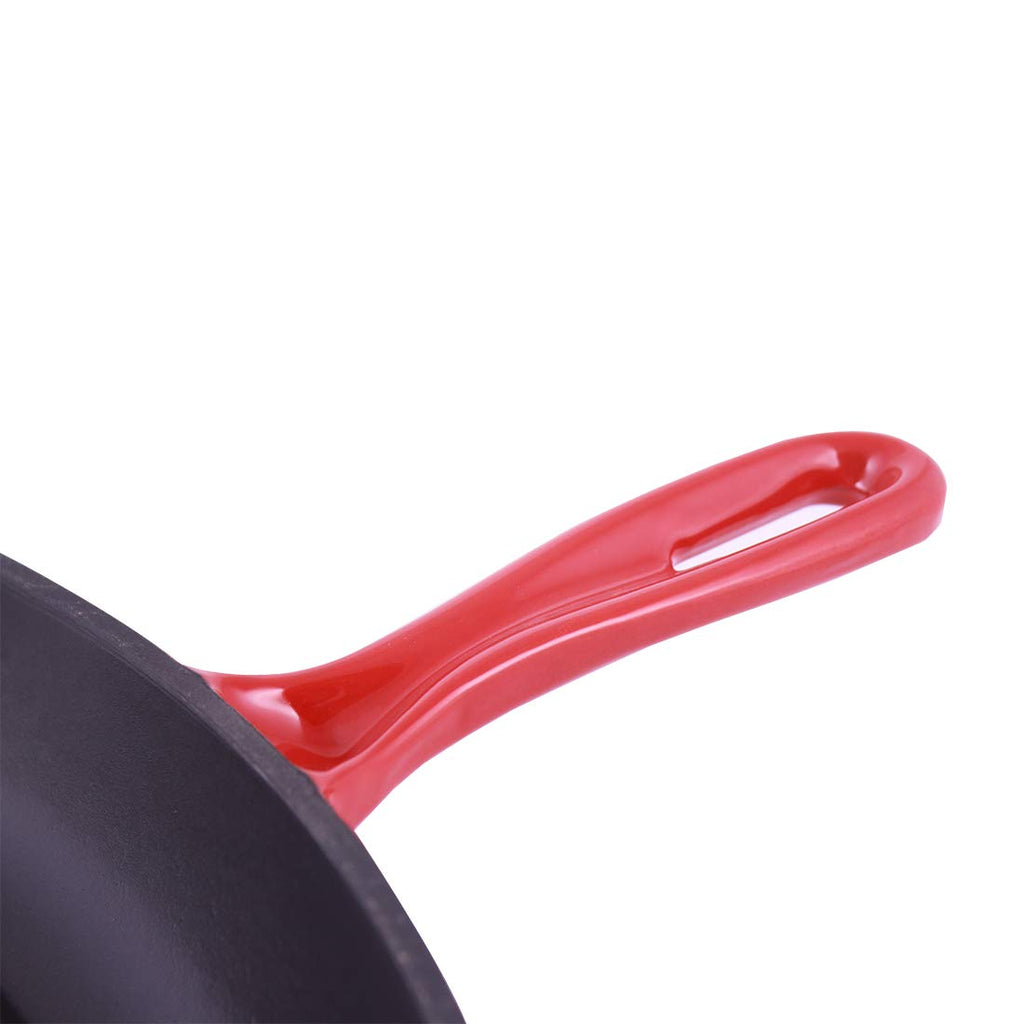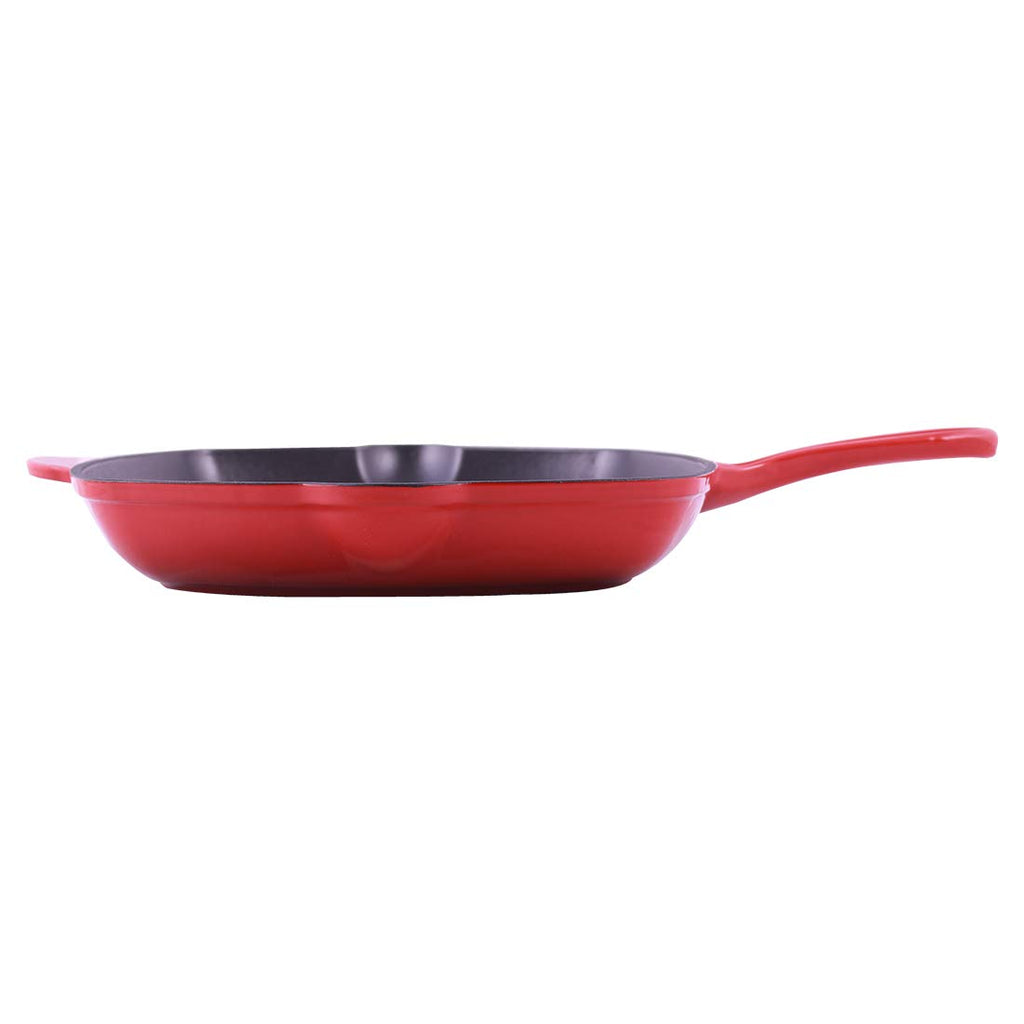 Ferro Cast-iron 29.5 cm Grill Pan, 2.6L, 4.5 mm, Majolica Red
MRP: ₹ 5,000/-
OFFER PRICE: ₹ 2,199/-
You Save

56%

(

₹ 2,801

)
(inclusive of all taxes)
customers are viewing this product
Designed for old-style slow-cooking.
Make tender, succulent dishes with these heavy pans.
Heavy cast-iron retains & transfers heat evenly for the best Kebabs, Grilled Vegetables, Paneer and Steaks.
The exterior enamel coating is rust, chip and cracks resistant. Vibrant color adds style to your kitchen.
Matte-black enamel interior & the textured surface last a really long me and provide great cooking experience.
The enamel coating is perfectly food-safe and healthy.
Oven, dishwasher, grill & freezer safe.
Gas and Induction-friendly.
Wonderchef products are inspired by Italian Design and adhere to German Quality Standards.
They are covered by Reliable Wonderchef Warranty. T&C apply
Enamel Coating
The Ferro cast-iron grill pan has an exterior enamel coating that is rust, chip and crack resistant. It is perfectly food-safe and healthy. The matte-black enamel interiors & the te & the textured surface improves cooking performance.
Suitable for all cooktops
With the Ferro cast-iron grill pan, you can make succulent dishes using the gas stove or even on induction. It is compatible with all cooktops & works perfectly well with both, giving with both, giving you the ultimate versatility
Easy Maintenance
This Ferro cast-iron grill pan offers hassle-free cleaning and maintenance as it is safe to use in the dishwasher. It can even be used in an Oven/grill. The inner & outer coating lasts forever & it needs little care
Great addition to the kitchen
The Ferro cast-iron grill pan makes an excellent choice for a first-time kitchen or any home cook looking for reliable, easy-to-use pieces. The stay-cool handles help keep hands a safe distan hands a safe distance from the heat and support comfortable lifting and carrying.
1. Virgin aluminium

It all begins with the right quality of base metal i.e. aluminium. Cold-rolled sheets, made from new, virgin aluminium are used to cut the disc that would go on to become a world-class pan. We never use re-processed metal since it is invariably mixed with certain impurities that cannot be completely extracted. This leads to chemical reactions when the pan is heated over fire. The gases produced as a result rise up and puncture the non-stick surface creating micro-holes. The coating begins to tear precisely from these holes.

2. Shaping on precision moulds

Forged:

Heavy machines up to 10,000 tons are used to give precise shape to your pans over highly designed moulds. The right shape is critical not only to give a great look but also provide stability & performance to the pans.

Die-cast:

Pans made form this technology acquire unique strength and heat retention properties. They never get deformed. The process entails pouring pure molten aluminium in finely cut steel moulds to give world-class cookware.

3. Sand-blasting

This is a very special process that Wonderchef uses to ensure that the non-stick coating stays on the pan for the longest time. Every pan is bombarded by millions of particles of a specialised compound creating the same effect that is achieved by using the sand paper on a wall before painting it. The surface not only is rid of unwanted oils but also becomes amenable to absorbing the layers of coating and ensuring it sticks properly. Only a few leading brands of the world invest in this process.

4. Multi-stage Cleaning

Every pan is subjected to a 5-step cleaning process with repeated high pressure blasts of hot water, acids and hot air. The pan comes out of this process bathed and cleaned, very ready for the next step of applying coatings. This is extremely important since any oil or impurity or dust particle remaining on the pan will lead to the coating tearing off from there.

5. Non-stick Coating

This is the most sensitive step of the entire process. Smooth, even coating is critical for good performance. This is controlled precisely via automated machines to ensure that every part of the pan is evenly coated. The first layer of coating is the Primer. The primer holds the surface of the pan and forms the base of the final non-stick coating. 2-3 layers of non-stick coating are now applied over it. The beautiful colours that you find in our pans are applied at this stage. At times, further sprays are done to give the beautiful marble and stone finish to the pans.

6. Baking

This is perhaps the most essential step in the making of the pan which lesser brands often tend to ignore. Wonderchef uses a 120 foot long oven, precision-maintained at precisely 350 degree centigrade. This gives the coating enough time to get baked and stick to the surface. No wonder, Wonderchef pans perform better, have better release properties and their coating lasts longer.

7. Finishing

The pans are now given the final touch with beautiful outer coating, second round of baking, fixing of handles and safety packaging in designer gift boxes.

Quality Control: Pans from every batch are subjected to rigorous testing for quality. Our abrasion tests ensure that the coating should last through at least 5000 cycles. Handles are tested to carry load over 5 years of use.

Certifications and Standards of Wonderchef pans

- LFGB Certified

- Abrasion resistant up to 5000 cycles for META TUFF & 10000 cycles for META TUFF PRO

- PFOA, PFOS, PAH free

- Better food release properties

- Specific Migration of chromium and heavy metals well within limits

- Specific Migration of primary aromatic amines well within limits

- Passed analytical tolerance of aqueous & fatty food stimulants

- Sensorial examination - odor & taste well within limits

All parameters In accordance with German Food, Articles of Daily Use and Feed Code of September 1, 2005(LFGB), Section 30 and 31 with amendments, European Commission Regulation(EU)No. 10/2011 with amendments and BFR recommendations.
A Must-Have for Healthy Cooking
With the Wonderchef Ferro Cast Iron Grill Pan, I can enjoy delicious grilled dishes without worrying about excess oil. The pan's ridges drain away fat, making my meals healthier and tastier.
Excellent Grill Pan for Perfectly Grilled Delights
This Wonderchef Ferro Cast Iron Grill Pan is amazing! It ensures even heat distribution, giving my food those perfect grill marks. Plus, its non-stick coating makes cleaning a breeze.
Durable and Stylish Addition to my Kitchen
I love the Majolica Red color of this Wonderchef Ferro Cast Iron Grill Pan. It not only adds a vibrant touch to my kitchen but also delivers exceptional durability, ensuring long-lasting use.
Buy it!
I was waiting to buy this pan from a very long time! Got it on lightning deal! I really love it! The pan is heavy and super super good! This one is must have for all people who love slow cooker food grilled to perfection
Value for money
It's easy to clean and suitable for all cookwares. It's crack resistant coating is awesome. It's light weighed too. Try it.
Satiesfied with product🥰🥰🥰
Amazing quality and personally liked this product little bit heavy but very useful to grill in home itself Back and front color also nice and worth to buy
Versatile Pan for Cooking Variety
This grill pan from Wonderchef is my go-to for versatile cooking. From juicy steaks to flavorful vegetables, it handles everything with ease, thanks to its large size and even heating.
Grilling Made Effortless
The Wonderchef Ferro Cast Iron Grill Pan has made grilling a breeze. Its ergonomic handle provides a comfortable grip, and the pan's heat retention helps me achieve consistent results every time.
Reliable Warranty

Complete peace of mind

Customer Service

1860 266 0788

Fastest Delivery

Free shipping above ₹799