Teramo Medium Handi Blue 1 Pc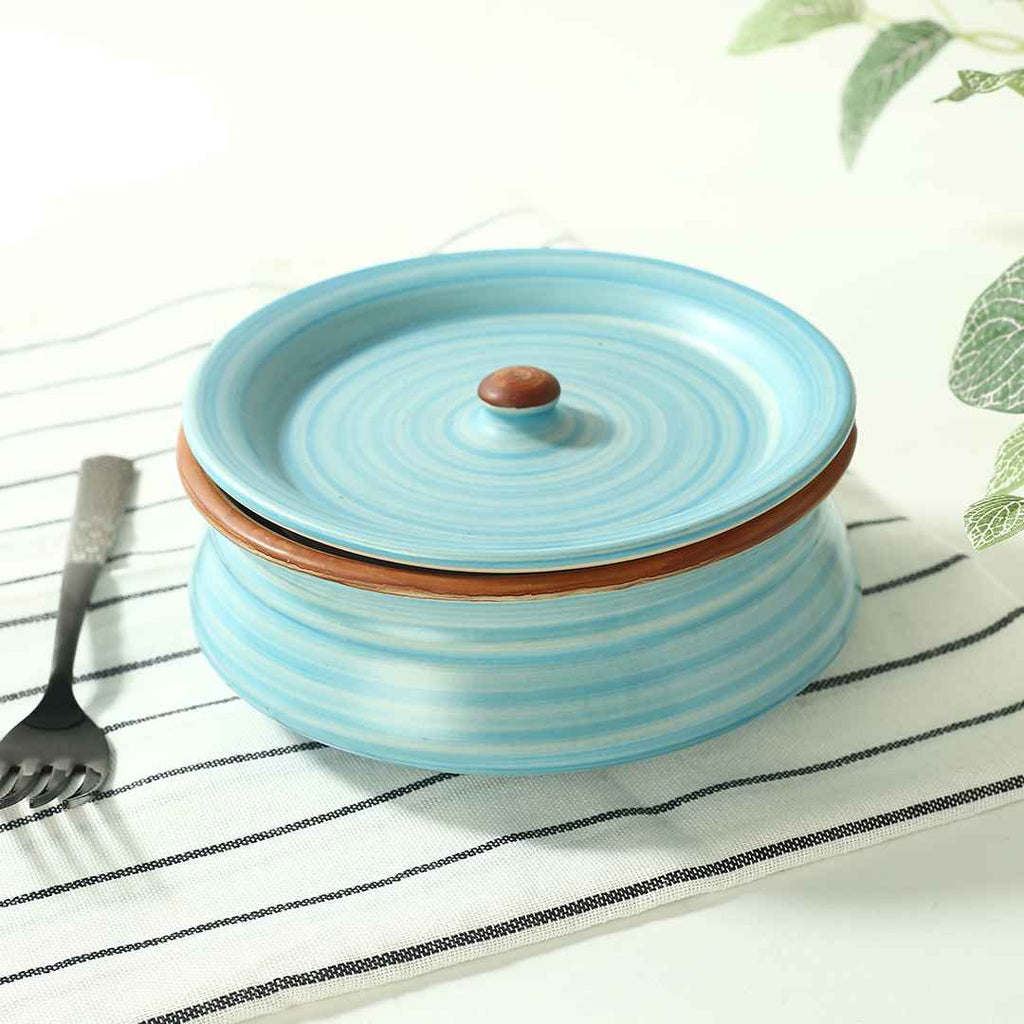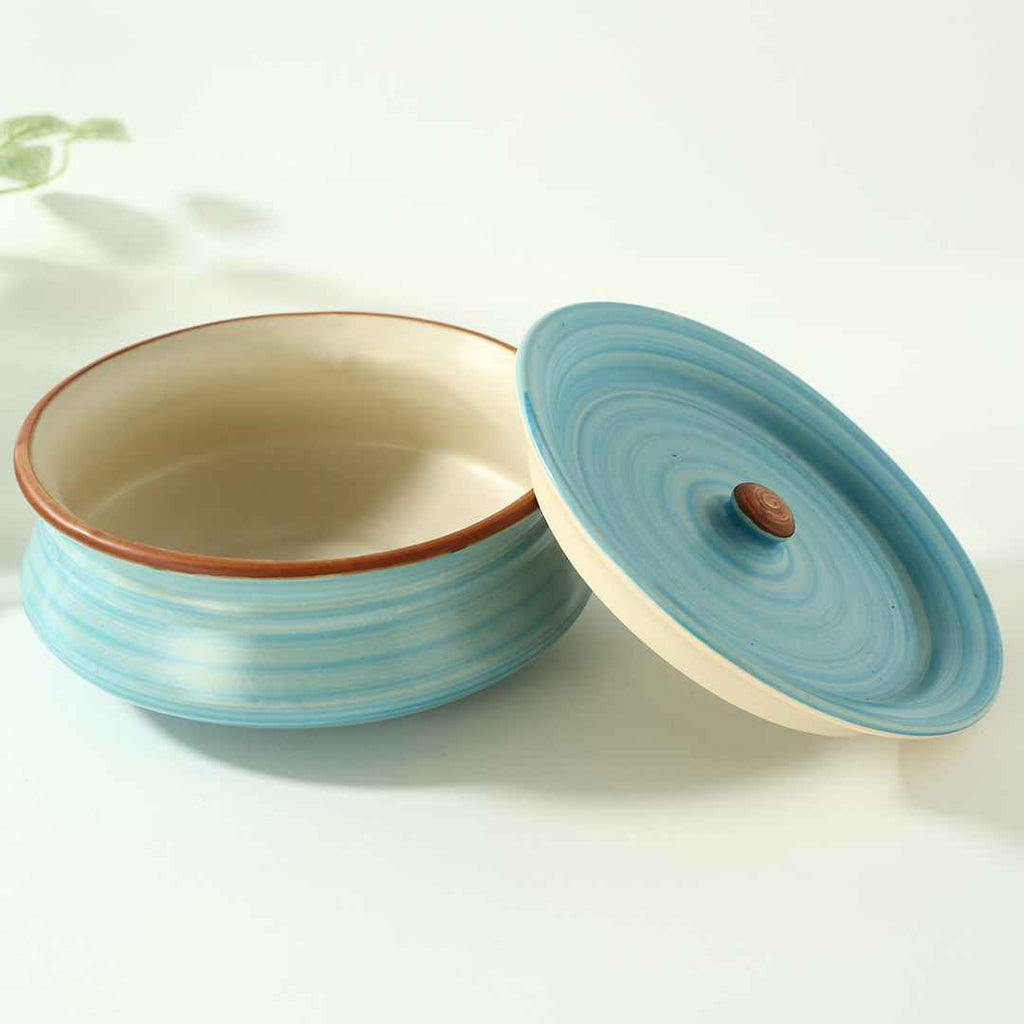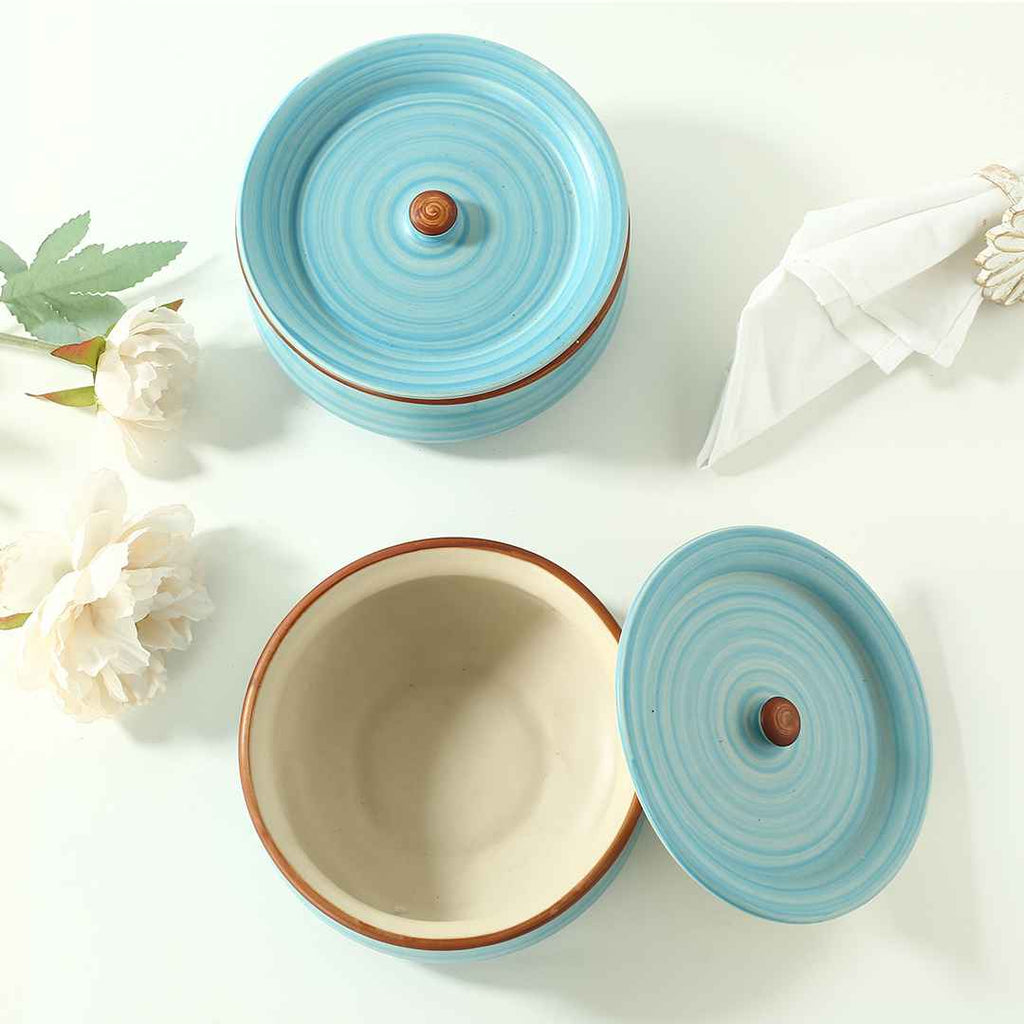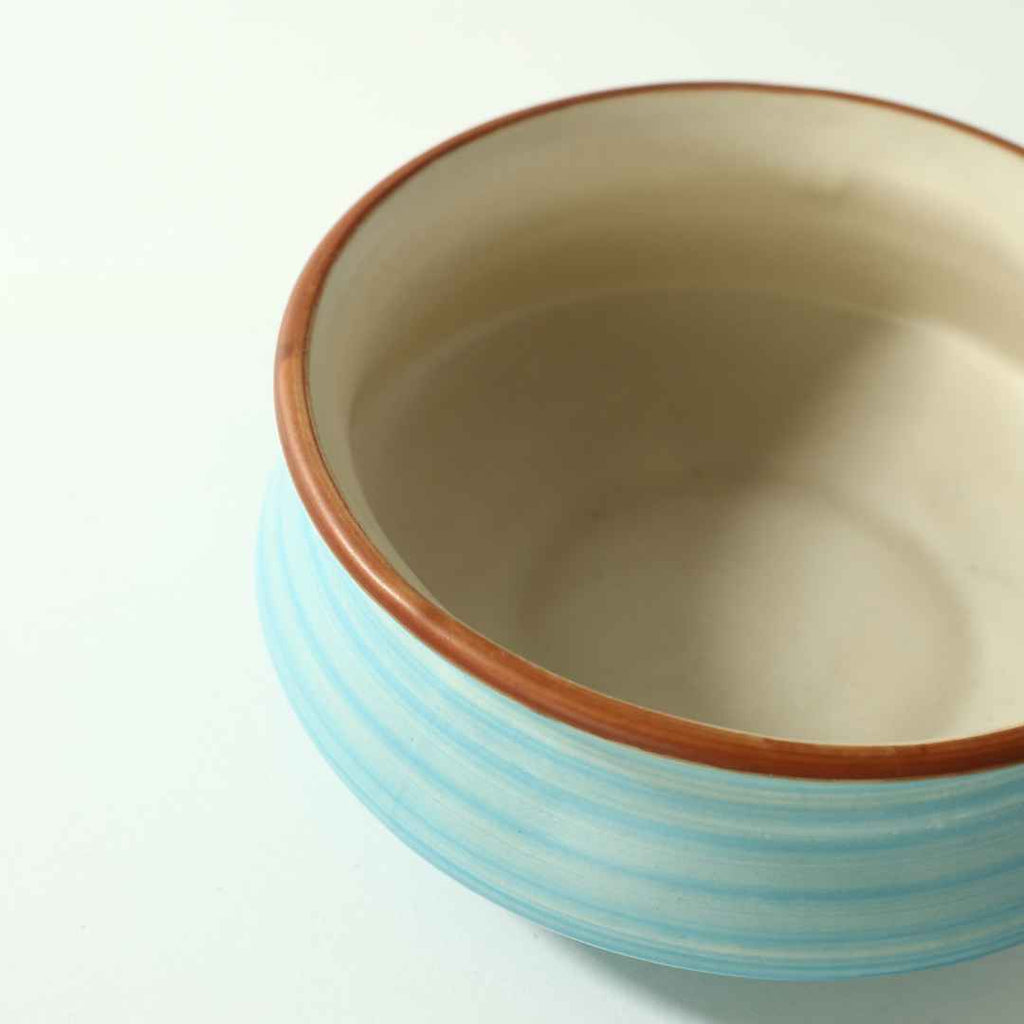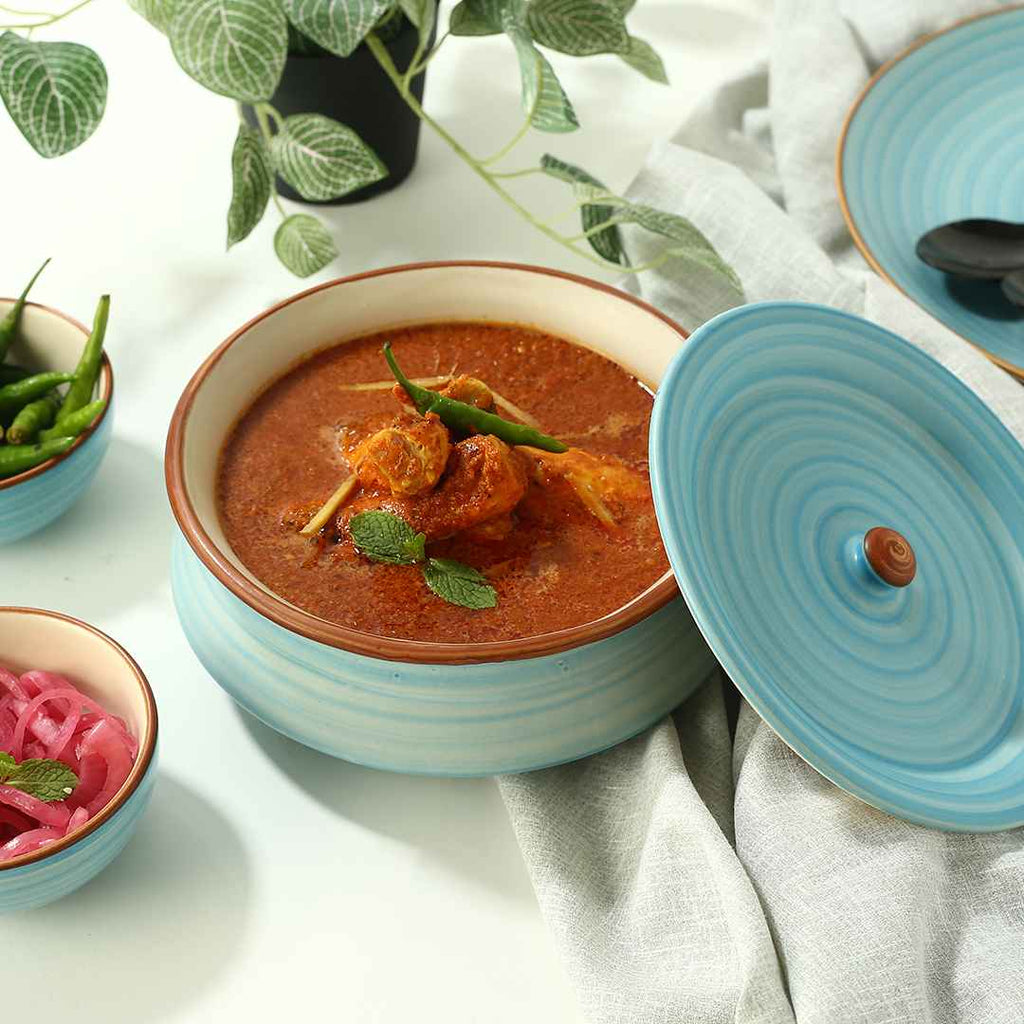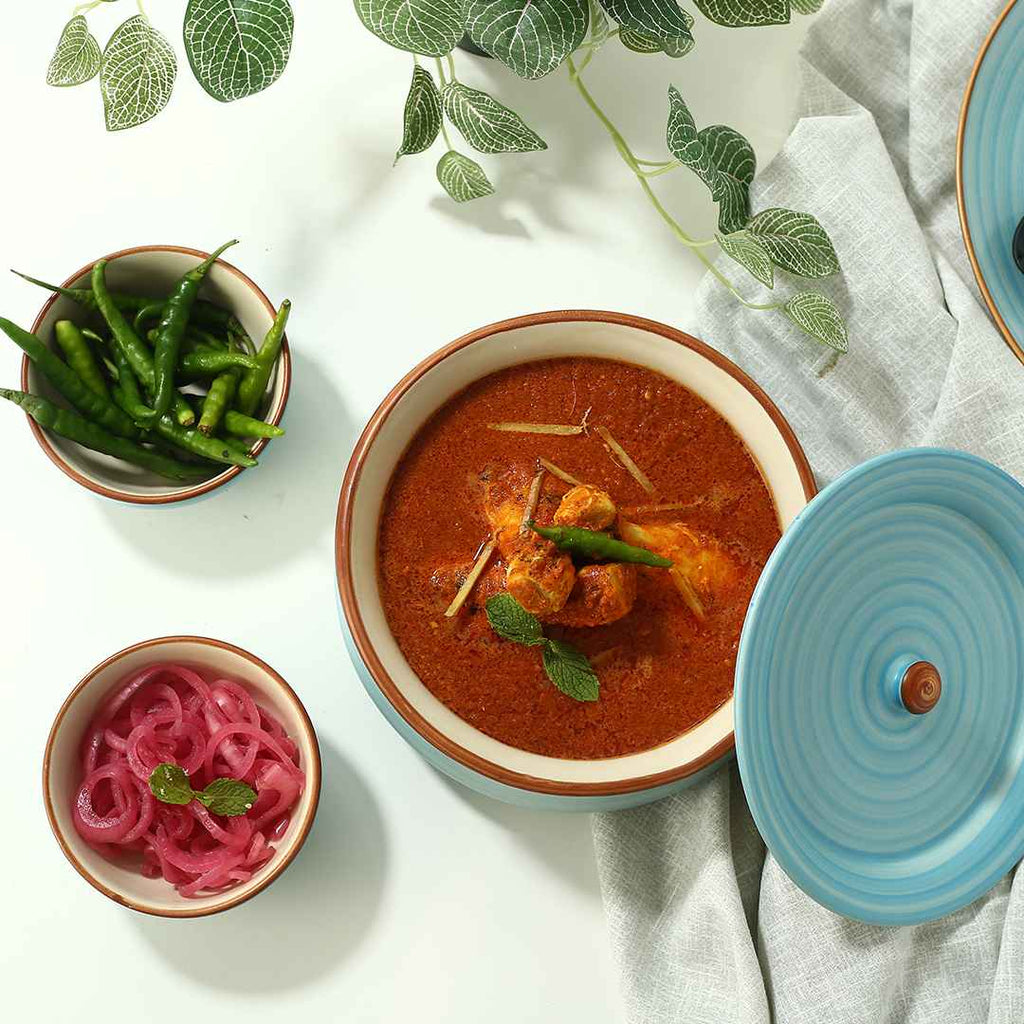 Teramo Medium Handi Blue 1 Pc
About The Product
Serve your richly flavoured curry or an aromatic biryani in the blue handi from Teramo collection and get ready for compliments!

Some differences or irregularities in colour , shape or glaze are to be expected as these products are hand made .These will not be considered as manufacturing defects.

Let us travel to the scenic Roman city of Teramo, that blossomed along the hills of Apennine mountains. Inspired by the beautiful color palette of the earth tones merging in the sky, we present to you our, Teramo Collection!
Wonderchef is here to style your home with this elegant collection and add a contemporary twist to your dining experience.
Wonderchef Teramo Stoneware is crafted with highest quality clay, free from chemicals or heavy metals.
It is ideal for serving all kinds of hot or cold dishes.
The products are designed by our artisans and hand-made with love and care on the potter's wheel.
They are then baked at 1,260°C temperature to lend them strength and durability.
The products are double glazed to ensures they do not get scratched easily.
A Teramo product is a reflection of your fine taste and adds value to your dinner table.
Use it every day with family and also to serve guests proudly.
Care Instructions:
Wash and Care
1. Our products can be used safely in Microwave Oven, Conventional Ovens, and Freezers.
2. Due to our double glazing process, the products are stain-resistant gets easily cleaned with soap and can also be used in a dishwasher.
3. Handle these timeless creations with care and they will last a lifetime!

Brand: Wonderchef
No. of pieces: 1
Colour: Blue
Material: Stoneware
Country of origin: India
Package Dimensions (inches): 7.35 x 7.35 x 3.62
Net Weight (gms): 1060
Capacity: 850 ml
Package content:
Manufacturer Name: Chhabra Industries

Manufacturer Address: Chhabra Industries, Mundakhera Crossing, G.T. Road, KHURJA-203131 (U.P.)
Stylish and Functional
I love the vibrant blue color of this Teramo Medium Handi, which adds a touch of elegance to my kitchen. Its compact size is perfect for preparing meals for a small family, and the heat-resistant handle provides a comfortable grip while cooking.
Versatile and Convenient
The Teramo Medium Handi is incredibly versatile - I can use it to cook a wide range of dishes, from curries to biryanis. The transparent lid allows me to monitor the cooking progress, and the handi's compact design fits perfectly in my kitchen cabinet.
Excellent Cooking Companion
This Teramo Medium Handi has become my favorite cookware. Its non-stick surface ensures effortless cooking and cleaning, while the durable construction evenly distributes heat for perfect dishes every time.
Time-Saving Kitchen Essential
This Teramo Medium Handi's quick and even heat distribution helps me save time in the kitchen. The non-stick coating ensures food doesn't stick, making cleaning up a breeze, and the sturdy build of the handi ensures its long-lasting performance.
Healthy Cooking Made Easy
I appreciate the Teramo Medium Handi's non-toxic, PFOA-free coating that promotes healthy cooking. It requires less oil to achieve excellent results, and the handi's compact size is ideal for cooking nutritious meals for my family without excessive portions.
Reliable Warranty

Complete peace of mind

Customer Service

1860 266 0788

Fastest Delivery

Free shipping above ₹799