Prato Plus 3 in 1 Grill Sandwich, Grill & Waffle Maker, 900W, 1 Year Warranty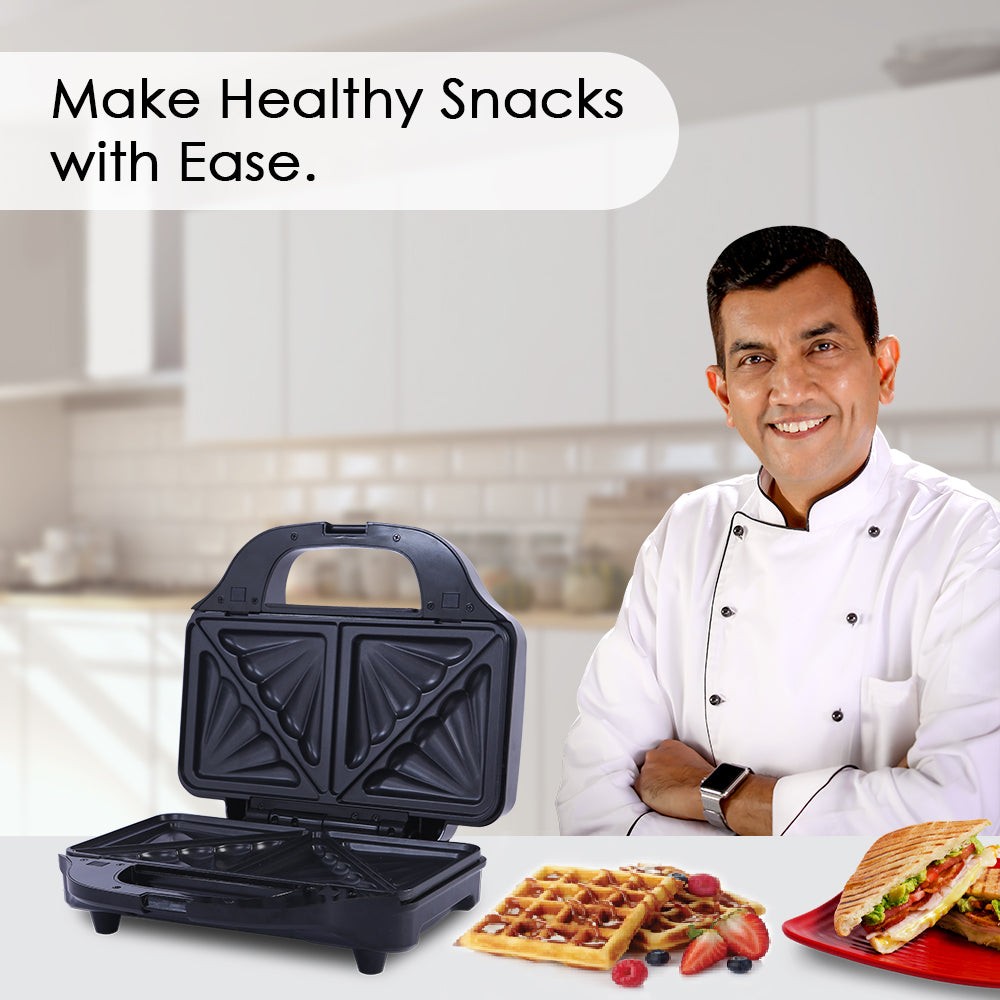 Prato Plus 3 in 1 Grill Sandwich, Grill & Waffle Maker, 900W, 1 Year Warranty
About The Product
Get ready for triple the treats with Prato Plus 3 in 1. Now make restaurant like puffy waffles, crispy sandwiches, grill kebabs and more at convenience of home. Enjoy easy, healthy and tasty treats any time, all day.
VERSATILE 3 IN 1 SANDWICH MAKER: Designed to cater to all your breakfast needs; this multi-purpose machine features three detachable plates for sandwiches, grilling, and waffles.
INTERCHANGEABLE PLATES: Effortlessly switch between the 3 interchangeable plates to cook grilled kebabs, healthy sandwiches, or delectable waffles.
RAPID COOKING TECHNOLOGY: The sandwich maker operates at 750 watts, ensuring faster heating and cooking. It also features a thermostat for heat control and auto-switch off technology for added safety and reliability.
NON-STICK DIE CAST PLATE: The high-quality non-stick die-cast aluminium plate ensures easy food release and hassle-free cleaning. Enjoy healthier cooking with less oil and butter, and spend more time enjoying your delicious creations
COOL TOUCH HANDLES:  With cool-touch handles, the sandwich maker ensures safe handling during and after cooking. The thermostat control automatically cuts off the power when cooking is complete, guaranteeing perfectly cooked food every time.
IDEAL FOR FAMILIES: Serve quick and delicious breakfasts to your entire family in no time. The innovative Prato Plus 3 in 1 sandwich maker allows you to satisfy everyone's cravings with its versatile cooking capabilities.
SAFETY FEATURES: Designed with safety in mind; heat-resistant stainless steel case, lid with closure, anti-slip feet, and heat-proof handle ensure proper safety
1-YEAR ON-SITE WARRANTY: Peace of mind with a reliable Wonderchef warranty with the best after-sales service provided at your home in over 20,000 pin codes across India.
ITALIAN DESIGN, GERMAN QUALITY: Wonderchef products are inspired by Italian Design and adhere.
Brand: Wonderchef
Coating Type: Non-stick
Warranty: 1 year
Additional Details :
Package Contents:
Prato Sandwich Maker - 1 Pc
2 Slice sandwich plate - 2N
Grill plate - 2N
Waffle plate - 2N
Packing Size (LBH in cm):
Manufacturer Name: Imported by Wonderchef Home Appliances Pvt Limited


Compact Design with Powerful Performance
The Prato Plus grill sandwich maker is compact and takes up minimal space on my countertop, yet it delivers impressive results. The non-stick plates are easy to clean, and the cool-touch handle ensures safety while handling hot sandwiches and waffles.
Versatile and Efficient Kitchen Companion
This 3-in-1 grill sandwich, grill, and waffle maker from Wonderchef is a game-changer. With its 900W power, it quickly heats up and evenly cooks my sandwiches, grills, and waffles, making breakfast and snack times hassle-free.
Deliciously Crispy Waffles Every Time
Thanks to the Prato Plus waffle maker, I can enjoy perfectly golden and crispy waffles without any effort. Its indicator lights and adjustable temperature control make it super easy to achieve the desired level of crispness, giving me delightful waffles every time.
Prato Plus 3 in 1 Grill Sandwich, Grill & Waffle Maker, 900W, 1 Year Warranty
Quick and Convenient Grilling Solution
This grill sandwich maker is a time-saver in the kitchen. Its fast heating feature and efficient cooking surface allow me to prepare delicious grilled sandwiches in just a few minutes. It's the perfect solution for a quick and satisfying meal.
Reliable and Durable Kitchen Essential
Wonderchef's Prato Plus grill sandwich maker is built to last. The sturdy construction and 1-year warranty give me confidence in its durability. It has become an indispensable part of my kitchen, delivering consistent performance and delightful meals every day.
Reliable Warranty

Complete peace of mind

Customer Service

1860 266 0788

Fastest Delivery

Free shipping above ₹799