Platinum String Chopper with 3 Sharp Stainless Steel Blade 450 ml, Anti Slip Silicone, Compact, White and Red, 1 Year Warranty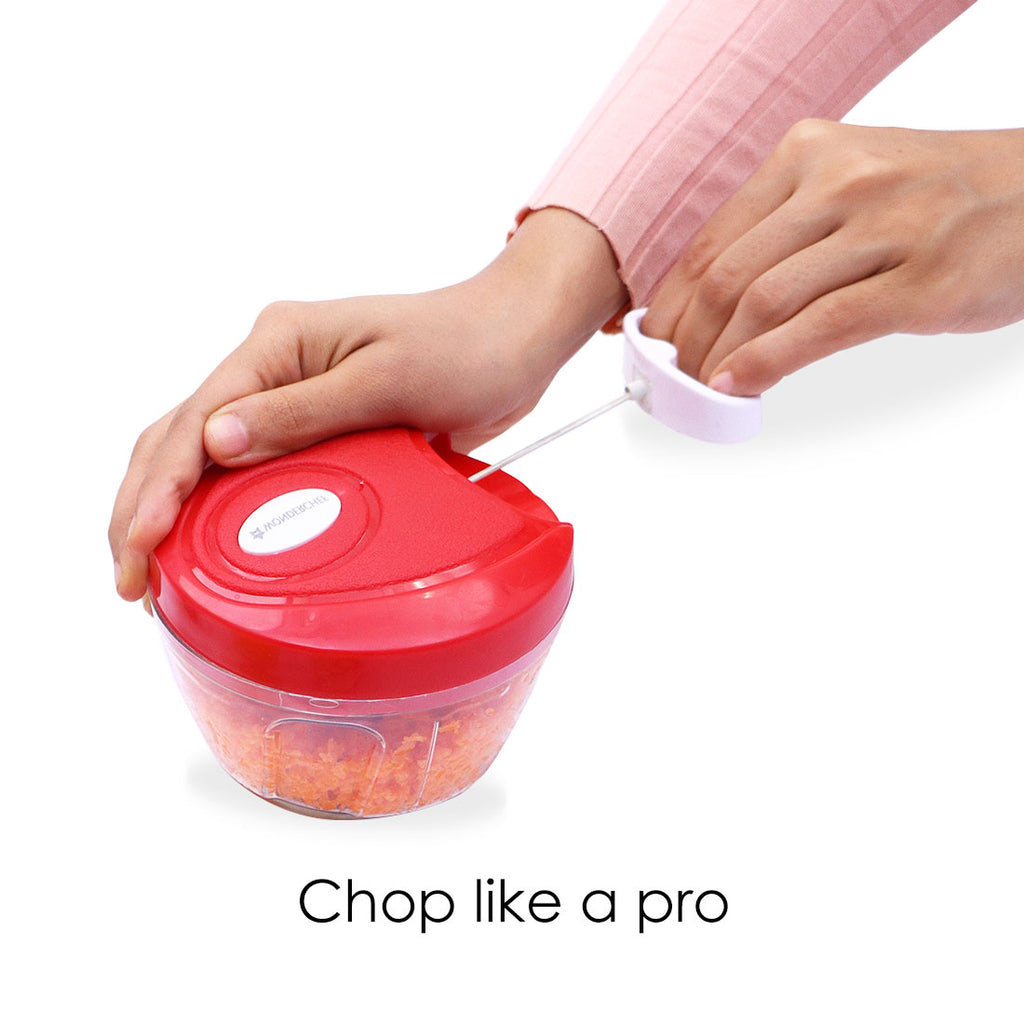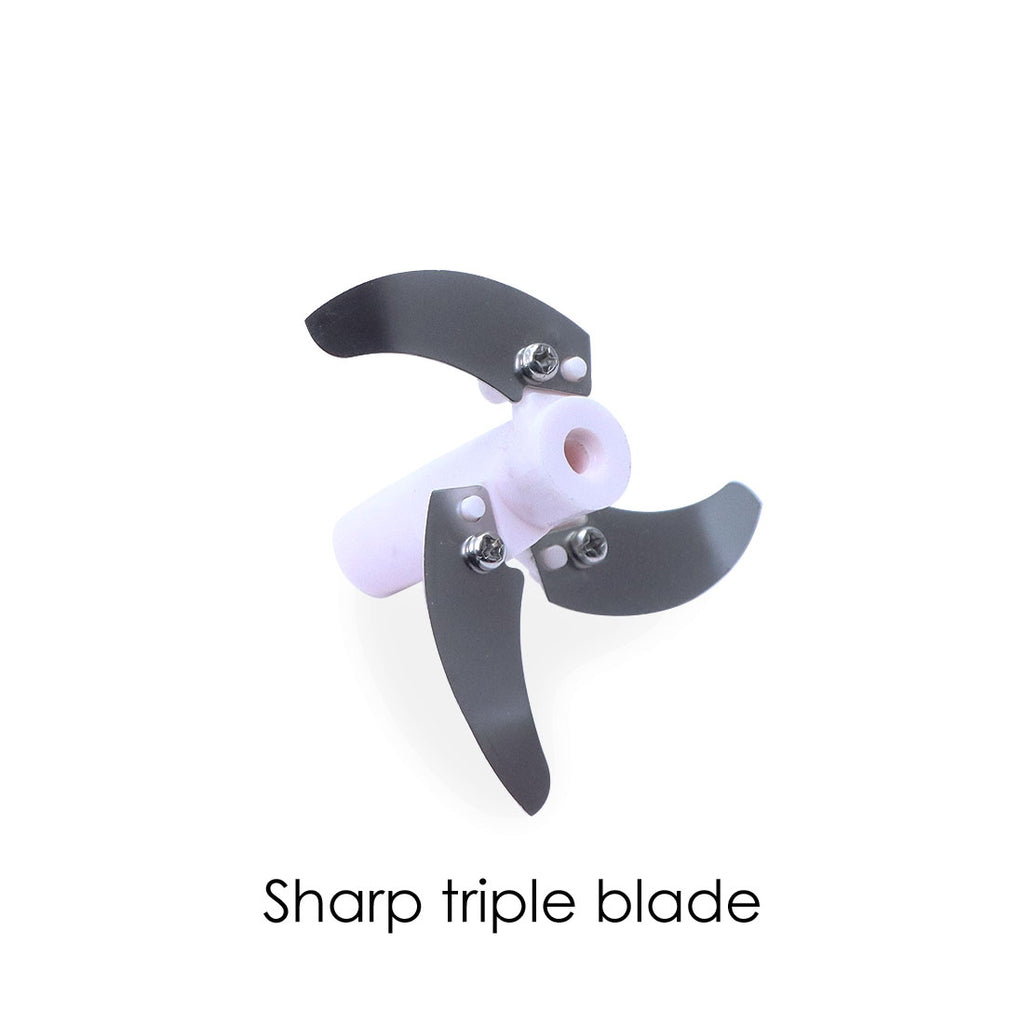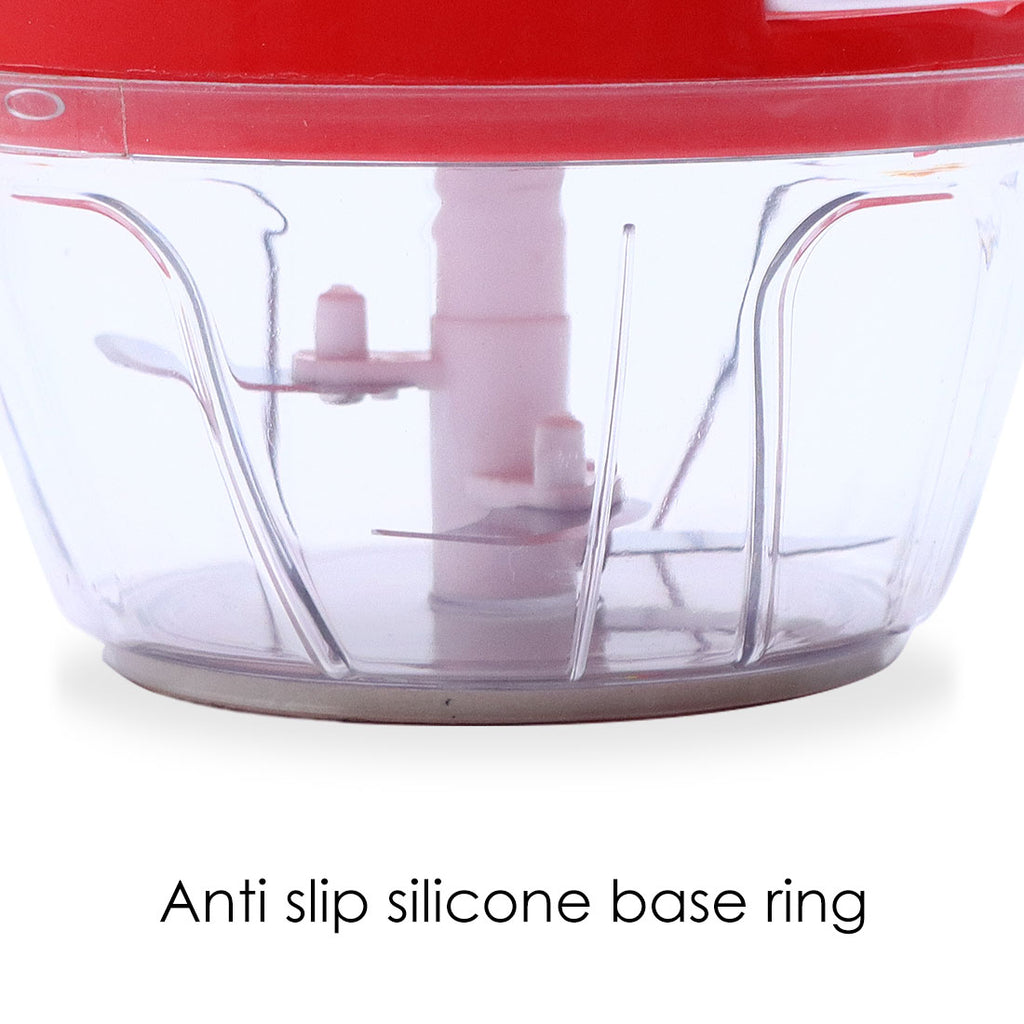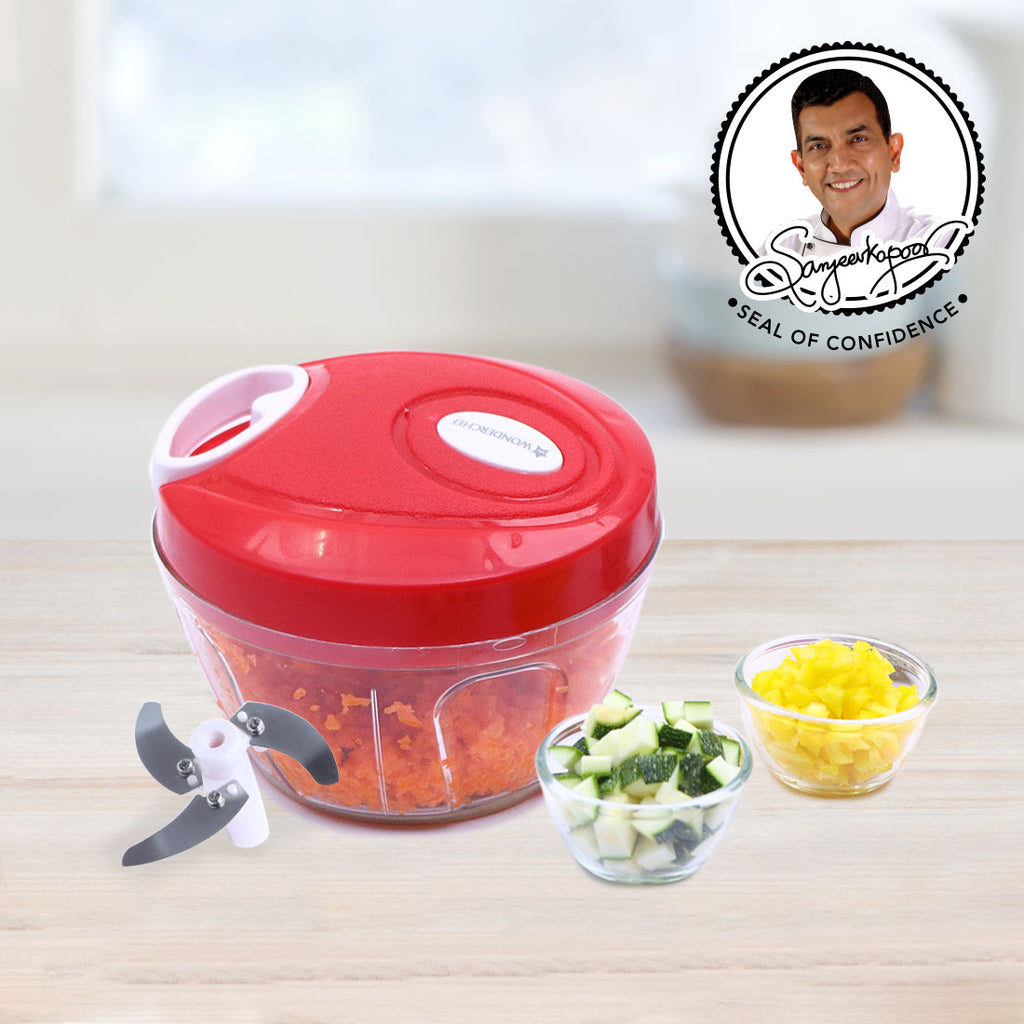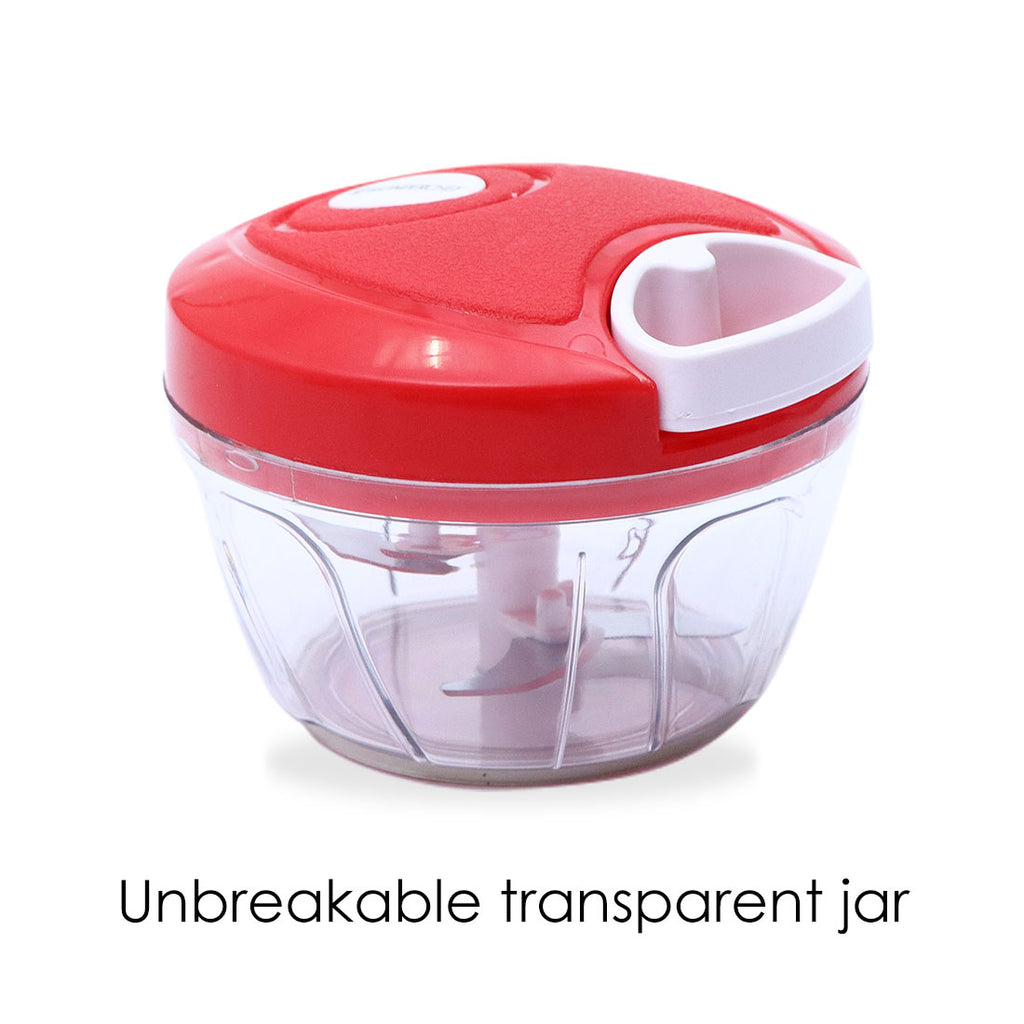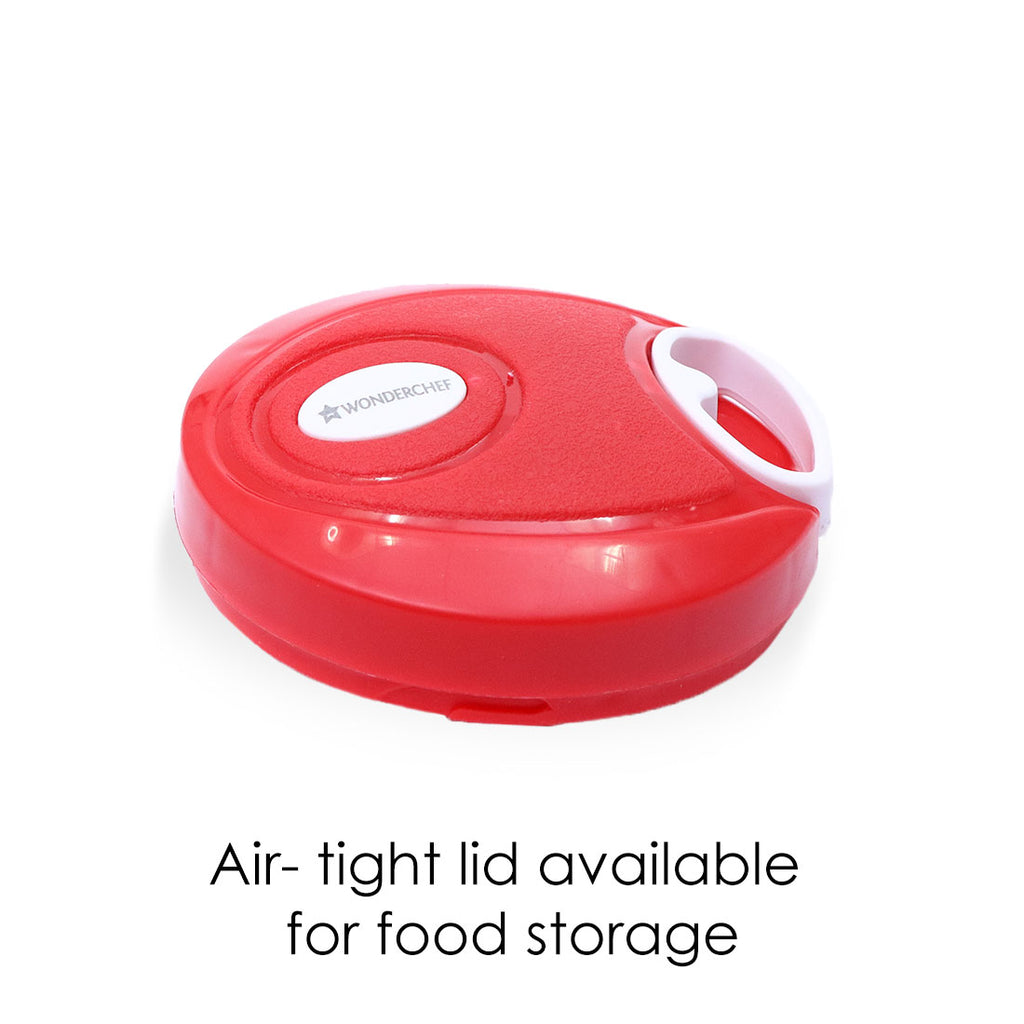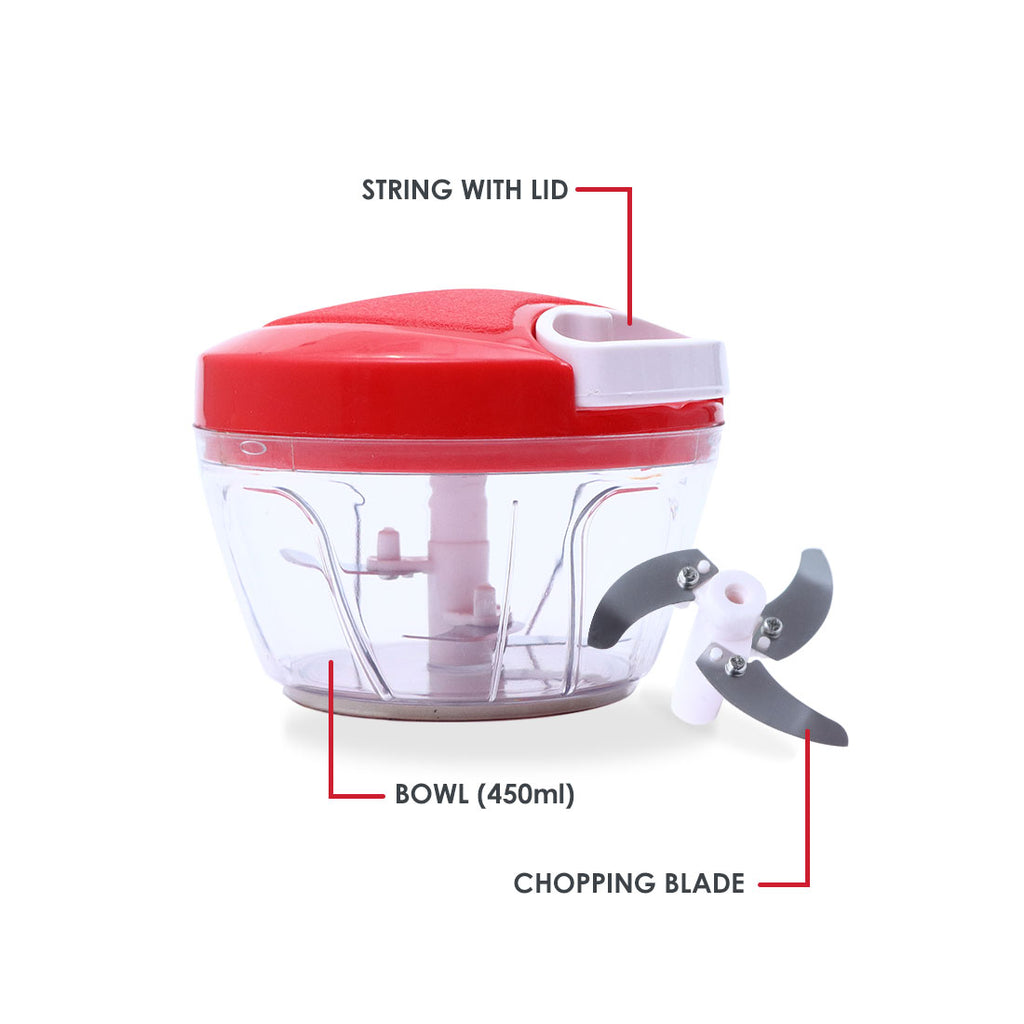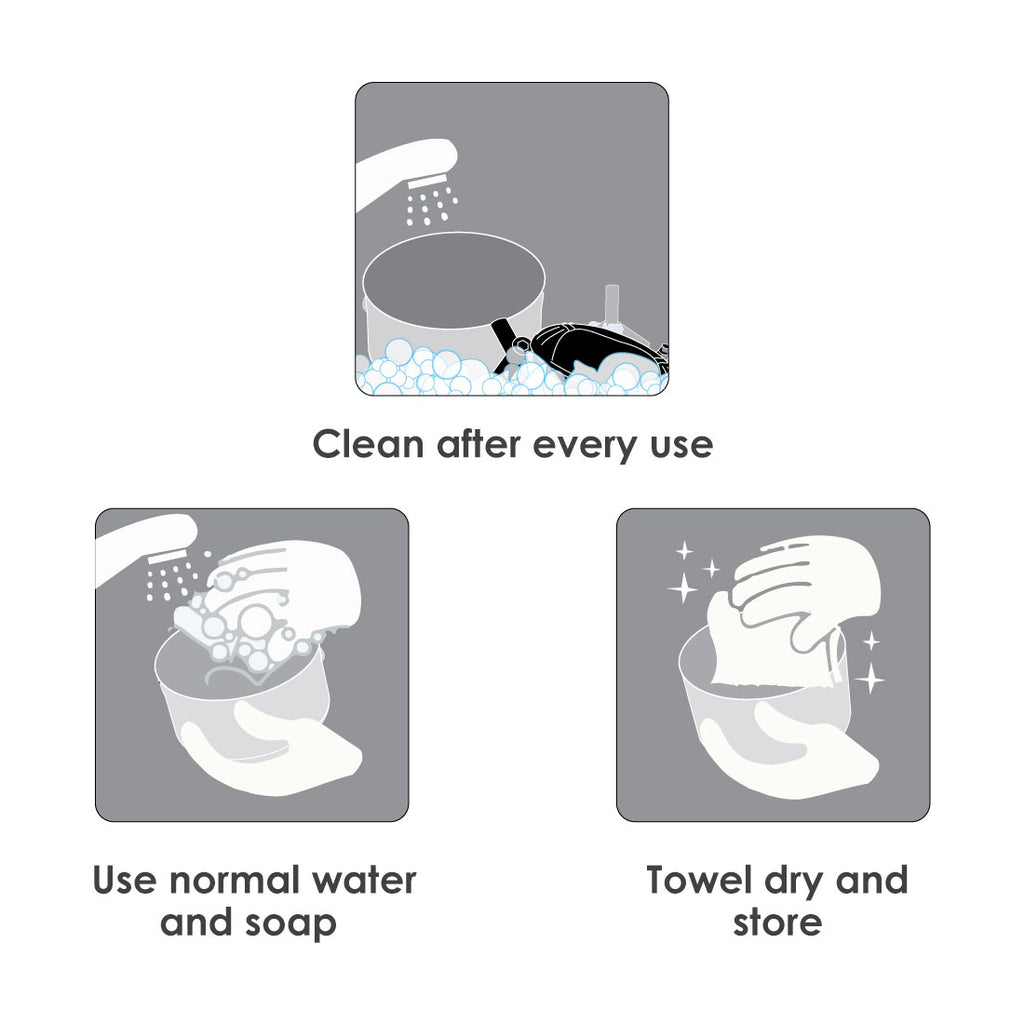 Platinum String Chopper with 3 Sharp Stainless Steel Blade 450 ml, Anti Slip Silicone, Compact, White and Red, 1 Year Warranty
About The Product
The most painful or boring task of making a meal in the kitchen is the prep for it! Especially when the prep is about chopping veggies that go in the curry. But now bid farewell to long and difficult prep time, thanks to Wonderchef Platinum String Chopper. This prep tool cuts vegetables and fruits with help of a simple string pull. Allows one to control the size of chopping by controlling the strings. The 3 super shade stainless steel blades make the job faster!
SHARP BLADES: The Platinum String Chopper from Wonderchef comes with 3 sharp cutting blades made of stainless steel which are anti rust. These 3 blades are placed in different directions and levels inside the chopper to cover the entire height of the jar and ensure fine chopping
TRANSPARENT JAR: The chopper comes with a transparent jar of 450ml, thus making it easy and convenient for the user to check the size of the vegetables inside while they are being chopped
EFFICIENT STRING MECHANISM: Our vegetable chopper features a unique string mechanism that effortlessly chops vegetables with just a few pulls. The sharp blades swiftly cut through even the toughest vegetables, saving you time and effort in the kitchen.
VERSATILE CUTTING OPTIONS: The chopper offers versatile cutting options, allowing you to control the size of the vegetables by controlling the number of pulls.
SILICONE-SUPPORTED BASE: Platinum String Chopper comes with a silicone ring at the base which provides a firm hold when kept on the table/kitchen platform, thus making it easier to use by holding the chopper with one hand and pulling the string with the other.
MULTI-UTILITY CHOPPER: This vegetable chopper comes with a special whisking attachment which enables whisking of eggs to make your fluffy omelettes. Get freshly homemade cream or yogurt with the help of this special attachment
SAFETY FEATURES: Our vegetable chopper is designed with safety in mind. It features a secure locking mechanism that keeps the blades in place during operation, minimizing the risk of accidents or injuries. The non-slip base provides stability, preventing the chopper from sliding during use.
COMPACT AND SPACE-SAVING DESIGN: The chopper's compact design makes it easy to store in your kitchen drawer or cabinet. It takes up minimal space, allowing you to keep your countertop clutter-free.
EASY TO USE AND CLEAN: Using the chopper is a breeze. Simply place the vegetables in the container, secure the lid, and pull the string for quick and efficient chopping. The parts are detachable, making it easy to clean the blades, container, and lid.
1 Year WARRANTY: Peace of mind with a 1 year reliable Wonderchef warranty with the best after-sales service in over 20,000 pin codes across India.
Capacity: 450 ml
Manufacturer Name: Maher Appliances Llp
Manufacturer Address: Vibhag B-3 Opp. Kangshiyali, chokdi near Kothariya, Solvent, NH 27, Gondal Road, Rajkot, 360022, Gujrat
Versatile and Multi-functional
This string chopper is not just for chopping vegetables; it's also great for mincing herbs and grinding nuts. Its multiple functions make it a versatile tool that simplifies my cooking process.
Efficient and Easy to Use
This Platinum String Chopper from Wonderchef makes chopping vegetables a breeze. Its sharp stainless steel blades cut through veggies with ease, saving me time and effort in the kitchen.
Compact and Space-saving
I love how compact this string chopper is, taking up minimal space in my kitchen. Despite its small size, it delivers powerful performance, making it perfect for small kitchens like mine.
Very nice products
Liked the products. Enjoyed using them . They make task easy
Easy to Clean and Maintain
Cleaning this string chopper is a breeze. Its detachable parts are dishwasher-safe, and the compact design allows for easy storage. I appreciate the convenience it offers in my busy kitchen routine.
Durable and Long-lasting
The Platinum String Chopper is built to last. Its sturdy construction and high-quality materials ensure that it withstands frequent use without losing its sharpness or efficiency. A reliable kitchen companion!
Reliable Warranty

Complete peace of mind

Customer Service

1860 266 0788

Fastest Delivery

Free shipping above ₹799