Olivia Spring Season Non-Stick Cookware Set of 3 | Kadhai with Glass Lid 24cm, Casserole with Lid 24cm & Fry Pan 24cm | Induction Bottom | Soft Touch Handles | Pure Grade Aluminium | PFOA Free | 2 Year Warranty | Pink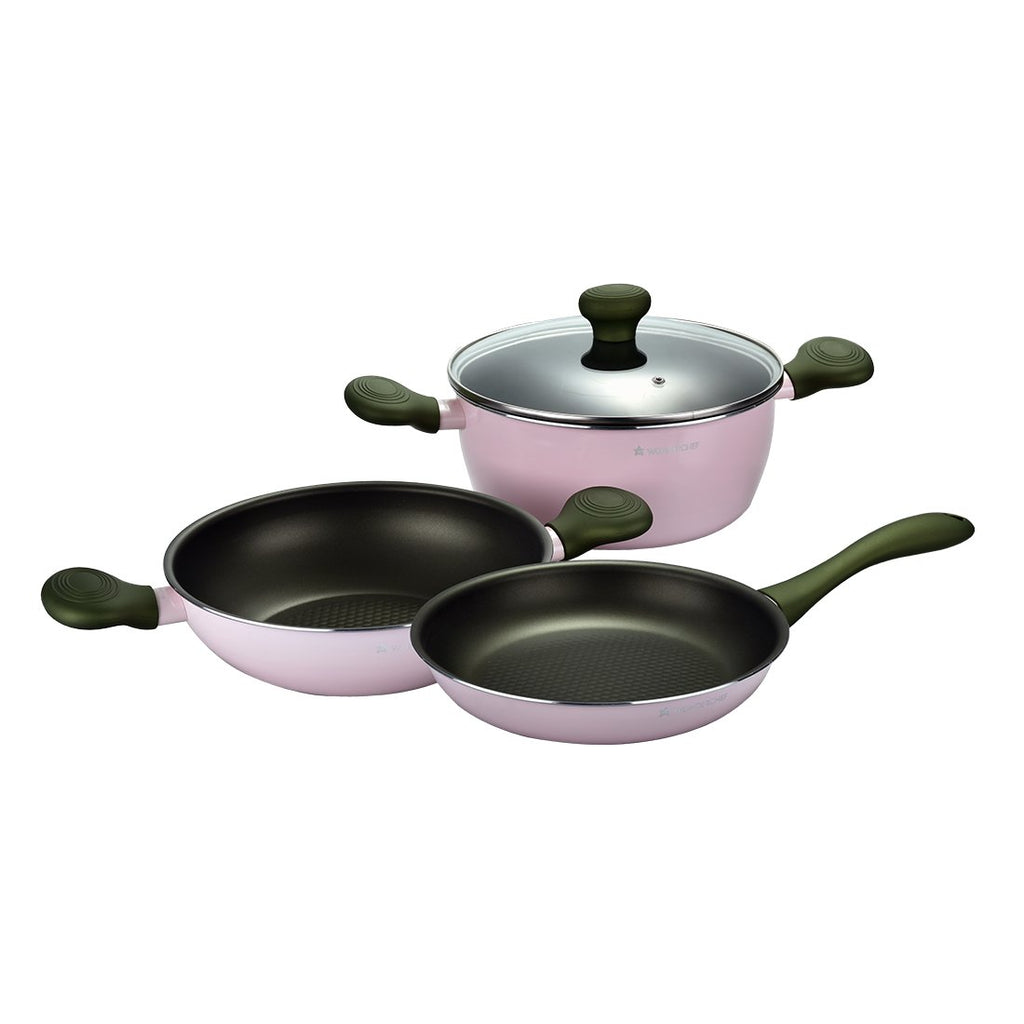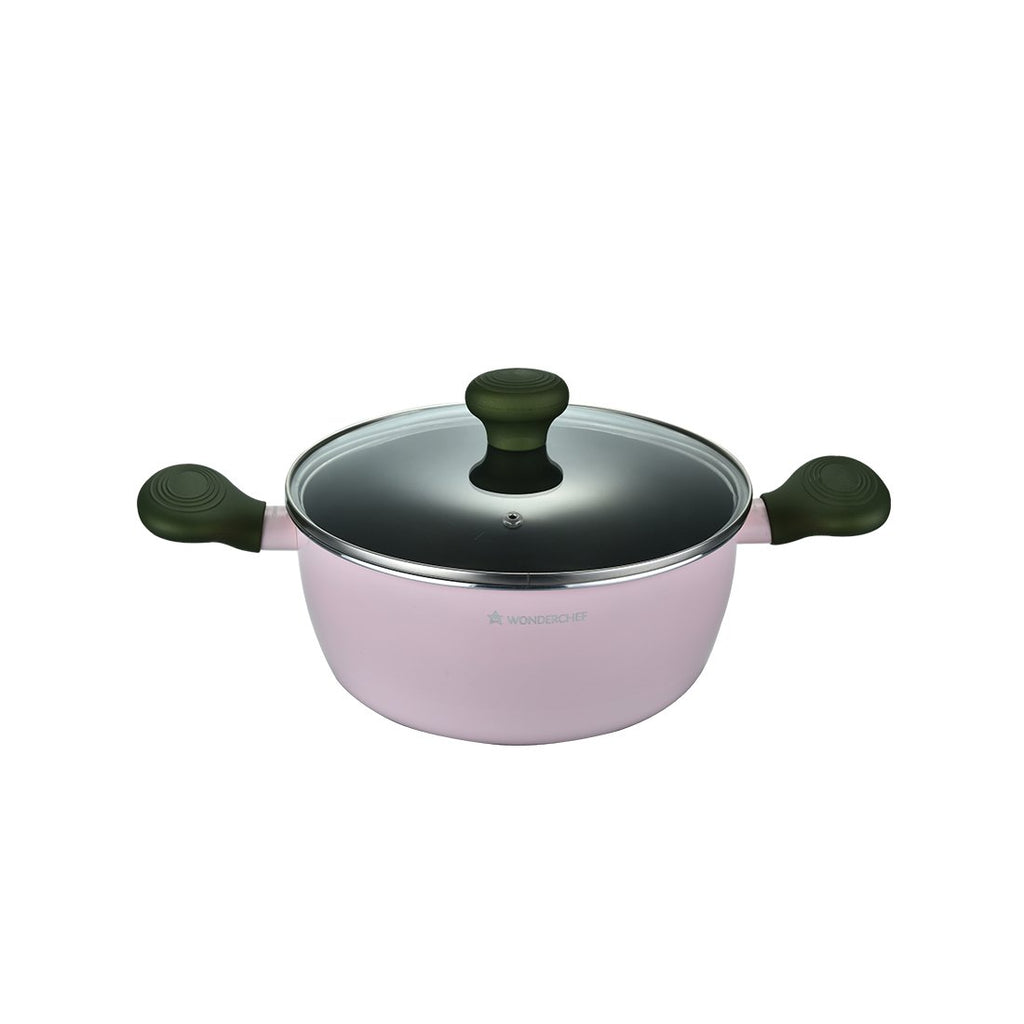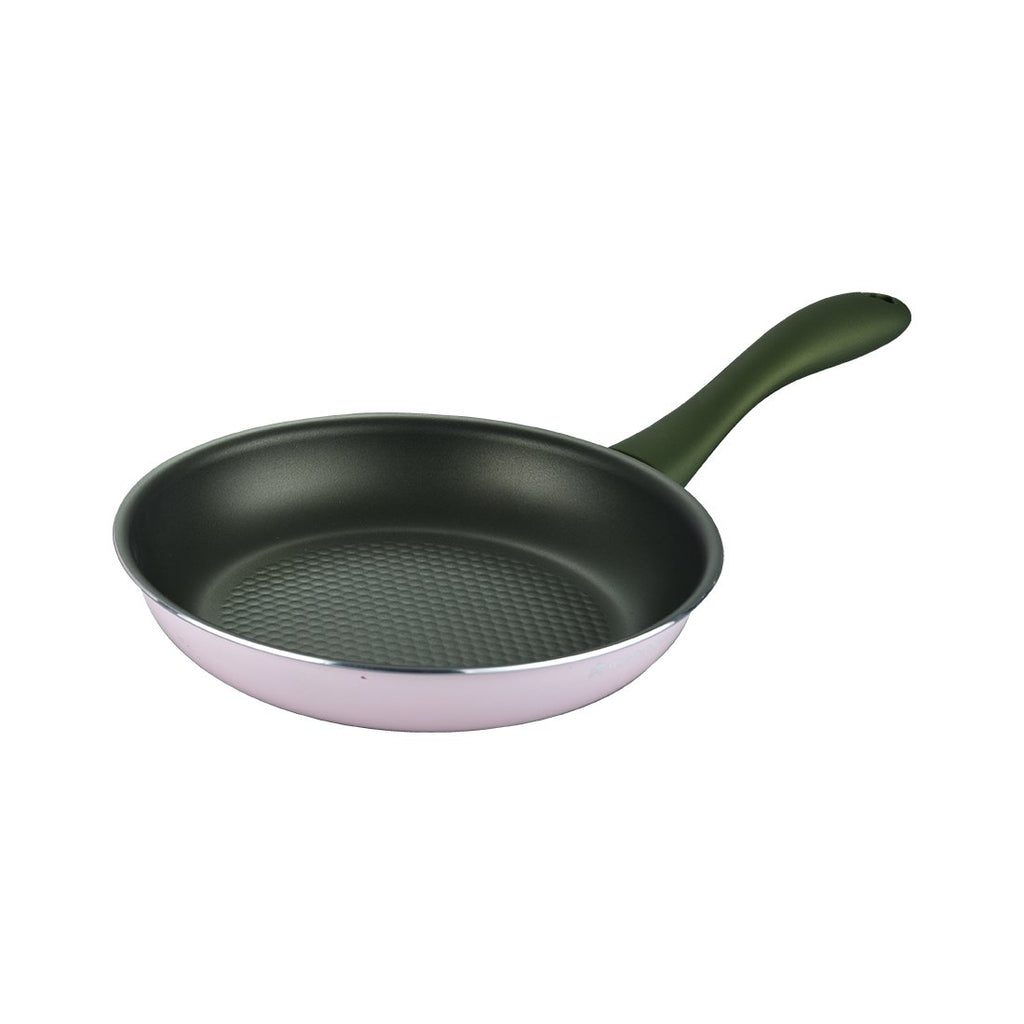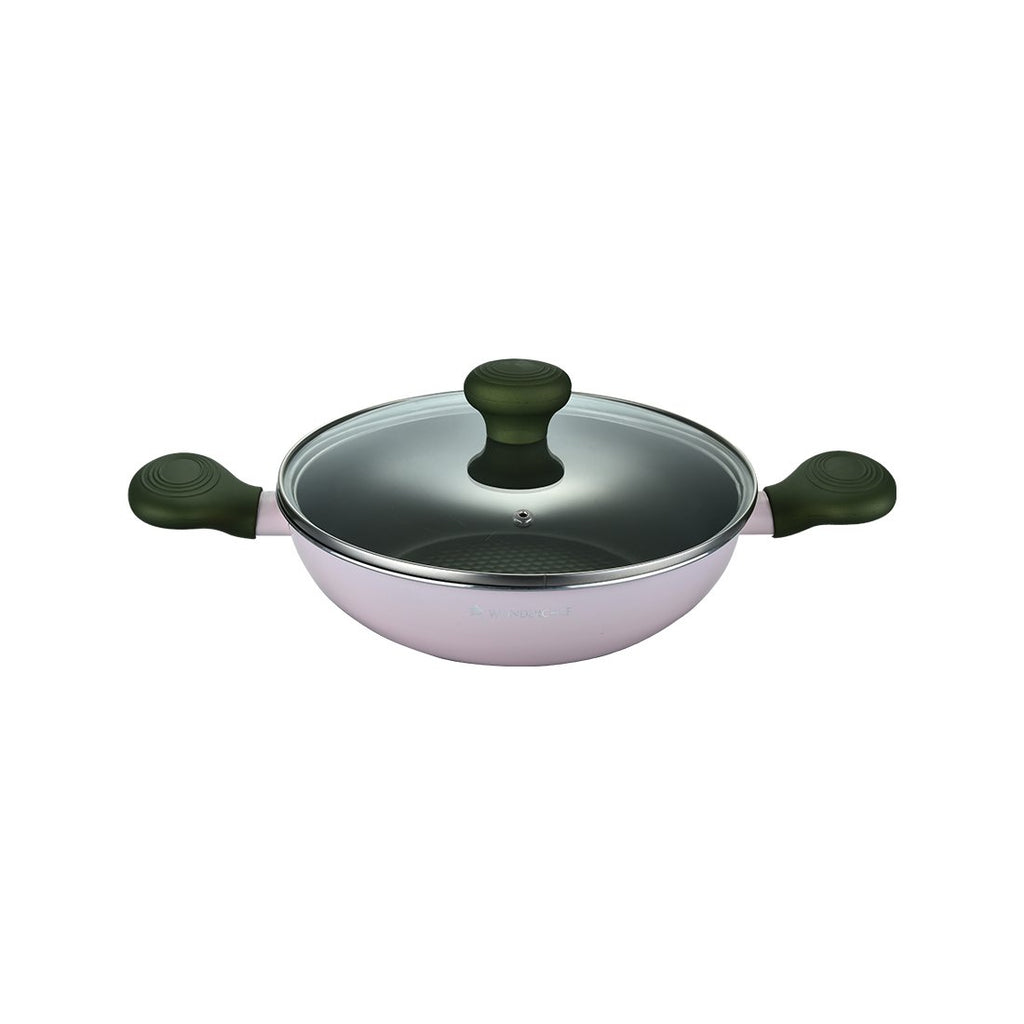 Olivia Spring Season Non-Stick Cookware Set of 3 | Kadhai with Glass Lid 24cm, Casserole with Lid 24cm & Fry Pan 24cm | Induction Bottom | Soft Touch Handles | Pure Grade Aluminium | PFOA Free | 2 Year Warranty | Pink
About The Product
Great Looks: The Olivia Spring Season set is made with beautiful attractive designs that will surely add a touch of sophistication to your kitchen!
Healthy Cooking Made Easy: Indulge in guilt-free cooking with the technologically advanced MetaTuff 5-layer non-stick coating. This exceptional feature minimizes the use of oil. Also, it is meticulously crafted to be 100% free from PFOA, lead, cadmium, nickel and arsenic. Guarantees a safe and wholesome cooking experience.
Soft Touch Handle: Ergonomically designed soft touch handles and knob that do not heat up during cooking. Soft-touch handles give you a firm grip even with wet hands. The dual colour adds a dash of style!
Non-stick Surface: Its premium healthy PFOA free non-stick coating enables oil-free cooking without any compromise on taste! The coating does not flake or come off with normal usage.
Make a Variety of Dishes: Versatile set for your daily cooking needs, ideal for perfect dosas, uttapams, pancakes, omelettes, fish fries, stir fry vegetables, veg. kofta, palak paneer, noodles, Manchurian, chicken curry and much more delicious delicacies. The sophisticated shape and design along with its flat bottom and rounded edges are perfect for faster cooking.
Compatible with all Cooking Surfaces: It can be used on all cooking surfaces - stove top, gas cooktop, induction cooktop, hot plate, infrared cooktop and ceramic cooktops.
Easy to Care & completely safety: Wonderchef Olivia Spring Season Non-Stick Cookware Set is stain and corrosion-resistant, it is easy to clean and maintain.
Reliable Warranty: Wonderchef cookware is backed by a 2 year reliable Wonderchef warranty.
ITALIAN DESIGN, GERMAN QUALITY: Wonderchef products are inspired by the elegance of Italian design and adhere to stringent German Quality Standards. Crafted with the finest stainless steel, they are eco-friendly and free from harmful chemicals.
1. Virgin aluminium
It all begins with the right quality of base metal i.e. aluminium. Cold-rolled sheets, made from new, virgin aluminium are used to cut the disc that would go on to become a world-class pan. We never use re-processed metal since it is invariably mixed with certain impurities that cannot be completely extracted. This leads to chemical reactions when the pan is heated over fire. The gases produced as a result rise up and puncture the non-stick surface creating micro-holes. The coating begins to tear precisely from these holes.
2. Shaping on precision moulds
Forged:
Heavy machines up to 10,000 tons are used to give precise shape to your pans over highly designed moulds. The right shape is critical not only to give a great look but also provide stability & performance to the pans.
Die-cast:
Pans made form this technology acquire unique strength and heat retention properties. They never get deformed. The process entails pouring pure molten aluminium in finely cut steel moulds to give world-class cookware.
3. Sand-blasting
This is a very special process that Wonderchef uses to ensure that the non-stick coating stays on the pan for the longest time. Every pan is bombarded by millions of particles of a specialised compound creating the same effect that is achieved by using the sand paper on a wall before painting it. The surface not only is rid of unwanted oils but also becomes amenable to absorbing the layers of coating and ensuring it sticks properly. Only a few leading brands of the world invest in this process.
4. Multi-stage Cleaning
Every pan is subjected to a 5-step cleaning process with repeated high pressure blasts of hot water, acids and hot air. The pan comes out of this process bathed and cleaned, very ready for the next step of applying coatings. This is extremely important since any oil or impurity or dust particle remaining on the pan will lead to the coating tearing off from there.
5. Non-stick Coating
This is the most sensitive step of the entire process. Smooth, even coating is critical for good performance. This is controlled precisely via automated machines to ensure that every part of the pan is evenly coated. The first layer of coating is the Primer. The primer holds the surface of the pan and forms the base of the final non-stick coating. 2-3 layers of non-stick coating are now applied over it. The beautiful colours that you find in our pans are applied at this stage. At times, further sprays are done to give the beautiful marble and stone finish to the pans.
6. Baking
This is perhaps the most essential step in the making of the pan which lesser brands often tend to ignore. Wonderchef uses a 120 foot long oven, precision-maintained at precisely 350 degree centigrade. This gives the coating enough time to get baked and stick to the surface. No wonder, Wonderchef pans perform better, have better release properties and their coating lasts longer.
7. Finishing
The pans are now given the final touch with beautiful outer coating, second round of baking, fixing of handles and safety packaging in designer gift boxes.
Quality Control: Pans from every batch are subjected to rigorous testing for quality. Our abrasion tests ensure that the coating should last through at least 5000 cycles. Handles are tested to carry load over 5 years of use.
Certifications and Standards of Wonderchef pans
- LFGB Certified
- Abrasion resistant up to 5000 cycles for META TUFF & 10000 cycles for META TUFF PRO
- PFOA, PFOS, PAH free
- Better food release properties
- Specific Migration of chromium and heavy metals well within limits
- Specific Migration of primary aromatic amines well within limits
- Passed analytical tolerance of aqueous & fatty food stimulants
- Sensorial examination - odor & taste well within limits
All parameters In accordance with German Food, Articles of Daily Use and Feed Code of September 1, 2005(LFGB), Section 30 and 31 with amendments, European Commission Regulation(EU)No. 10/2011 with amendments and BFR recommendations.
Brand: Wonderchef
Warranty: 2 years
Package Contents:
Casserole with Lid: 1 Unit
Kadhai with Lid: 1 Unit
Fry Pan: 1 Unit
Thickness : 2.5mm
Capacity and Dimensions:
Casserole with Lid: 24cm -3.8L

Kadhai with Lid: 24cm-2.2L

Fry Pan: 24cm-1.45L
GST Product State :
Maharashtra
Old_Discount Percentage Max Val :
No
Discount Percentage Max Val
No
Manufacturer Name: Imported by Wonderchef Home Appliances Pvt Limited


Amazing Cookware Set for Everyday Delights
The Olivia Spring Season Set from Wonderchef has transformed my cooking experience. The non-stick coating ensures hassle-free cooking, and the vibrant colors add a touch of elegance to my kitchen.
Efficient and Versatile - A Must-Have Set
This cookware set is a true game-changer. The heat-resistant handles provide a comfortable grip, while the sturdy construction guarantees durability. From sauting to frying, it effortlessly caters to all my culinary needs.
Healthy Cooking Made Easy
With the Olivia Spring Season Set, I can enjoy guilt-free meals. The ceramic coating ensures oil-free cooking, and the even heat distribution prevents any hotspots, allowing me to prepare delicious, nutritious dishes with ease.
Stylish and Space-Saving Addition to my Kitchen
I love how this cookware set not only enhances the aesthetics of my kitchen but also optimizes space with its stackable design. The compact size doesn't compromise on functionality, making it a perfect fit for my small kitchen.
Superior Quality, Great Value for Money
Wonderchef's Olivia Spring Season Set offers exceptional quality at an affordable price. The durable materials used in its construction ensure long-lasting performance, making it an excellent investment for any home cook.
Reliable Warranty

Complete peace of mind

Customer Service

1860 266 0788

Fastest Delivery

Free shipping above ₹799