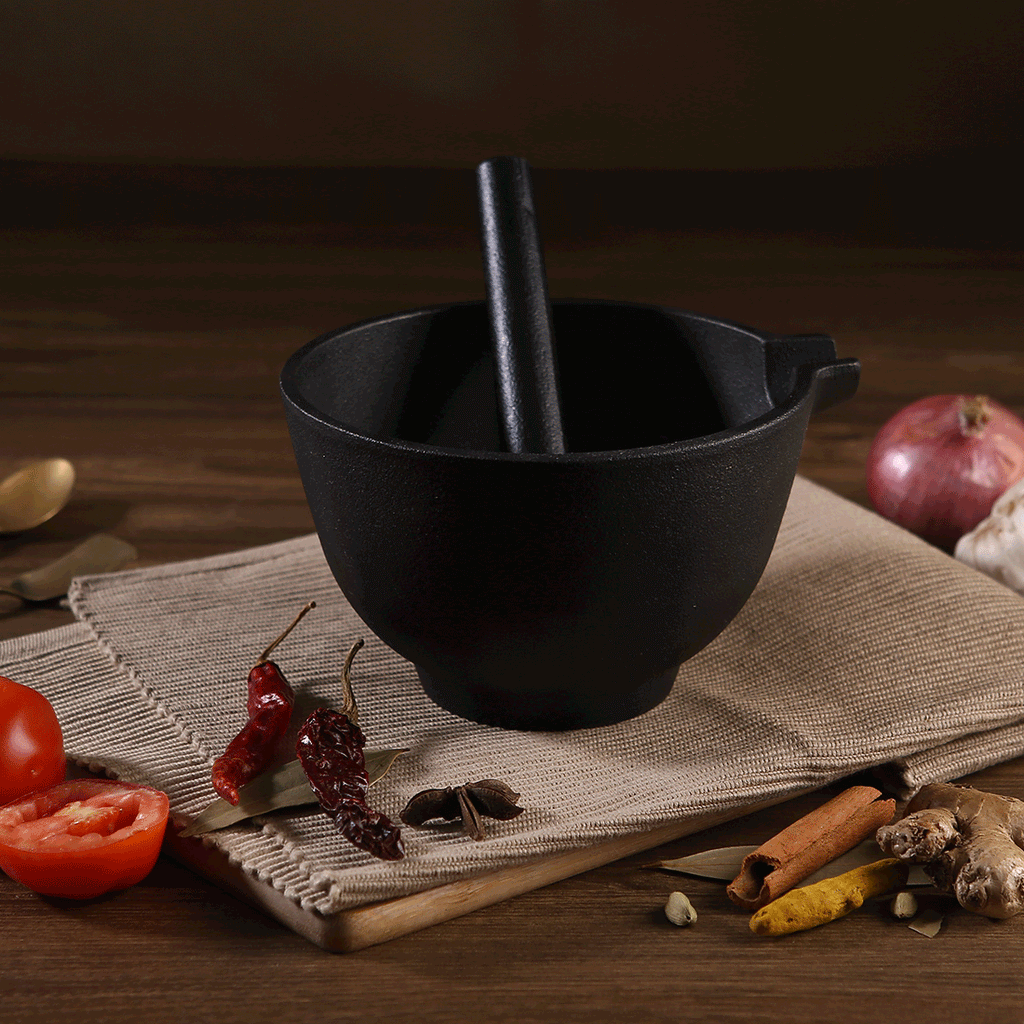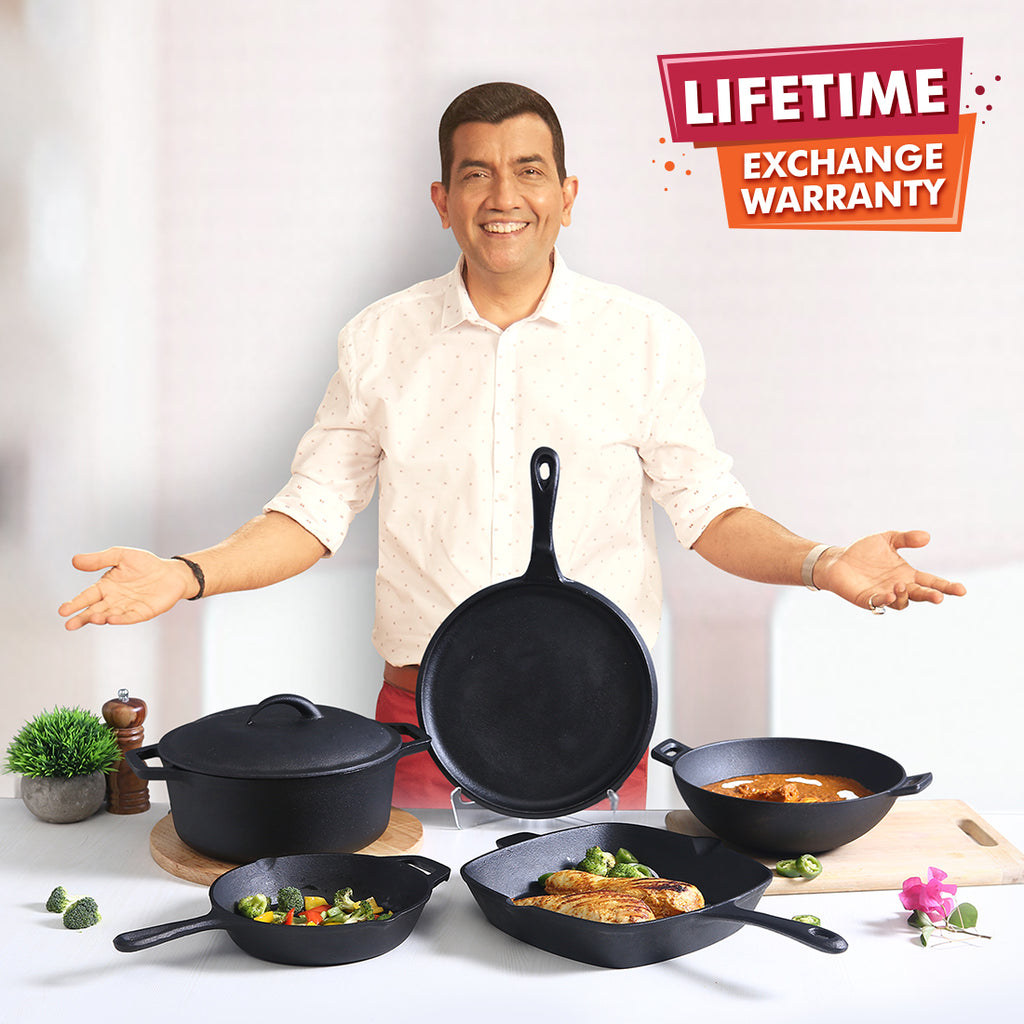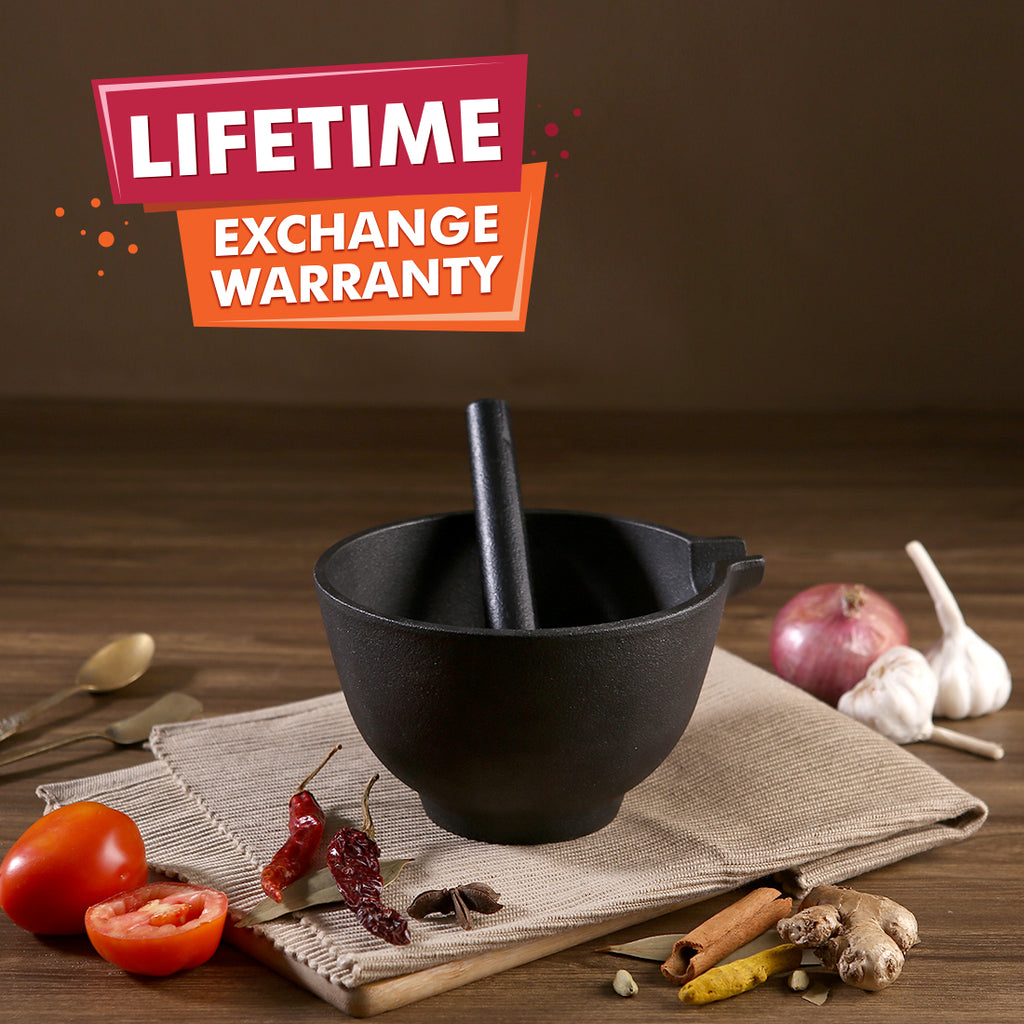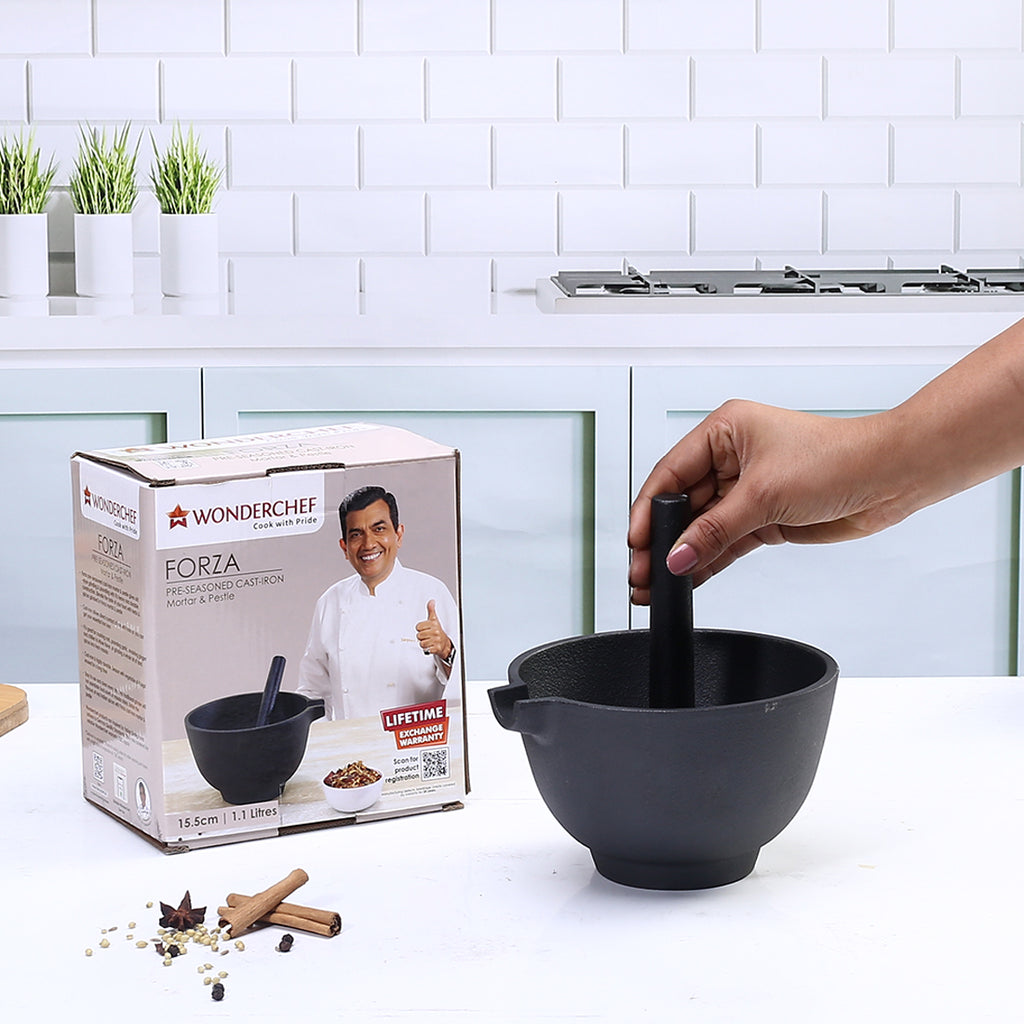 Forza pre-seasoned cast-iron mortar & pestle
MRP: ₹ 2,090/-
OFFER PRICE: ₹ 1,249/-
You Save

40%

(

₹ 841

)
(inclusive of all taxes)
book a demo
For high-value products, you can request a demo. And our trained staff will give you a demo either at home or via a video call as per your location and convenience.
customers are viewing this product
Mortar and Pestle is one of the oldest and most treasured kitchen tool, deeply rooted in our culinary tradition. Grind masalas, herbs, spices in Forza cast-iron Mortar & Pestle to elevate the taste of your food. It gives traditional pounding and grinding effect with its heavy and durable construction.


Cast-iron allows direct contact of Iron with food so you can get your essential Iron ions

It is great for crushing nuts, pounding garlic, smashing ginger and chillies to infuse flavor, or grinding a whole lot of hard spices into fresh masala
Cast-iron is highly durable. Season with vegetable oil if kept unused for a long me
Easy to use and clean every day, this traditional grinder will not assimilate food scent or masala stains. Relish the flavours of real Indian spices with Forza cast-iron mortar & pestle
Wonderchef products are inspired by Italian Design and adhere to German Quality Standards. They are covered by reliable Wonderchef warranty. T&C apply
Brand: Wonderchef
Size:  15.5cm
Capacity:  1.1L
Warranty:  Lifetime Exchange
A product for lifetime
Forza pre-seasoned cast-iron mortar & pestle is very useful for day to day use. Simply awesome. Worth the money spent.
Enhances Flavors in Recipes
With this mortar and pestle, I can release the full aroma and flavor of my herbs and spices, taking my recipes to a whole new level. It's a game-changer for anyone who loves cooking with fresh ingredients.
Durable and Long-lasting
I love the sturdy build of this cast iron mortar and pestle. It's built to last and can withstand heavy-duty use, making it a reliable kitchen companion for years to come.
Efficient Grinding and Blending
This cast iron mortar and pestle effortlessly grinds and blends herbs, spices, and other ingredients, making cooking a breeze. Its pre-seasoned surface ensures smooth and consistent results every time.
Forza pre-seasoned cast-iron mortar & pestle
Easy to Clean
Cleaning this cast iron mortar and pestle is a breeze thanks to its smooth and non-porous surface. A quick rinse and it's ready to use again, making it convenient for busy cooks like me.
Versatile and Multipurpose
This mortar and pestle set is incredibly versatile. From grinding spices to crushing garlic or making fresh guacamole, it's the perfect tool for various kitchen tasks. It's a must-have for any cooking enthusiast.
Reliable Warranty

Complete peace of mind

Customer Service

1860 266 0788

Fastest Delivery

Free shipping above ₹799