About Us
Wonderchef is a leader in cookware and kitchen appliances that enable our customers to cook healthy, tasty food with convenience. German standards of quality, Italian designs, & constant innovation are the hallmarks of Wonderchef. We bring warmth to every meal by creating a perfect blend of aesthetics and functionality. We are inspired by global trends to create beautiful kitchen stories that bring out the culinary artist in you!
Here, you can seamlessly explore our entire collection of Non-Stick Cookware, Stainless Steel Pans, Pressure Cookers, Appliances, Cooktops, Chimneys, Kitchen Tools, Flasks, Bakeware and much more! What makes Wonderchef special is the customized recipes that are created for every unique product by none other than Chef Sanjeev Kapoor. These are shared with our consumers via beautifully crafted recipe books, social media interactions, and dedicated apps.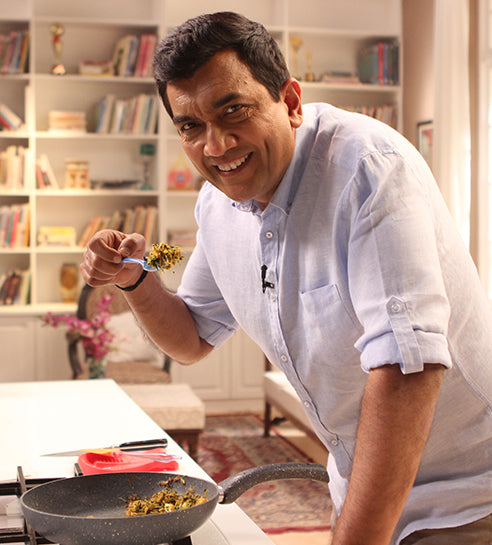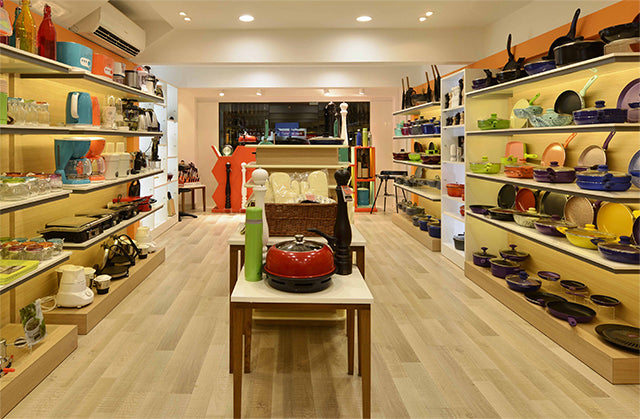 Italian design with German standards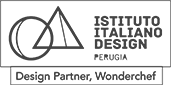 Beautiful design stirs emotions & inspires us to achieve excellence. Our deep-rooted partnership with Italian Design Institute ensures that we infuse classical design sensibilities into every piece of our flawlessly crafted range of kitchenware.
We constantly strive to achieve a balance between the form and function – be it choice of design, material, technology or production process. This helps us curate products which impeccably transition from kitchen to the table.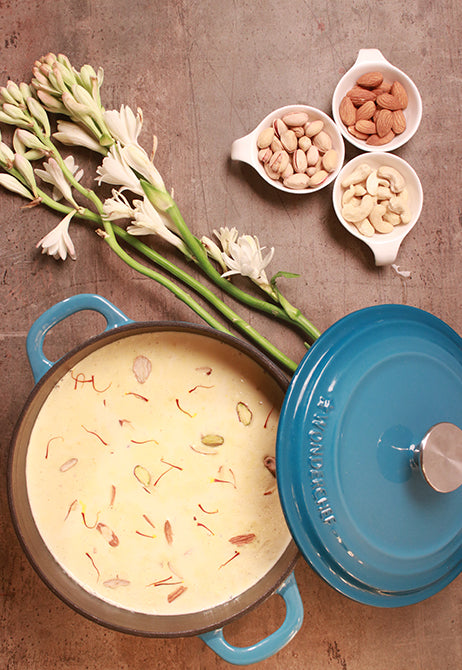 "Wonderchef has always leveraged innovation and technology to surprise and delight its customers"
Gas Oven Tandoor makes restaurant-style Tandoori food at home and makes you a proud home-chef! Wonderchef was one of the first brands to introduce Cold Pressed Juicers, Air Fryers, Nutri-Pot, Slow Cookers, Bread Maker, Health Grills, Die-cast Cookware, Ceramic Cooker & a host of other unique appliances enabling our customers to cook healthy and tasty, with convenience. Our patented tools like Turbo Chopper enable food-prep in a jiffy, saving precious time and delivering great performance.
Wonderchef prides itself in getting new ideas, solutions, & technologies to the market. Wonderchef Royal Velvet Pans brought forth a revolution of fresh hues & colors in non-stick cookware. Cookware has never been the same again. Wonderchef has changed the perception of cookware from black & boring to colorful & exciting. Our customers often match their cookware to the hue of their kitchen cabinets, setting of their living room or the color of their curtains. Over 25 color palettes form the repertoire of Wonderchef pans.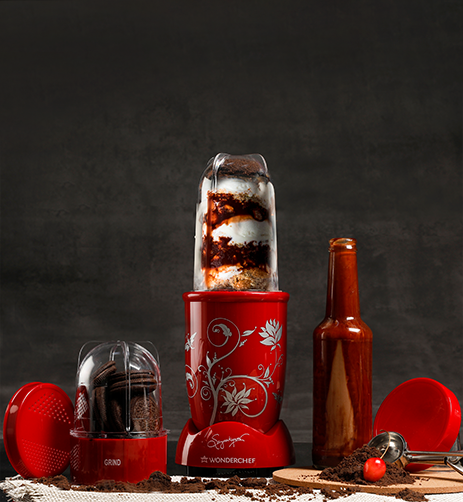 The Nutri-Blend Story
Homes were getting smaller, customers more pragmatic. We curated Nutri-blend, the most loved blender, mixer & grinder that makes chutneys, masalas, smoothies & juices in a jiffy! With simple functioning, compact size, precision-engineered blades and 22,000 RPM, the motor creates a tornado, quite literally in your jar, giving you a perfect result every time! It is one of our most copied products, which we are happy about – after all, plagiarism is flattery! No copy, however, comes remotely close to the quality and performance that Nutri-blend delivers.
3 Crore +

Happy Customers

10,000 +

Retail Points

20,000 +

Service pin codes
Wonderchef products are available in over 10,000 retail outlets across the country, all leading departmental stores, hypermarkets, specialty stores and in a growing number of Exclusive Brand Outlets. We have our own TV-shopping shows, are a leading brand in E-commerce business and also sell through a dynamic channel of over 70,000 self-employed, motivated & trained women entrepreneurs. You can easily shop for our products in your vicinity or at your fingertips! Or simply order them here on our website.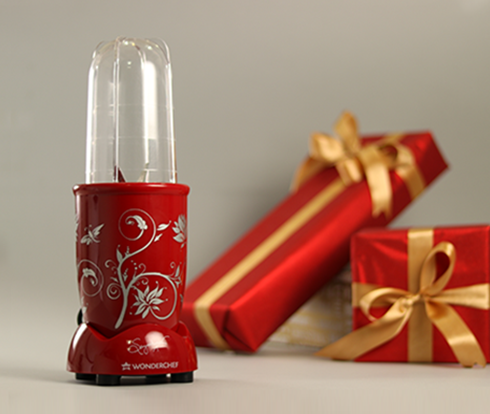 The joy of gifting!
Our products are made for making beautiful memories in the kitchen & on your dining table. Our customers love to share them as treasured gifts. Every product comes in a beautifully designed gift box. Uniqueness, attractive prices and classy designs make them the best choice for gifting. Be it a house-warming party, a birthday, a wedding or an anniversary, we have the the perfect gift for every occasion. Wonderchef sets and blenders are the perfect gifts when a young couple sets.
Reliable Wonderchef Warranty
We believe that the point of purchase is only the beginning of the relationship. Our Reliable Warranty ensures that you continue to get our support long after your purchase. Have a problem – we are a phone call away. Have a question about how to care for your product – we are here to help. We pride ourselves on customer service and are always eager to hear from you.
You're sure to delight your family and friends with everything you cook & serve. Bon Appetit!