Taurus Hard Anodized 3L Inner Lid Pressure cooker, SS Lid, Soft Touch Handles for Durability, Induction Friendly, Black, 5 year warranty, ISI Certified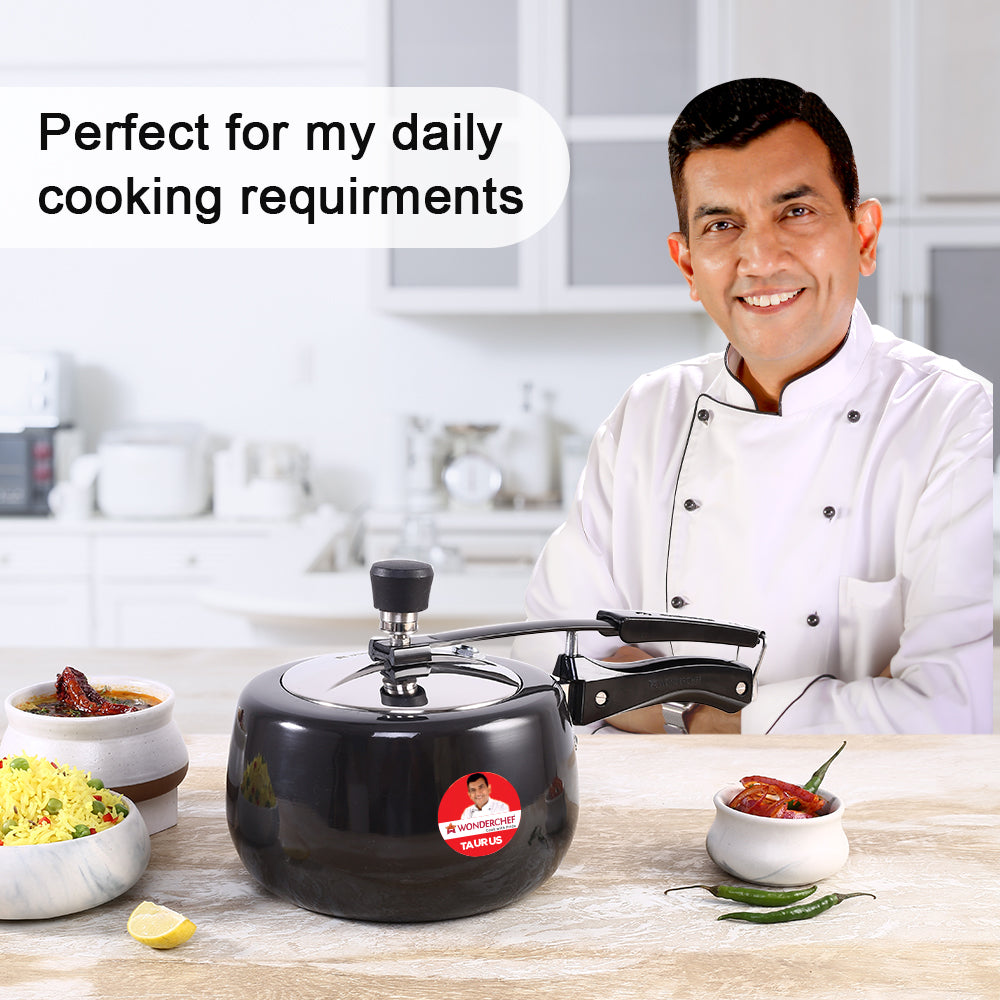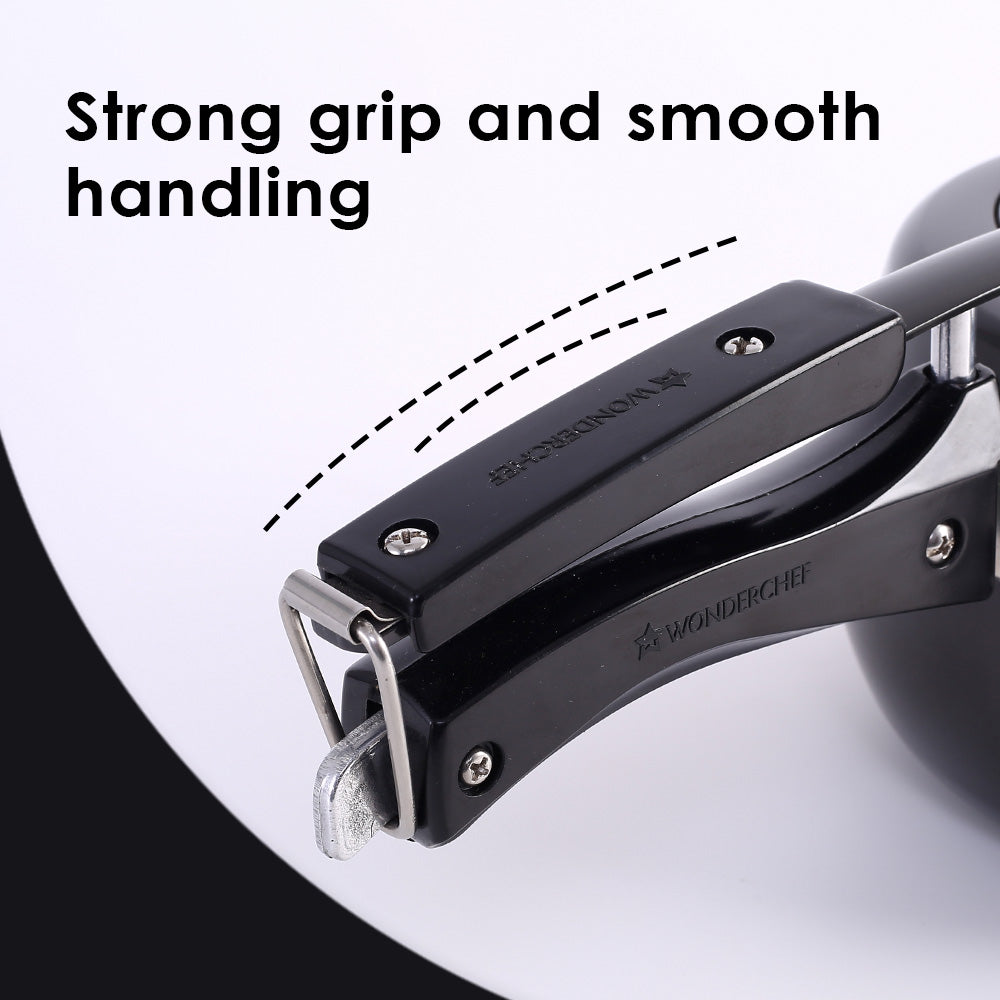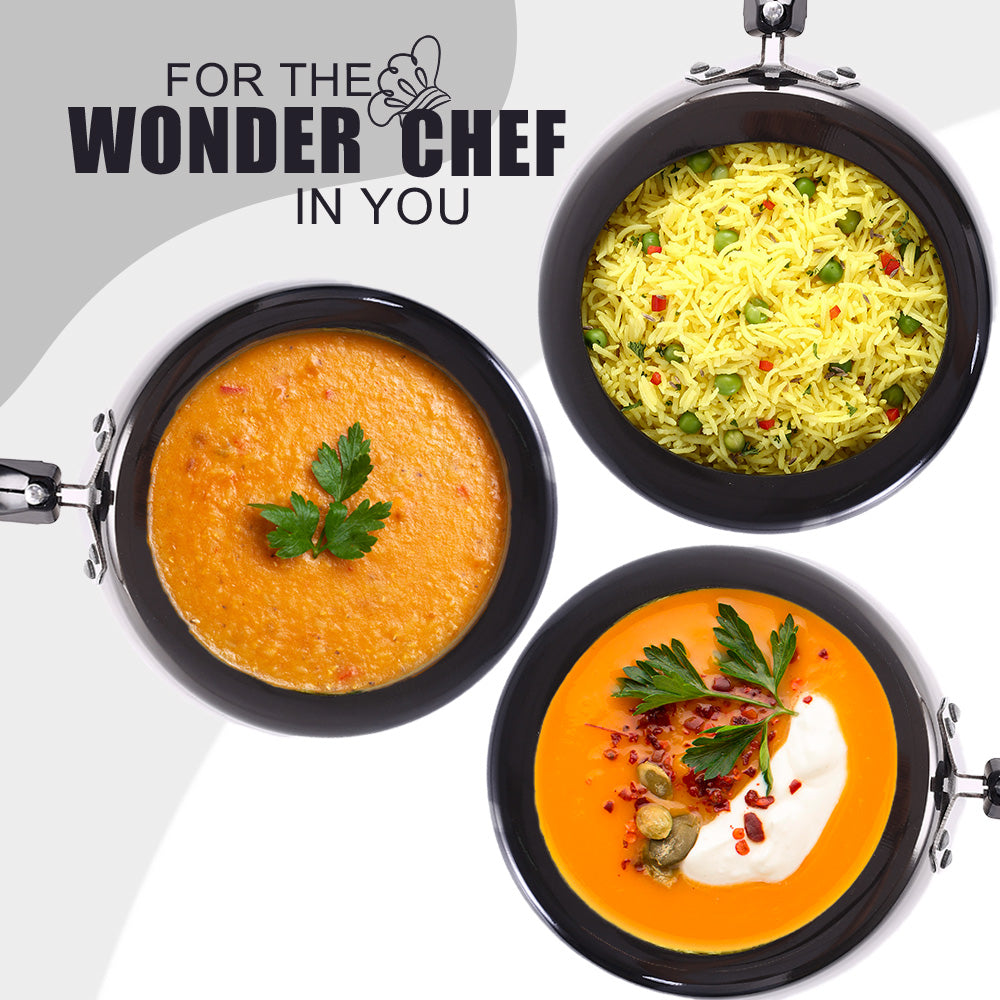 Taurus Hard Anodized 3L Inner Lid Pressure cooker, SS Lid, Soft Touch Handles for Durability, Induction Friendly, Black, 5 year warranty, ISI Certified
About The Product
TRIPLE SAFETY: ISI & ISO 9001 Certified. Special safety features such as lead-free safety valve, controlled gasket release system and pressure locked safety lid give you utmost protection & convenience.
KITCHEN ALL-ROUNDER: Versatility at its best; use this pressure cooker for sautéing, steaming, frying, boiling, deep frying, and pressure cooking. From Biryani to Cakes, and everything in between, this all-in-one cooker easily handles a wide range of dishes.
UNIVERSAL COMPATIBILITY: Designed to work seamlessly with both induction and gas stovetops, fitting effortlessly into any kitchen setup.
TOXIN And STAIN FREE: Provides multiple features like scratch-resistance, stain resistance and aesthetic enough to be used as serving ware. Metal Spoon Friendly.
LONG-LASTING DURABILITY: Built from high-quality virgin aluminium, promising sturdy, long-lasting performance.
5-YEAR ON-SITE WARRANTY: Peace of mind with a reliable Wonderchef warranty with the best after-sales service in over 20,000 pin codes across India.
PERFECT GIFT OPTION: The Wonderchef Taurus Hard Anodized Inner Lid Pressure Cooker combines convenience and style with features thoughtfully designed for Indian kitchens, making it an ideal gift.
ITALIAN DESIGN AND GERMAN QUALITY STANDARDS: Wonderchef products draw inspiration from Italian design and adhere to German quality standards, ensuring exceptional performance and durability.
Introducing the Taurus Inner Lid Pressure Cooker - a kitchen essential designed for daily use. Crafted to perfection, this kitchen marvel stands as the ultimate solution for all your daily cooking needs.
Saves Time & Fuel
Meticulously crafted from high-quality virgin aluminium, the Taurus pressure cooker enables unparalleled heat conduction. This translates to faster cooking, ultimately saving precious time and fuel. Additionally, its compatibility with metal spoons coupled with its scratch, stain and corrosion resistance makes cleanup a breeze, letting you relish the joy of cooking without the hassle.
Sturdy Hard Anodized Aluminum Body
The Taurus Pressure Cooker boasts a remarkable 60-micron anodized coating, making its surface an astounding 2.4 times harder than steel. This innovative process enables an unbeatable scratch-resistant finish and guarantees non-reactive performance, ensuring your culinary creations taste the best.
Pressure Locked Mechanism
Taurus Pressure Cooker has a pressure-locked Mechanism. This means that when there is pressure inside the cooker, the lid won't open. The lid will thus be pressure-locked for your safety. Release the pressure completely to open the lid.
Perfect Sealing Lid Design
The inner lid and the handle holding it are attached leaving extra space for a deliberate 'play' or movement. This ensures perfect sealing of the lid. Please avoid tightening the bar and removing this 'play' otherwise Cooker will not lock properly.
Food Grade Silicone Gasket
The gasket is crafted from specially engineered, high-quality silicone that meets food-grade standards and has an extended lifespan. It maintains its shape without any bulging, ensuring that steam remains contained within the cooker.
Ergonomic Handle
The Taurus Pressure Cooker features a specially designed ergonomic handle that promises a secure grip and firm handling.
Compatible with Multiple Cooking Surfaces
The cooker can be used on a variety of cooking surfaces i.e. gas stoves, induction, hobs, ceramic plates and induction.
Food Safe
Your health is paramount. The pressure cooker has an ISI-marked food-safe gasket and conforms to BIS standards.
Reliable Wonderchef Service
Say WhatsApp 'Hi' on +91 7070595959 for after salesservice. We are confident of our quality. In case of any manufacturing defect found within the service period, we shall get it resolved immediately.
Brand: Wonderchef
Material: Hard Anodized
Package Contents:
Pressure Cooker - 1 Pc
1 Gasket
1 Lid
1 Whistle
Packing Size (LBH in cm): 33 x 21.50 x 17.70
Capacity: 3 L
Manufacturer Name: Premier Kitchenware Industries
Manufacturer Address: Plot no. 3 & 4, Survey no 46/2 & 45/3, Malti Joshi Industrial Estate, Krishna Nagar, Vevoor Village, Dist - Palghar - 401404, Maharashtra, India
Warranty: 5 Years
Perfect Size for Small Families
The 3-liter capacity is just right for my family. The inner lid design ensures safety, and the 5-year warranty provides peace of mind. Great investment!
Quick Meals Made Easy
I love how fast this pressure cooker cooks my meals. The induction-friendly feature is a bonus, and the stainless steel lid is a nice touch. Highly recommended!
Easy to Clean and Maintain
Cleaning this cooker is a breeze. The non-stick surface prevents food from sticking, and the black finish stays sleek. A low-maintenance kitchen essential!
Safe and Certified
ISI certification gives me confidence in its safety. The inner lid design keeps things secure, and the pressure release system is foolproof. A must-have for any kitchen.
Stylish and Functional
Not only does this cooker perform exceptionally well, but it also looks great in my kitchen. The sleek black finish and soft-touch handles add a touch of elegance.
Reliable Warranty

Complete peace of mind

Customer Service

1860 266 0788

Fastest Delivery

Free shipping above ₹799