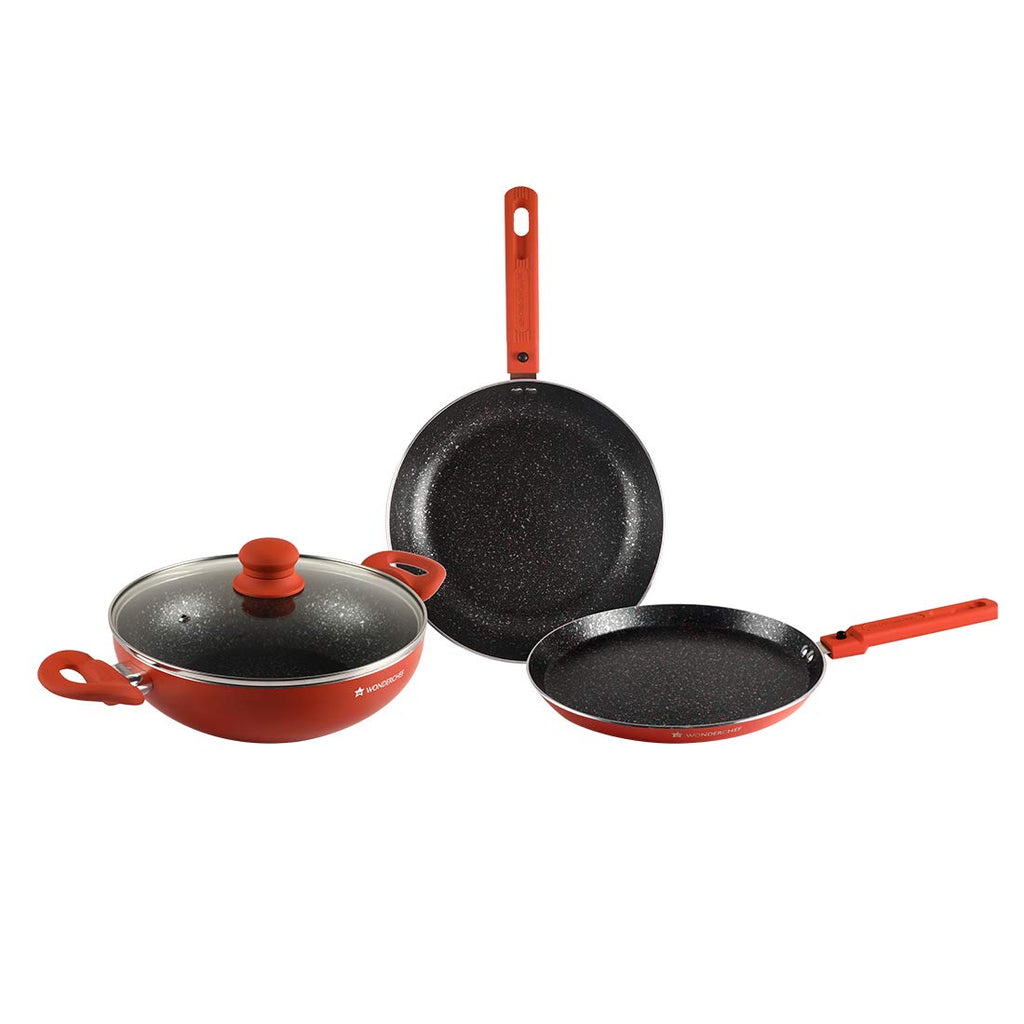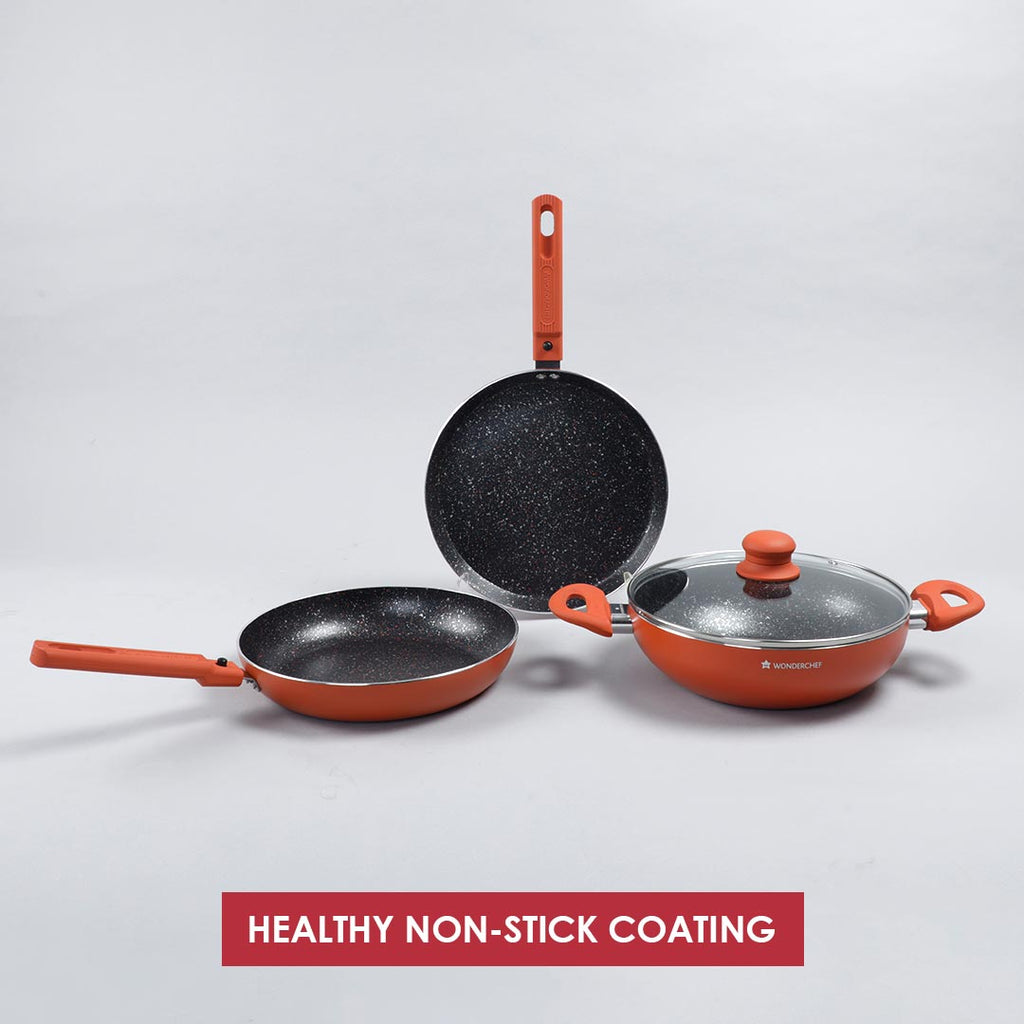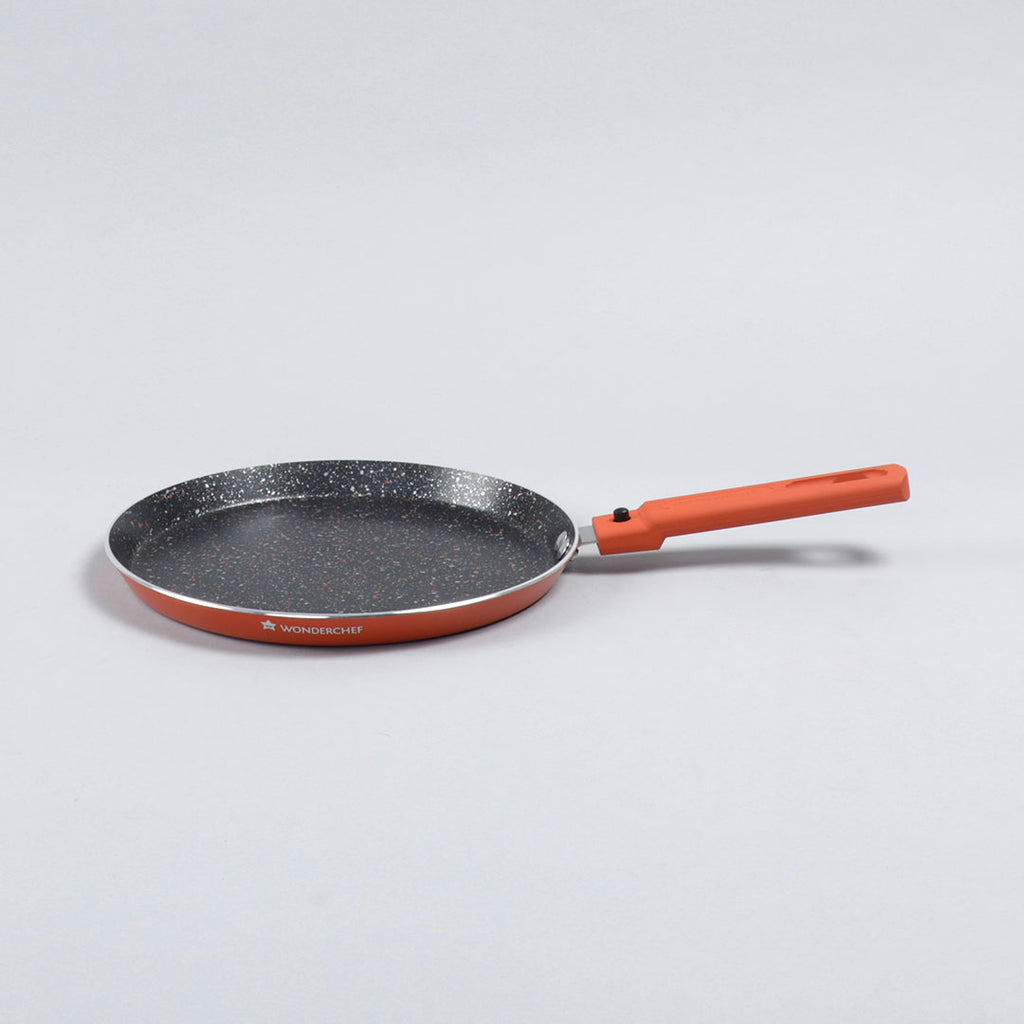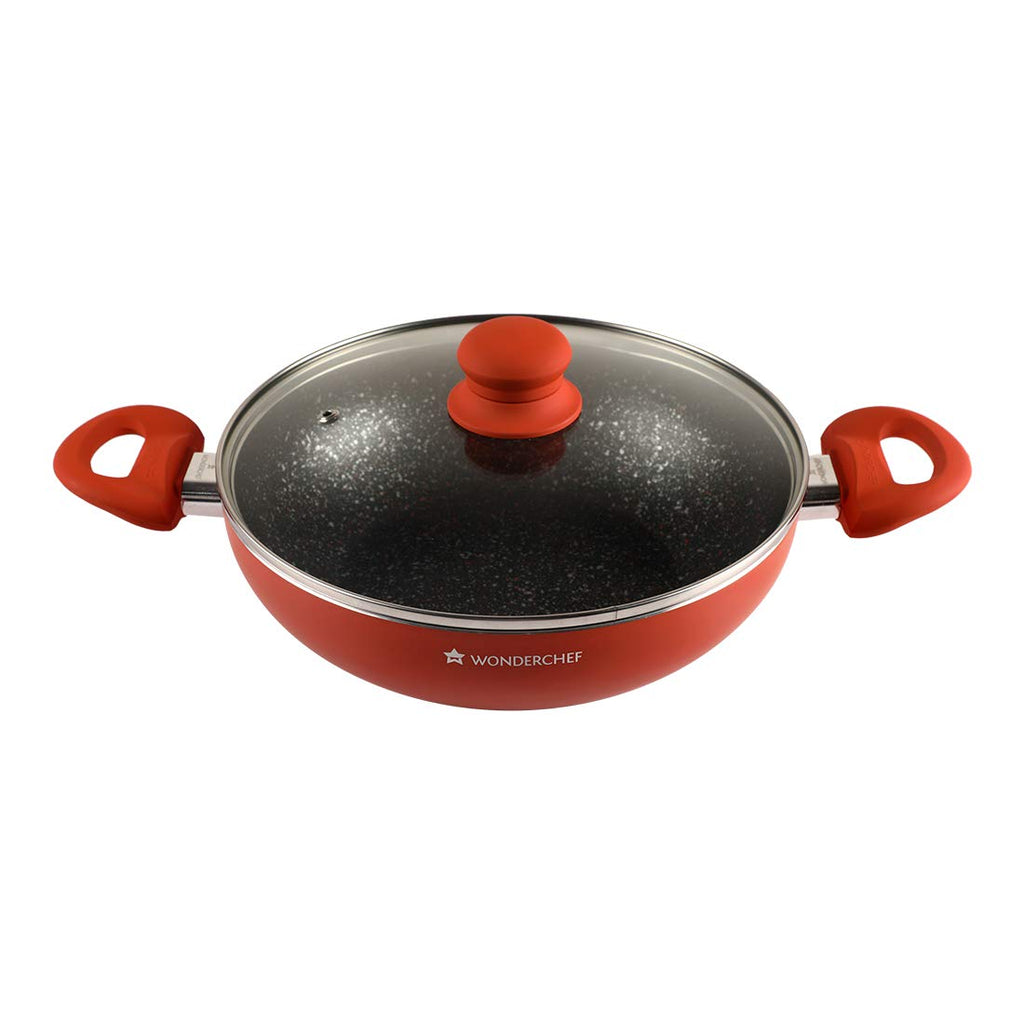 Power Non-Stick Cookware 4 pc Set | Kadhai with Glass Lid 2.6L, Dosa Tawa 25cm, Fry Pan 24cm | Induction Bottom | Soft Touch Handles | Pure Grade Aluminium | PFOA Free | 2 Year Warranty | Orange
MRP: ₹ 3,000/-
OFFER PRICE: ₹ 1,799/-
You Save

40%

(

₹ 1,201

)
(inclusive of all taxes)
customers are viewing this product
Versatile 4-Piece Set: Experience the utmost convenience of cooking a diverse array of dishes with just one remarkable cookware set. Wonderchef Power Non-Stick Cookware Set comprises a Kadhai with Lid, Fry Pan, and Dosa Tawa, enabling you to effortlessly prepare an exquisite assortment of cutlets, curries, dosas, omelettes and more.
Healthy Cooking Made Easy: Indulge in guilt-free cooking with the technologically advanced MetaTuff 5-layer non-stick coating. This exceptional feature minimizes the use of oil. Also, it is meticulously crafted to be 100% free from PFOA, lead, cadmium, nickel and arsenic. Guarantees a safe and wholesome cooking experience.
Versatile Culinary Possibilities: Whether you're preparing delectable cutlets, vibrant stir-fried veggies, flavourful curries, mouth-watering dosas, indulgent uttapams, scrumptious sandwiches, fluffy omelettes or tantalizing parathas, the fry pan, kadhai and tawa offer impeccable performance. Elevate your culinary skills and fulfil all your cookware requirements with this truly versatile set.
Energy-Efficient Performance: Immerse yourself in a world of efficient and energy-saving cooking with Wonderchef Power Non-Stick Cookware. Its construction from pure-grade virgin aluminium ensures an astonishing 9 times better heat conduction, allowing you to savour perfectly cooked meals in less time while reducing energy consumption.
Reliable Warranty: Wonderchef Power Non-stick cookware is backed by a 2 year reliable Wonderchef warranty.
ITALIAN DESIGN, GERMAN QUALITY: Wonderchef products are inspired by the elegance of Italian design and adhere to stringent German Quality Standards. Crafted with the finest stainless steel, they are eco-friendly and free from harmful chemicals.
1. Virgin aluminium
It all begins with the right quality of base metal i.e. aluminium. Cold-rolled sheets, made from new, virgin aluminium are used to cut the disc that would go on to become a world-class pan. We never use re-processed metal since it is invariably mixed with certain impurities that cannot be completely extracted. This leads to chemical reactions when the pan is heated over fire. The gases produced as a result rise up and puncture the non-stick surface creating micro-holes. The coating begins to tear precisely from these holes.
2. Shaping on precision moulds
Forged:
Heavy machines up to 10,000 tons are used to give precise shape to your pans over highly designed moulds. The right shape is critical not only to give a great look but also provide stability & performance to the pans.
Die-cast:
Pans made form this technology acquire unique strength and heat retention properties. They never get deformed. The process entails pouring pure molten aluminium in finely cut steel moulds to give world-class cookware.
3. Sand-blasting
This is a very special process that Wonderchef uses to ensure that the non-stick coating stays on the pan for the longest time. Every pan is bombarded by millions of particles of a specialised compound creating the same effect that is achieved by using the sand paper on a wall before painting it. The surface not only is rid of unwanted oils but also becomes amenable to absorbing the layers of coating and ensuring it sticks properly. Only a few leading brands of the world invest in this process.
4. Multi-stage Cleaning
Every pan is subjected to a 5-step cleaning process with repeated high pressure blasts of hot water, acids and hot air. The pan comes out of this process bathed and cleaned, very ready for the next step of applying coatings. This is extremely important since any oil or impurity or dust particle remaining on the pan will lead to the coating tearing off from there.
5. Non-stick Coating
This is the most sensitive step of the entire process. Smooth, even coating is critical for good performance. This is controlled precisely via automated machines to ensure that every part of the pan is evenly coated. The first layer of coating is the Primer. The primer holds the surface of the pan and forms the base of the final non-stick coating. 2-3 layers of non-stick coating are now applied over it. The beautiful colours that you find in our pans are applied at this stage. At times, further sprays are done to give the beautiful marble and stone finish to the pans.
6. Baking
This is perhaps the most essential step in the making of the pan which lesser brands often tend to ignore. Wonderchef uses a 120 foot long oven, precision-maintained at precisely 350 degree centigrade. This gives the coating enough time to get baked and stick to the surface. No wonder, Wonderchef pans perform better, have better release properties and their coating lasts longer.
7. Finishing
The pans are now given the final touch with beautiful outer coating, second round of baking, fixing of handles and safety packaging in designer gift boxes.
Quality Control: Pans from every batch are subjected to rigorous testing for quality. Our abrasion tests ensure that the coating should last through at least 5000 cycles. Handles are tested to carry load over 5 years of use.
Certifications and Standards of Wonderchef pans
- LFGB Certified
- Abrasion resistant up to 5000 cycles for META TUFF & 10000 cycles for META TUFF PRO
- PFOA, PFOS, PAH free
- Better food release properties
- Specific Migration of chromium and heavy metals well within limits
- Specific Migration of primary aromatic amines well within limits
- Passed analytical tolerance of aqueous & fatty food stimulants
- Sensorial examination - odor & taste well within limits
All parameters In accordance with German Food, Articles of Daily Use and Feed Code of September 1, 2005(LFGB), Section 30 and 31 with amendments, European Commission Regulation(EU)No. 10/2011 with amendments and BFR recommendations.
Power Non-Stick Cookware 4 pc Set | Kadhai with Glass Lid 2.6L, Dosa Tawa 25cm, Fry Pan 24cm | Induction Bottom | Soft Touch Handles | Pure Grade Aluminium | PFOA Free | 2 Year Warranty | Orange
Good Product Range
High quality non-stick products that requires less oil for cooking, durable and stylish, makes everyday cooking easier.
GOOD
THANKS WONDERCHEF FOR SUCH A GOOD PRODUCT
Perfect Set
This is a perfect set for a kitchen,easy to clean because of detachable handle,good for giting
Value for Money
Beautiful nonstick cookware set ,Useful and Nice for a gifting purpose also
Perfect for my kitchen
I got a cookware which matches with my kitchen's interior
Wow look!
Its unique color and design gives wow look.my wife uses it for daily cooking .Very much satisfied with this durable product.
Value for Money
Beautiful nonstick cookware set ,Useful and Nice for a gifting purpose also
NICE COLOUR
Nice orange colour with super quality coating pan set.
Reliable Warranty

Complete peace of mind

Customer Service

1860 266 0788

Fastest Delivery

Free shipping above ₹799