Oil Pourer Glass Bottle for Kitchen, Transparent Oil Pourer and Holder with Green Lid, Accurate Pouring without Wastage, 550ml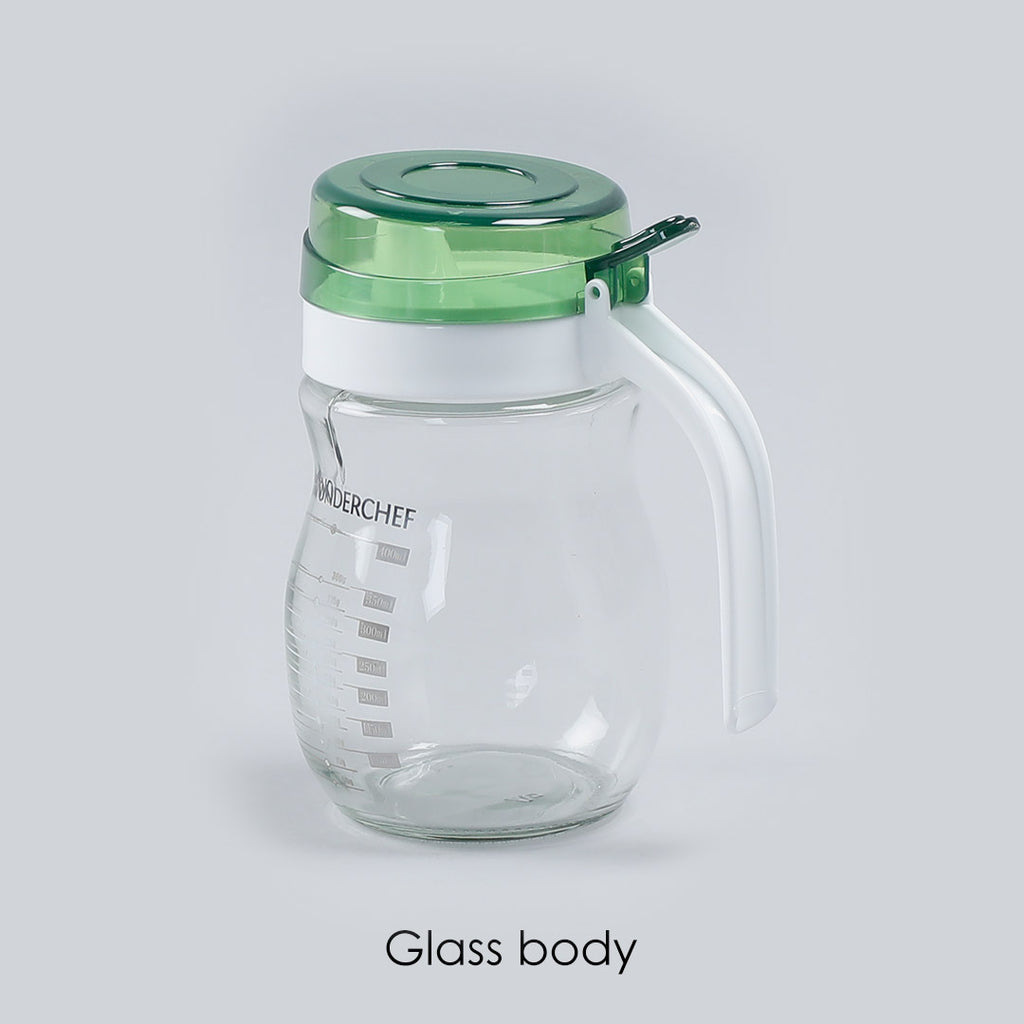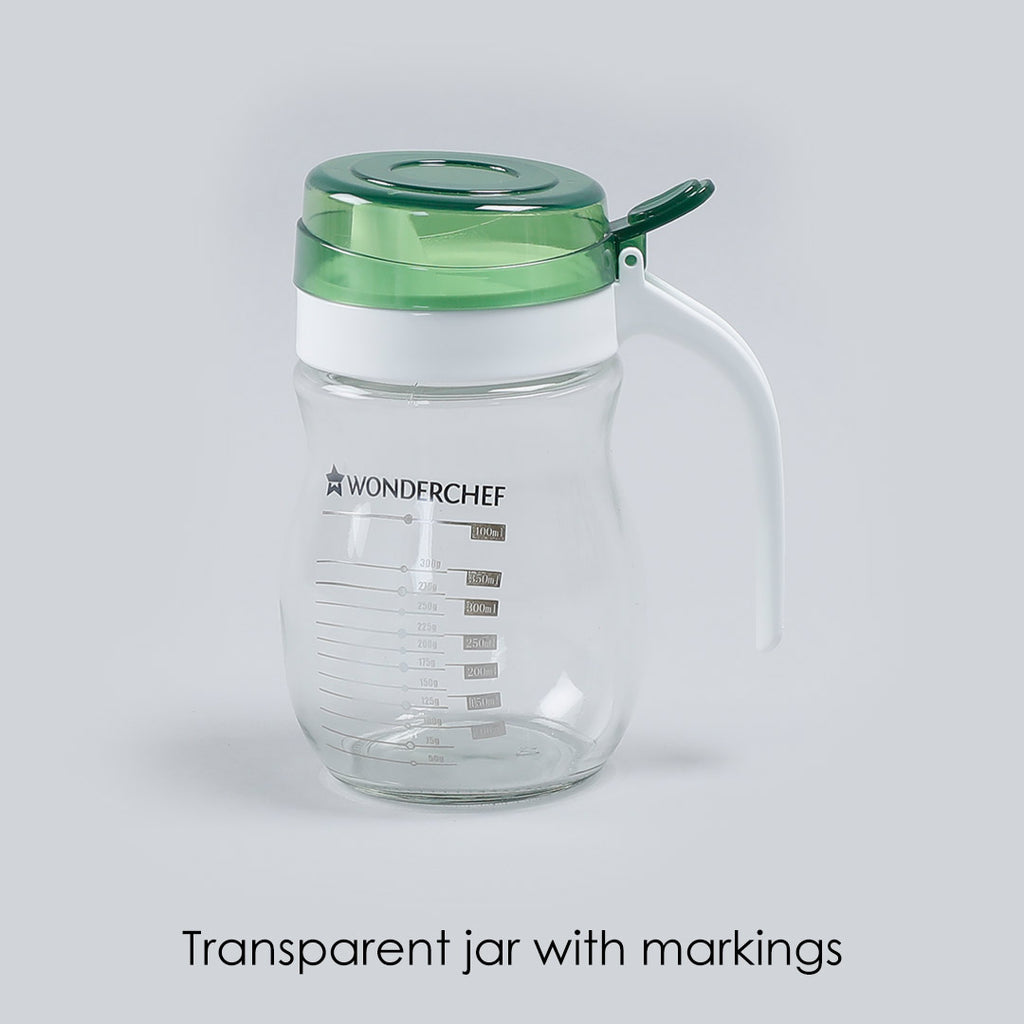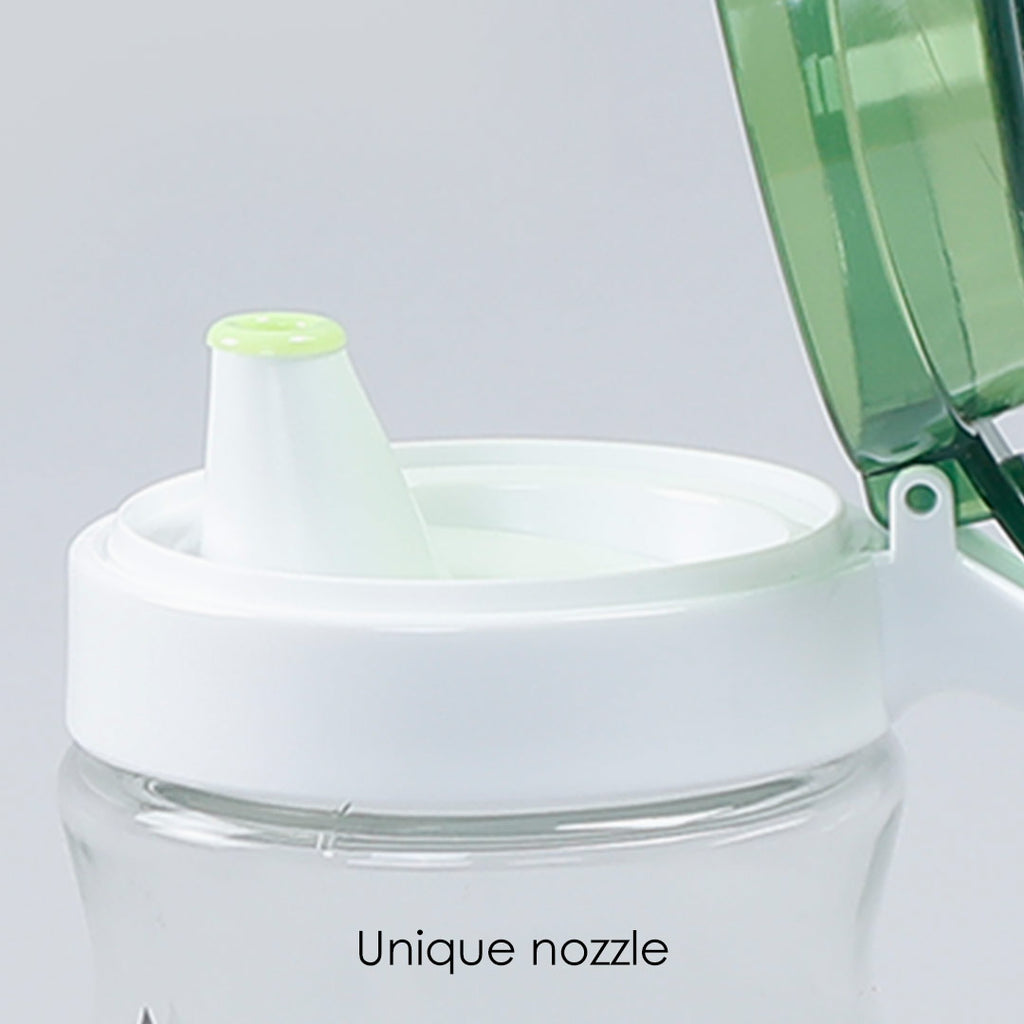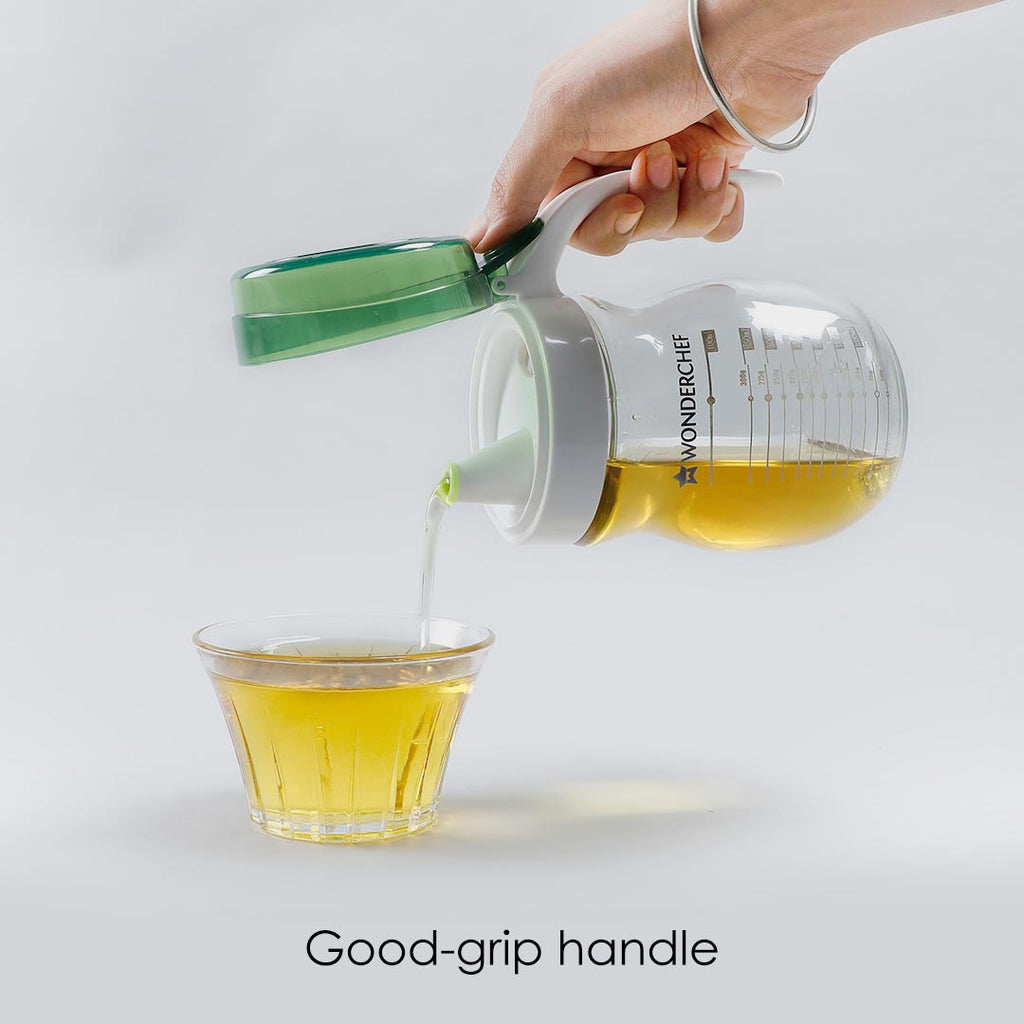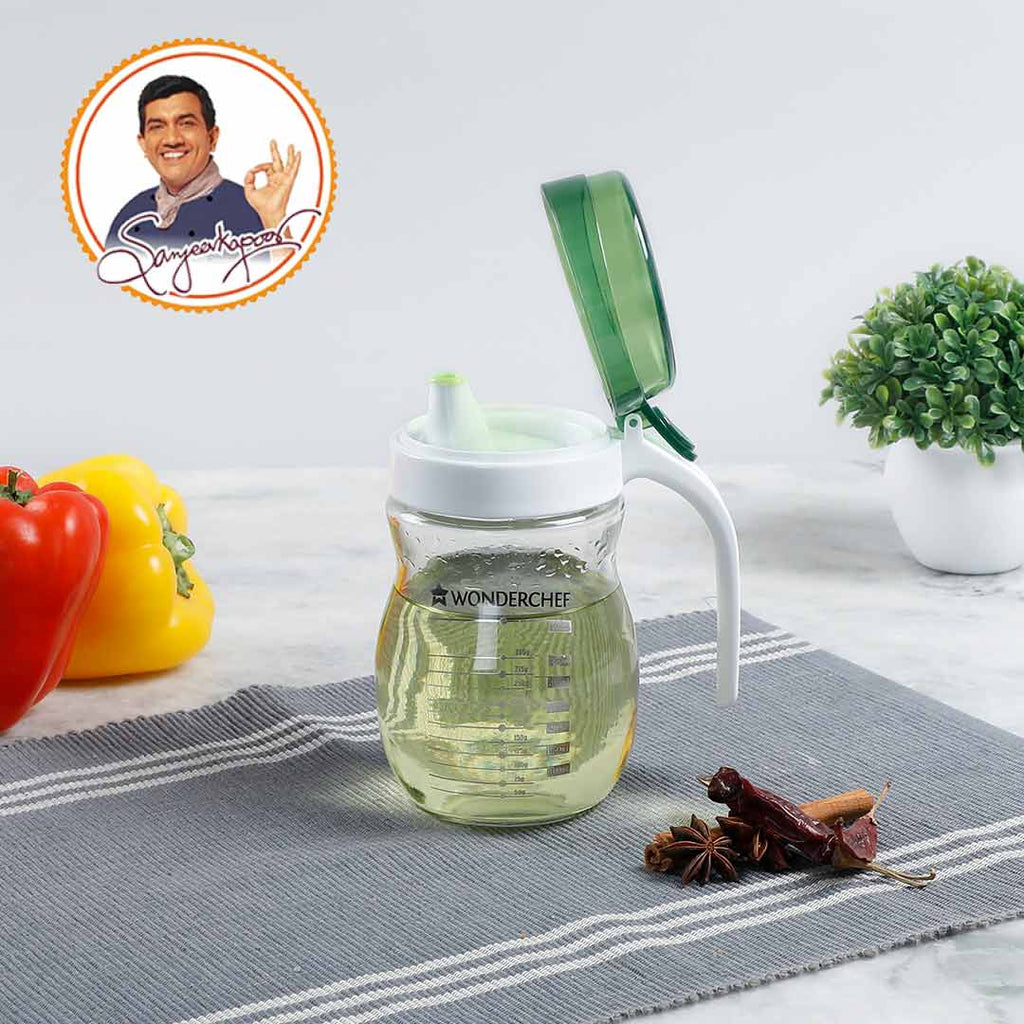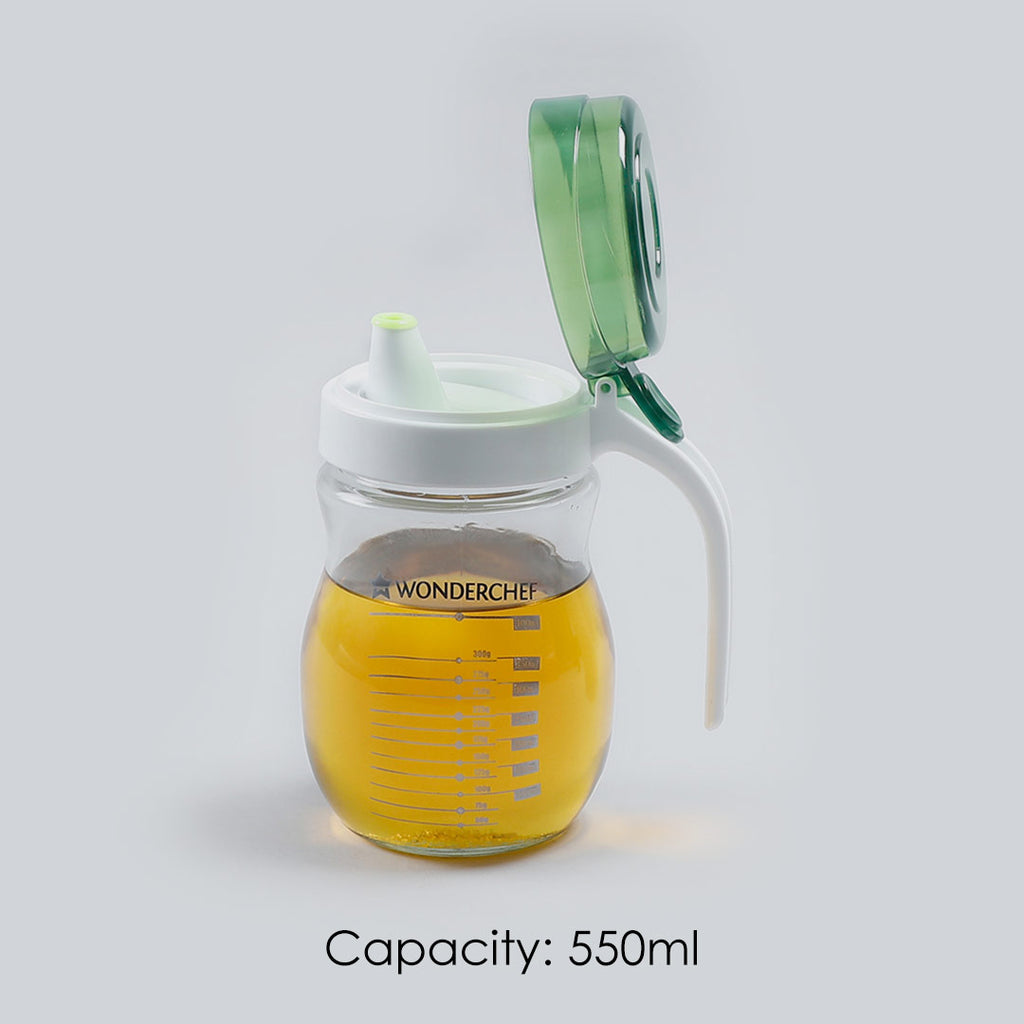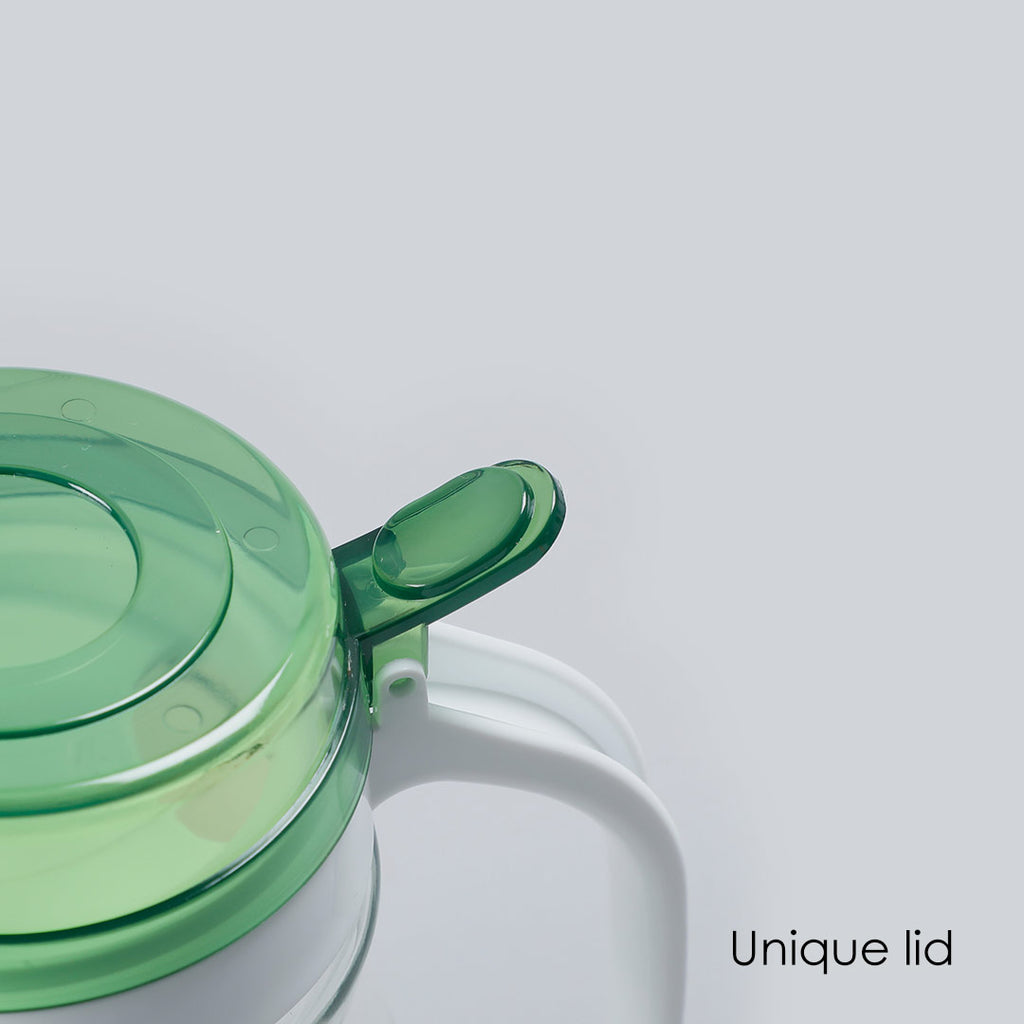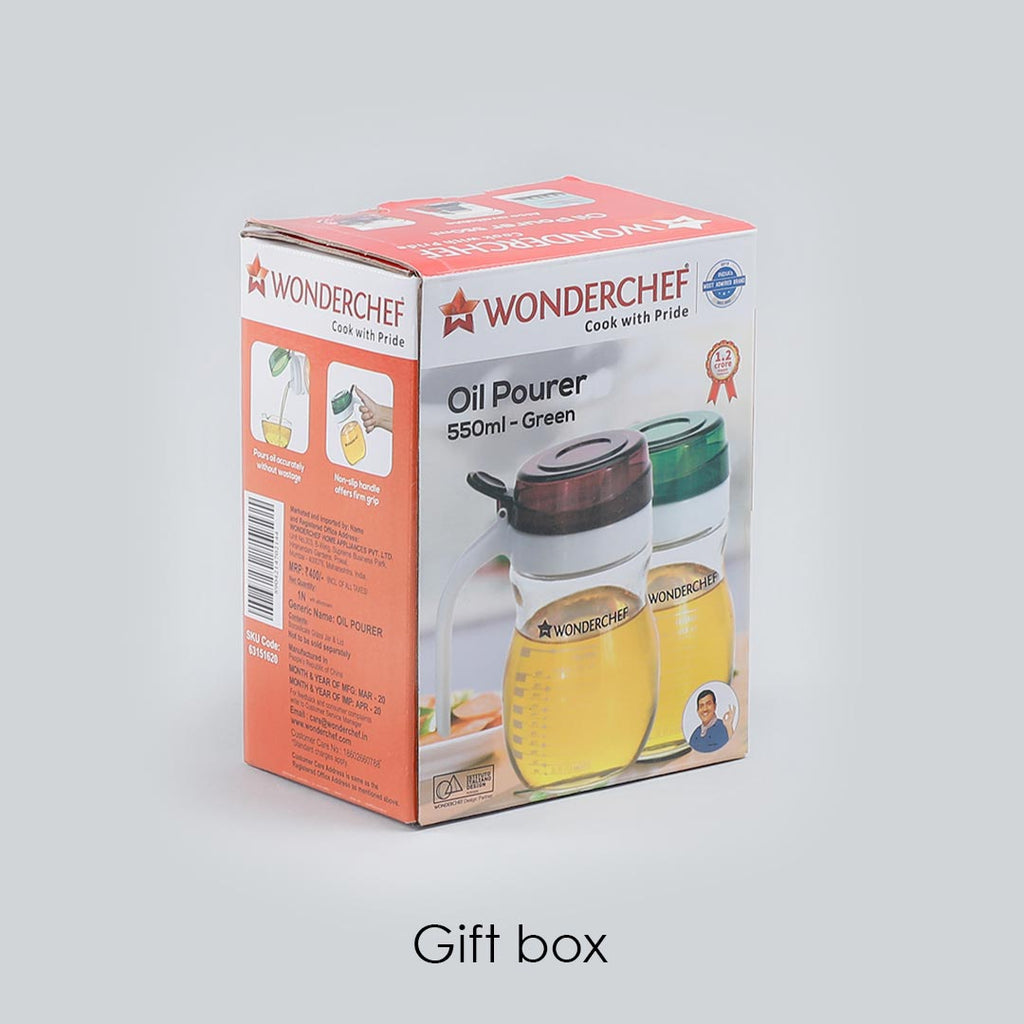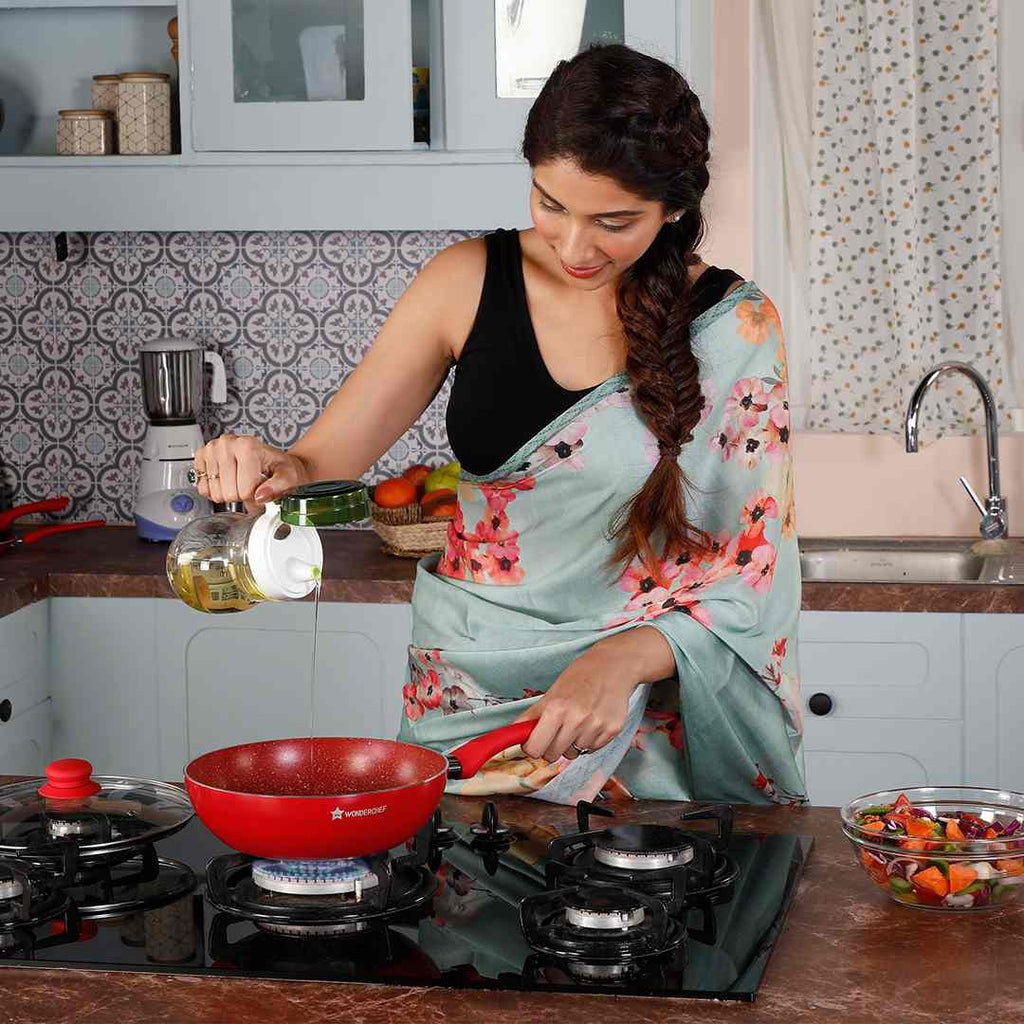 Oil Pourer Glass Bottle for Kitchen, Transparent Oil Pourer and Holder with Green Lid, Accurate Pouring without Wastage, 550ml
About The Product
TRANSPARENT DESIGN: Wonderchef Oil Pourer bottle is made of transparent glass, allowing you to easily see the contents inside. This feature enables you to monitor the oil level and prevent any surprises or running out of oil during cooking.
CONTROLLED POURING: The bottle is designed with a special nozzle that provides controlled pouring of oil. This feature allows you to pour the desired amount of oil accurately without any spills or wastage.
NON-CLOGGING CAP: The bottle comes with a cap that prevents clogging and ensures a smooth pouring experience.
EASY TO FILL: The bottle is designed with a wide removable lid, making it easy to fill with oil. This feature allows you to refill the bottle without any spills or mess, ensuring a hassle-free experience.
AIRTIGHT SEAL: The bottle is equipped with an airtight seal to prevent air from entering the bottle and oxidizing the oil. This seal helps to maintain the freshness and quality of the oil for a longer period.
CAPACITY MARKINGS: The bottle has capacity markings on the side, making it convenient to measure the amount of oil needed for your recipes. This feature allows for precise measuring and helps prevent over-pouring or under-pouring.
EASY TO CLEAN: The glass bottle is easy to clean and maintain. It can be washed by hand for effortless cleaning. The transparent glass material ensures that no residue or oil stains are left behind.
DURABLE CONSTRUCTION: The oil pourer bottle is made of high-quality glass that is resistant to impact and breakage. It is designed to withstand regular use in the kitchen without compromising its functionality or durability.
VERSATILE USE: The oil pourer bottle can be used not only for oil but also for other liquids such as vinegar, dressings, or homemade sauces. Its versatile design allows you to use it for various cooking and culinary needs.
More Information
Brand: Wonderchef
Material: Glass
Induction: NA
Warranty: NIL
Package Contents:
Product Weight:
Actual Product Weight: 580 Gram
After Packing Weight: 610 Gram
Actual Product Size:
Diameter-8cm
Height- 16cm
Packing Size (LBH in cm): 12.5*9.5*16.6cm
Capacity: 550ml
GST Product State :
Maharashtra
Old_Discount Percentage Max Val :
No
Discount Percentage Max Val
No
Manufacturer Name: Imported by Wonderchef Home Appliances Pvt Limited


No more extra oil spilling
Very much useful in kitchen.
Helpfull product
This is very helpful in kitchen for cooking.Nice pourer.
Useful for daily use
It is very easy to pour oil due to wide opening.It is very easy to hold due to non slippery handle.Very useful product.
Excellent Quality
A must have in your kitchen, glass jar is best for oil storage. Easy to pour and the no drip design draws back the oil inside the container.
Excellent product
Very good Product . Nice Quality.
nice product
Its very easy to pour and very easy to handle..
Reliable Warranty

Complete peace of mind

Customer Service

1860 266 0788

Fastest Delivery

Free shipping above ₹799