Classic String Vegetable Chopper & Whipper, Vegetable Cutter, Dip Whipper, Anti Slip, 3 Stainless Steel Blades, 450 ml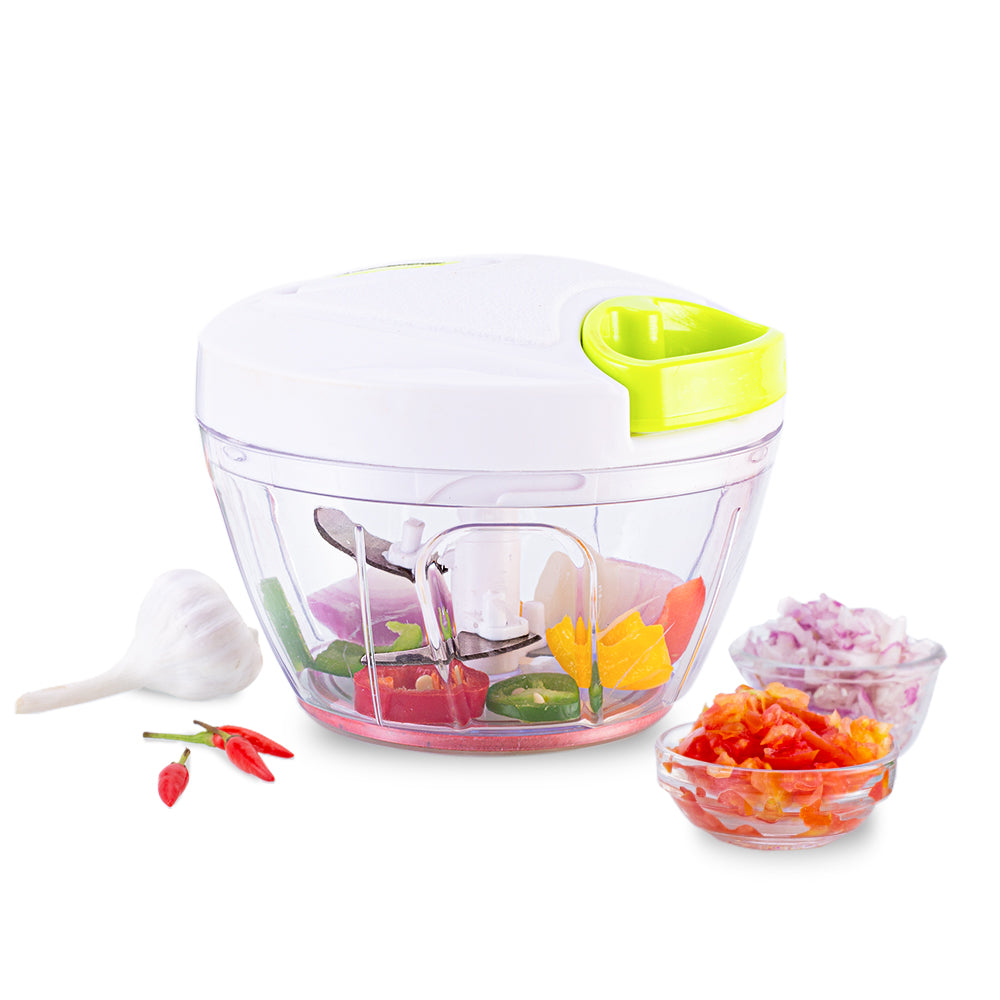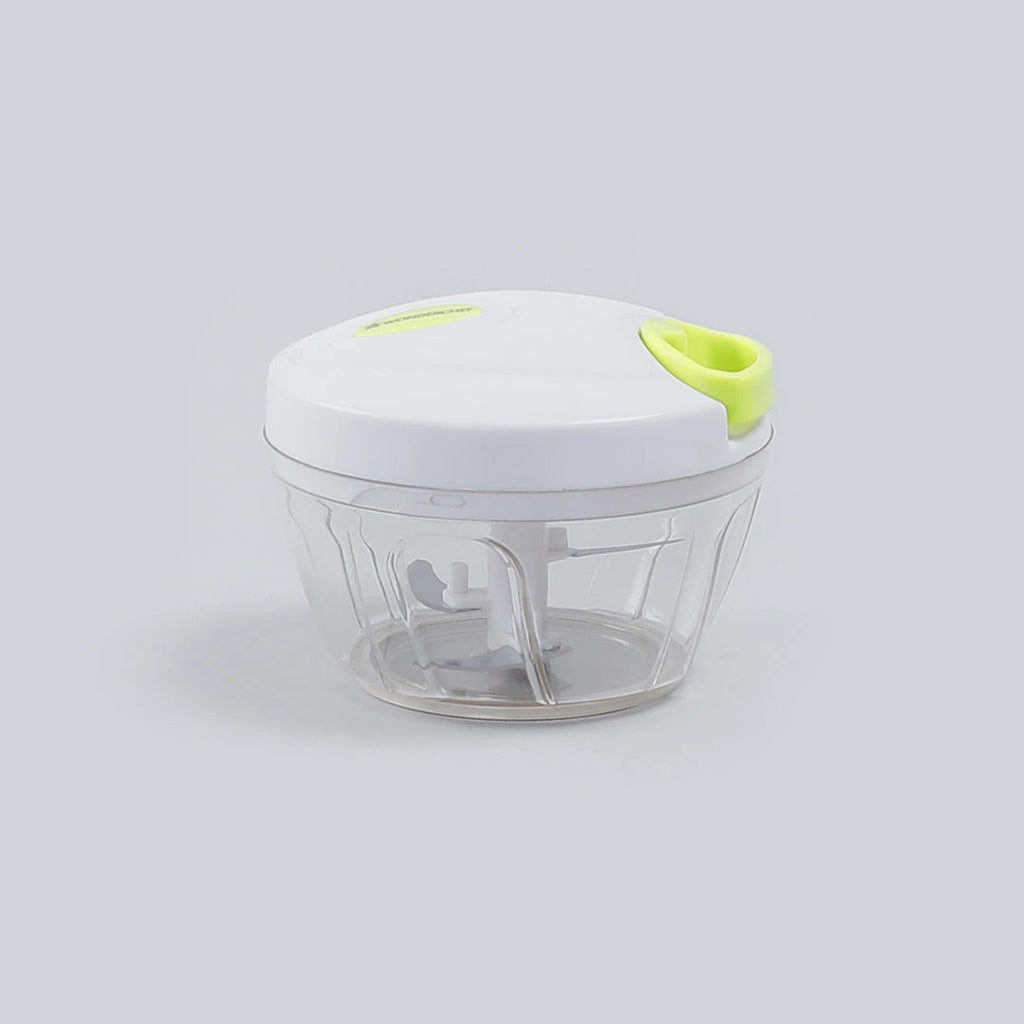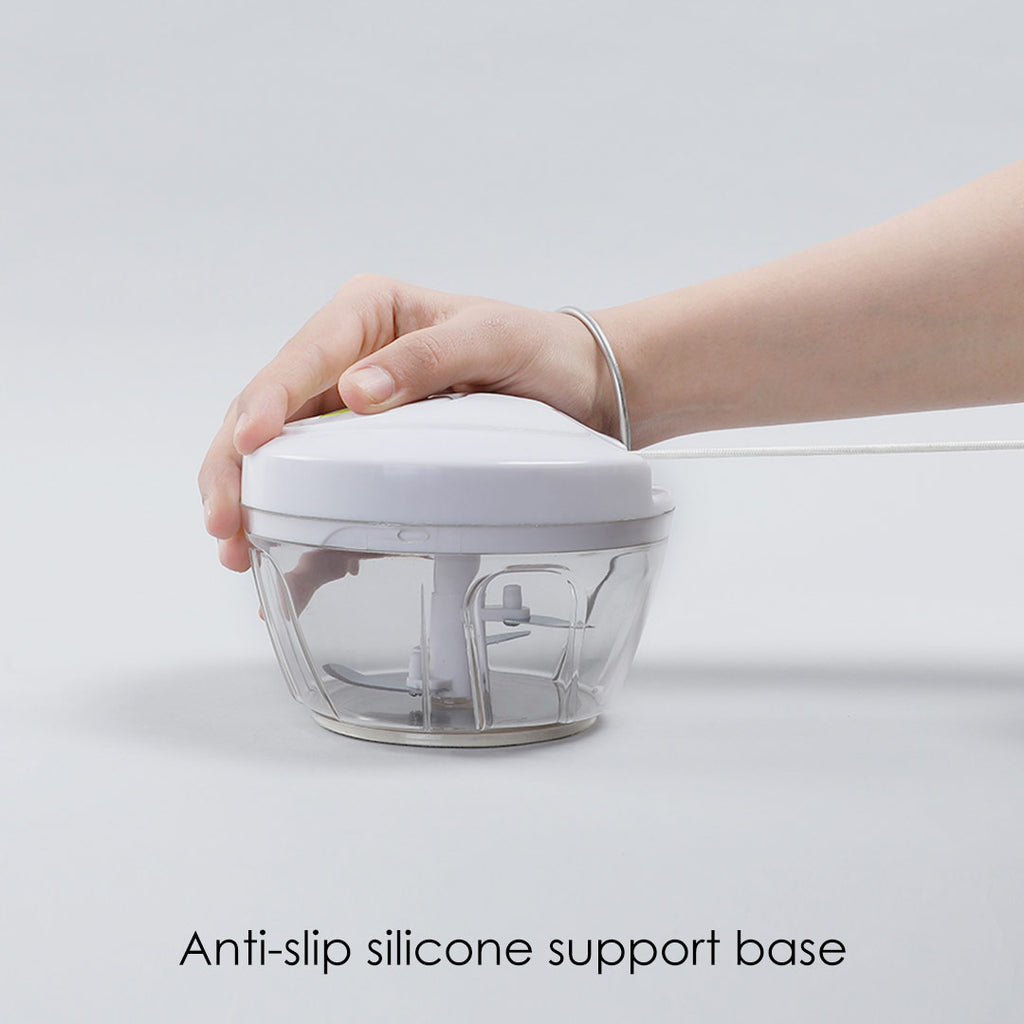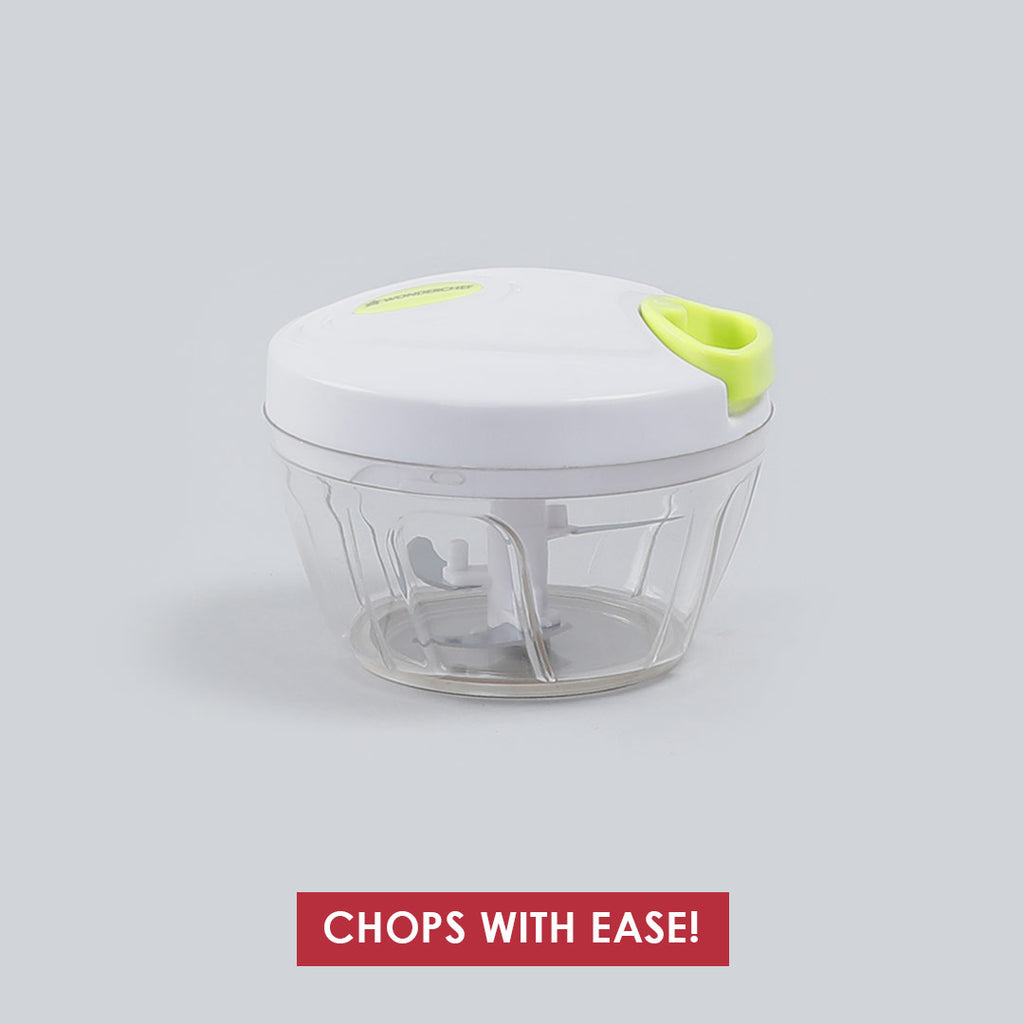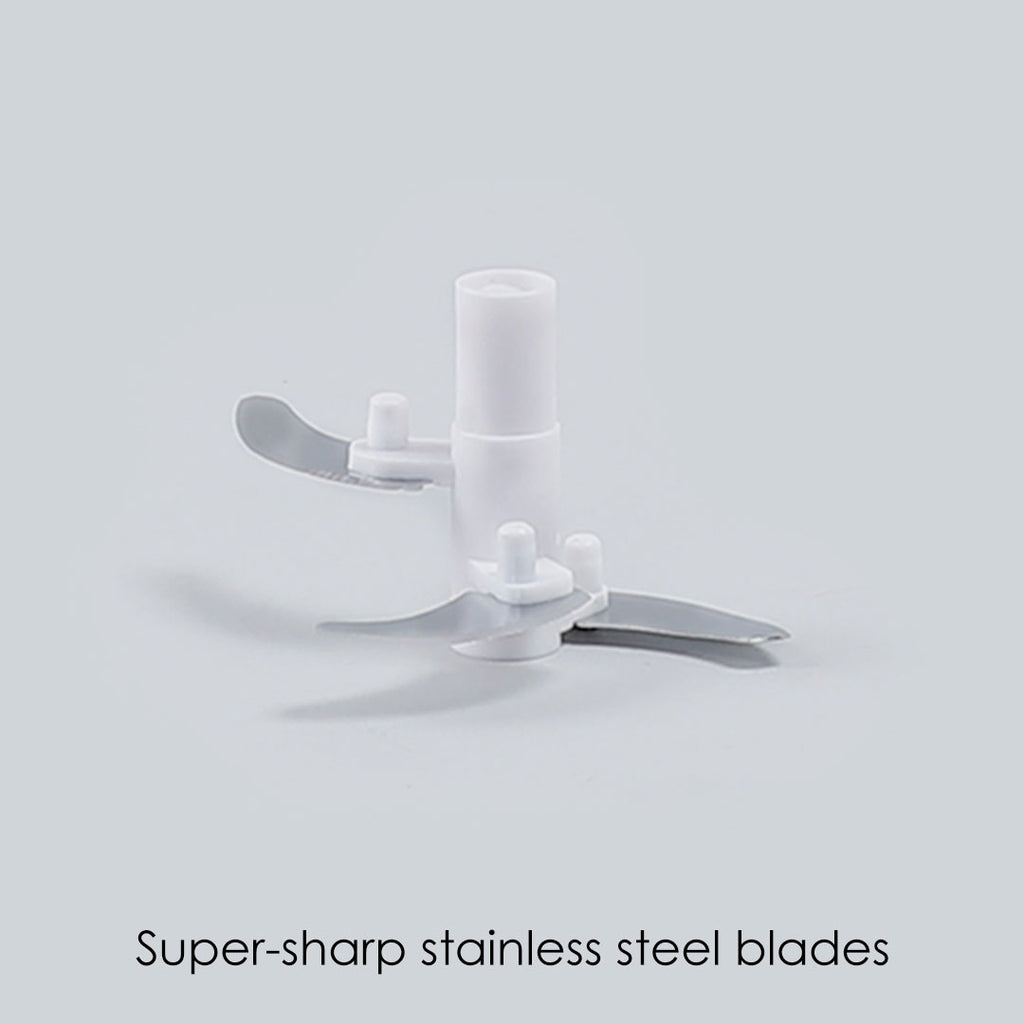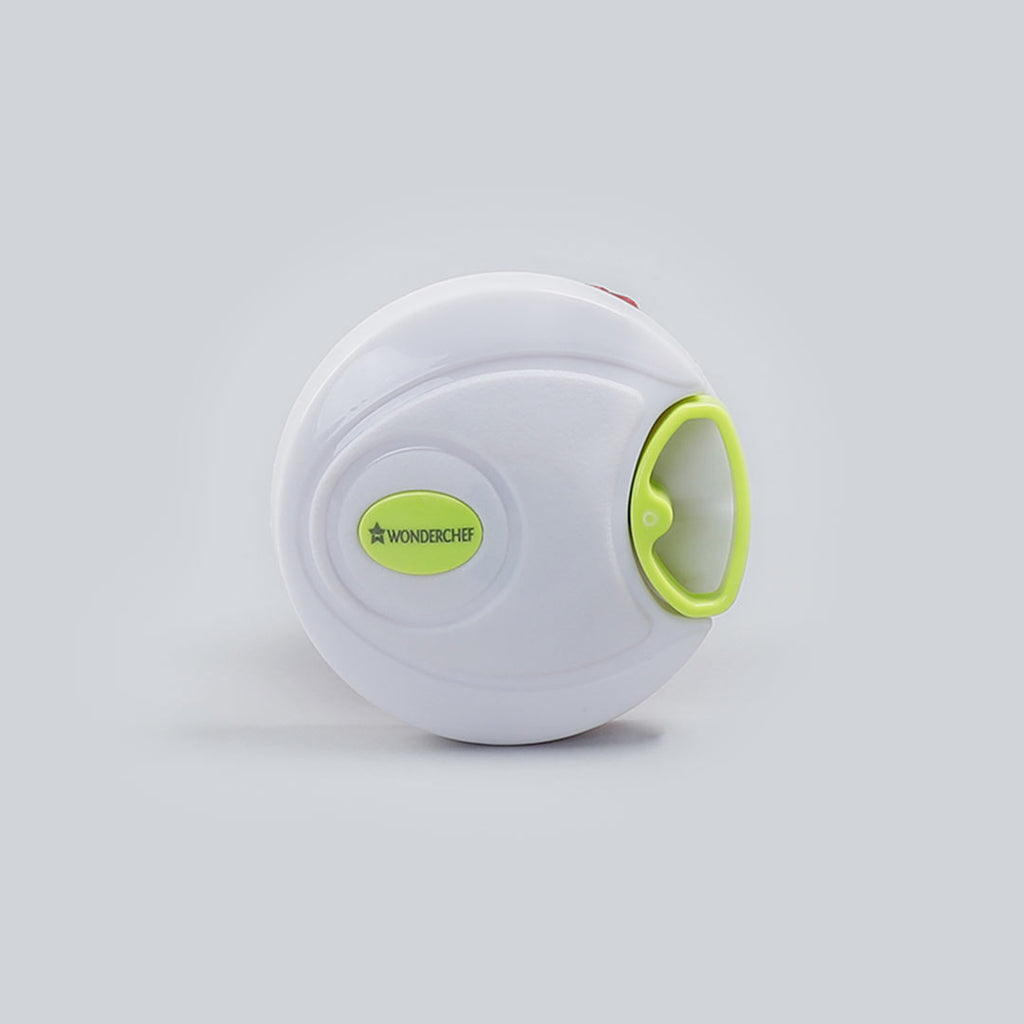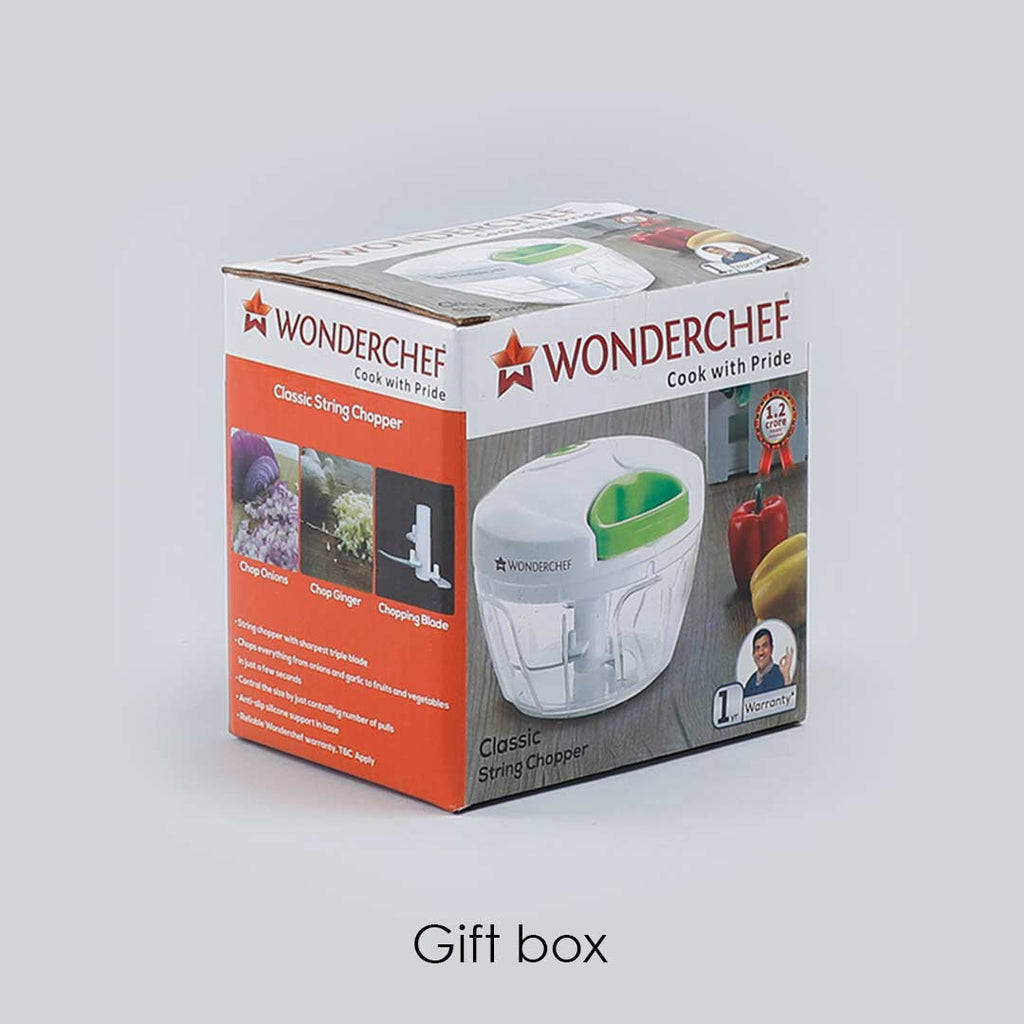 Classic String Vegetable Chopper & Whipper, Vegetable Cutter, Dip Whipper, Anti Slip, 3 Stainless Steel Blades, 450 ml
About The Product
SHARP BLADES: The Classic String Chopper from Wonderchef comes with 3 sharp cutting blades made of stainless steel which are anti rust. These 3 blades are placed in different directions and levels inside the chopper to cover the entire height of the jar and ensure fine chopping
TRANSPARENT JAR: The chopper comes with a transparent jar of 450ml, thus making it easy and convenient for the user to check the size of the vegetables inside while they are being chopped
EFFICIENT STRING MECHANISM: Our vegetable chopper features a unique string mechanism that effortlessly chops vegetables with just a few pulls. The sharp blades swiftly cut through even the toughest vegetables, saving you time and effort in the kitchen.
VERSATILE CUTTING OPTIONS: The chopper offers versatile cutting options, allowing you to control the size of the vegetables by controlling the number of pulls.
SILICONE-SUPPORTED BASE: Classic String Chopper comes with a silicone ring at the base which provides a firm hold when kept on the table/kitchen platform, thus making it easier to use by holding the chopper with one hand and pulling the string with the other.
MULTI-UTILITY CHOPPER: This vegetable chopper comes with a special whisking attachment which enables whisking of eggs to make your fluffy omelettes. Get freshly homemade cream or yogurt with the help of this special attachment
SAFETY FEATURES: Our vegetable chopper is designed with safety in mind. It features a secure locking mechanism that keeps the blades in place during operation, minimizing the risk of accidents or injuries. The non-slip base provides stability, preventing the chopper from sliding during use.
COMPACT AND SPACE-SAVING DESIGN: The chopper's compact design makes it easy to store in your kitchen drawer or cabinet. It takes up minimal space, allowing you to keep your countertop clutter-free.
EASY TO USE AND CLEAN: Using the chopper is a breeze. Simply place the vegetables in the container, secure the lid, and pull the string for quick and efficient chopping. The parts are detachable, making it easy to clean the blades, container, and lid.
1 Year WARRANTY: Peace of mind with a 1 year reliable Wonderchef warranty with the best after-sales service in over 20,000 pin codes across India.
More Information
Brand:
Wonderchef
Warranty:
1 Year
Package Content:
Material:
ABS Plastic
Manufacturer Name - Arwa Plastics & Electricals Private Limited

Manufacturer Address - GALA NO 7 ,E.D INDL ESTATE, SURVEY,NO.22/69, SAGPADA VILLAGE, DEODAL KOLHI,TAL.VASAI.DIST.PALGHAR - 401208,MAHARASHTRA INDIA

GST Product State :
Maharashtra
Old_Discount Percentage Max Val :
No
Discount Percentage Max Val
No
Frequently Asked Questions
Yes. Wonderchef String chopper have gears. Gears help to pull thread when force is applied.

You can chop fruits, vegetables, nuts & garlic in just 2-3 minutes with easy pulls.

It takes approximately 2 to 3 minutes to cut vegetables.

Yes, for better results you can cut fruits, vegetables into suitable pieces.

It is advisable to cut into 4 pieces for better results.

Yes size may vary depending on usage. Wonderchef string choppers have an easy mechanical pulley, which uses a spring and a thread. When the thread is pulled, the blades rotate. Depending on the force and the number of strokes, fruits & vegetables can get chopped.

Yes. You can cut salads also in Wonderchef string chopper.

No. You can use Wonderchef string chopper for mincing, making puree & beating as well.

Yes. Wonderchef string chopper comes with special whisking attachment which helps in beating eggs.

No. Wonderchef string chopper has sharp blades which can be used for chopping & cutting fruits & vegetables.

Yes. You can also visit the product listing section page to see the demo videos.

12 months. For SKU specific warranty specification, kindly visit the product description section.

Yes. But be extra careful while touching blades as they are very sharp.

Wonderchef string chopper should be cleaned after every use. You can wash chopper with normal water and soap after every use and dry it before storing it. Please be extra careful while cleaning blades as they are very sharp.

Wonderchef string chopper comes with 3, 5 & 6 blade options.

It purely depends on your usage. If the quantity requirement for chopping fruits & vegetable is higher, then you can select 6 blades. For small to moderate level requirement 3 and 5 blade options are available. The blades are placed at different level in such a ways that they cover the height of the chopper. This results in fine chopping within seconds.

Yes the blades are made of stainless steel & are anti-rust.

Yes. Wonderchef string choppers are made of food grade plastic and it is durable to use as well.

Yes. Wonderchef string choppers are BPA free.

The range starts with 3 blade - 450 ml. For SKU specific capacity specification, kindly visit the product description section.

Yes. You should fill half the capacity of chopper for fine chopping results.

No. You can use even with half capacity.

Yes. Wonderchef string choppers comes with transparent jars so that you can monitor chopping results easily.

No storage lid is provided with Wonderchef string choppers.
my mini multitasker
I chop (onions, veggies, chillies , garlic..)
I mash my baby food
I mix batters, eggs too !!
kare chutkiyon mein chopping
total paisa wasool product .. meri har recipe ka anmol saathi !
Must have in kitchen
Compact, sharp SS blades,efficient- needs only few pulls to chop , easy to use and easy to clean!!
Best in market
i picked this chopper after i had alrdy used 3 similar choppers from other brands. In others thread became looose after a few pulls or blades were rusted when rcvd, one to slipped and the bowl broke. This is perfect size for my use, SS sharp blades, does not skid , firm grip, lid locks firm , thread and pull work smooth. Next time i want to buy something , i will prefer to buy Wonderchef .
Every Kitchen must have this Chopper.
3 sharp Stainless Steel blade chop everything in seconds.
Perfect tool for chopping, Saves time.
I ordered this after my mom's recommendation. And very happy with the product. It saves me a lot of chopping time, specially for onions. What a relief!
Multi assistant for Kitchen
My everyday friend in kitchen. I am very happy with it as now I can chop onions everyday without tears. Life has really become easy with this.
Time saver
I ordered this after my friend's recommendation. And am very happy with the product. It saves a lot of chopping time, especially for onions. It can finely chop tomatoes and garlics too, what a relief ! The plastic used in the bowl is of a very superior quality. The position of 3 stainless steel blades is very good which helps in fine chopping of fruits & vegetables.
Value for money
Chopper cum kneader
Excellent buy
Easy to assemble and easy to use without electricity
Best kitchen tool
Using it for more than 6 months. Very quick and easy chopping of onions,garlic,tomatoes. Easy to make ginger garlic paste as well, Even buttermilk mixing. Must buy product. saves lots of time and energy .
Reliable Warranty

Complete peace of mind

Customer Service

1860 266 0788

Fastest Delivery

Free shipping above ₹799