Vegetable Cleaner and Salad Spinner, Removes Excess Water and Pesticides, Cleans Vegetables Thoroughly, Use for Mixing Salad with Dressing, Food-grade Plastic, Transparent Body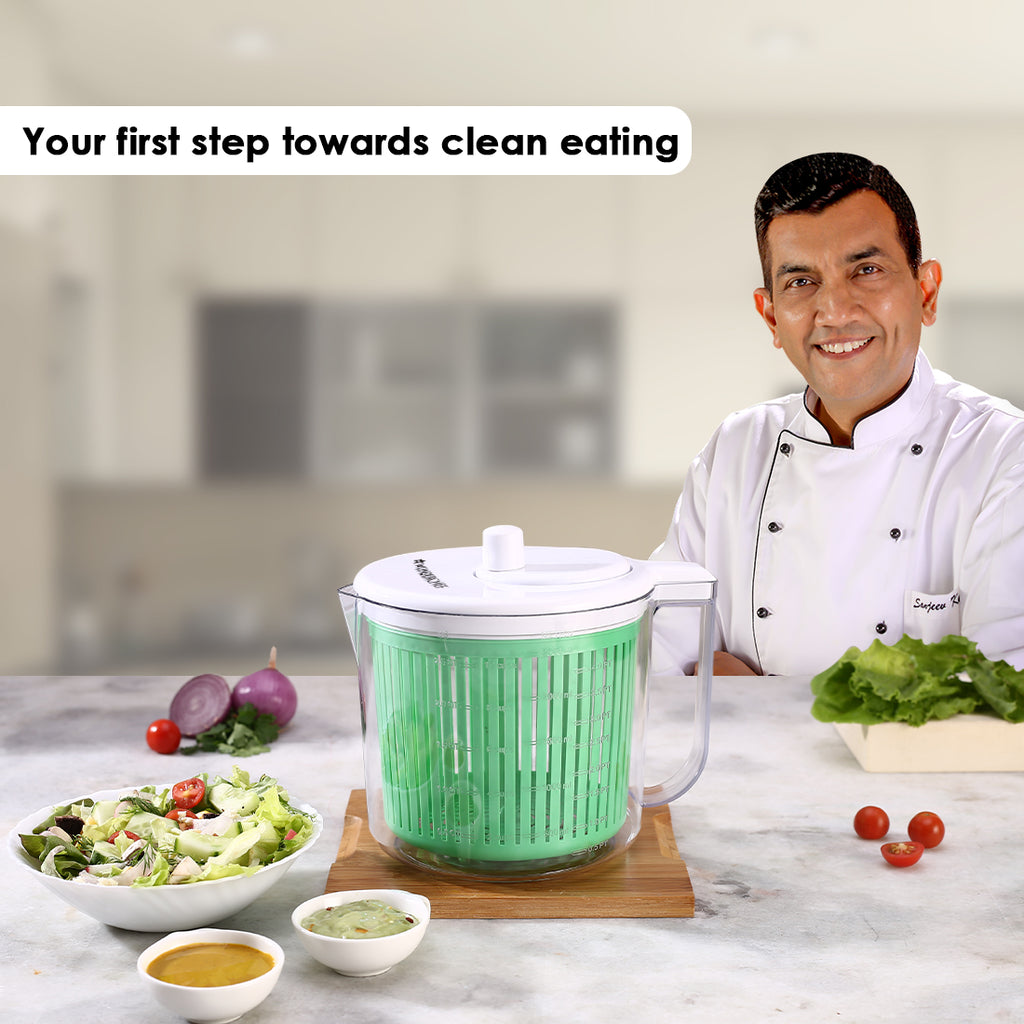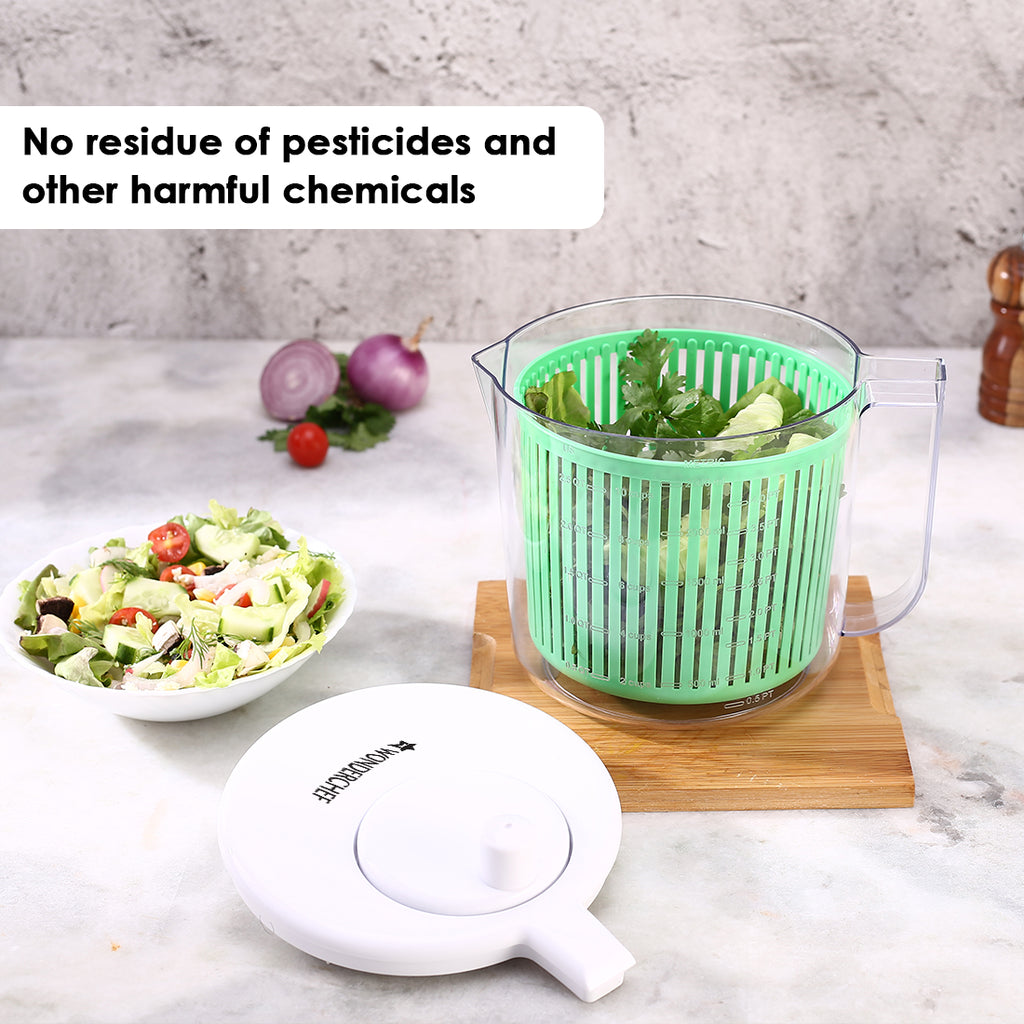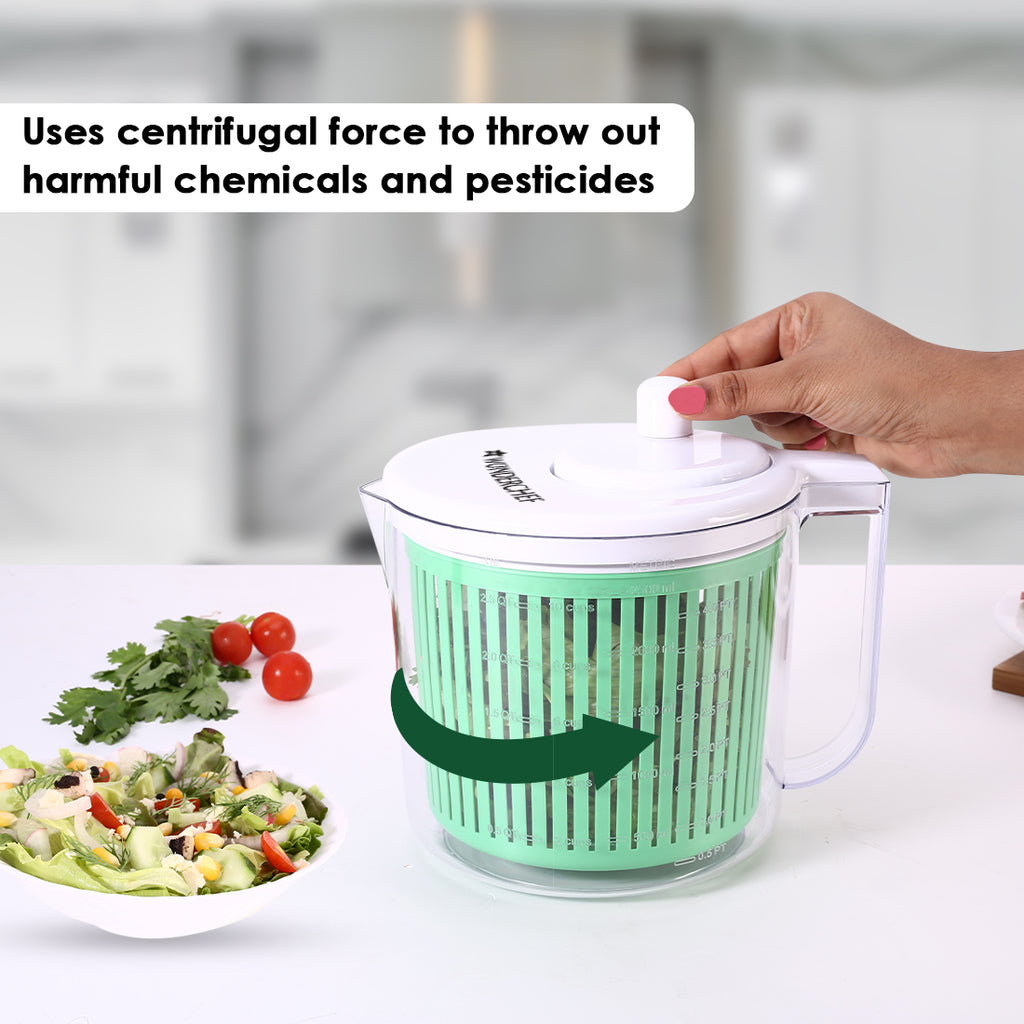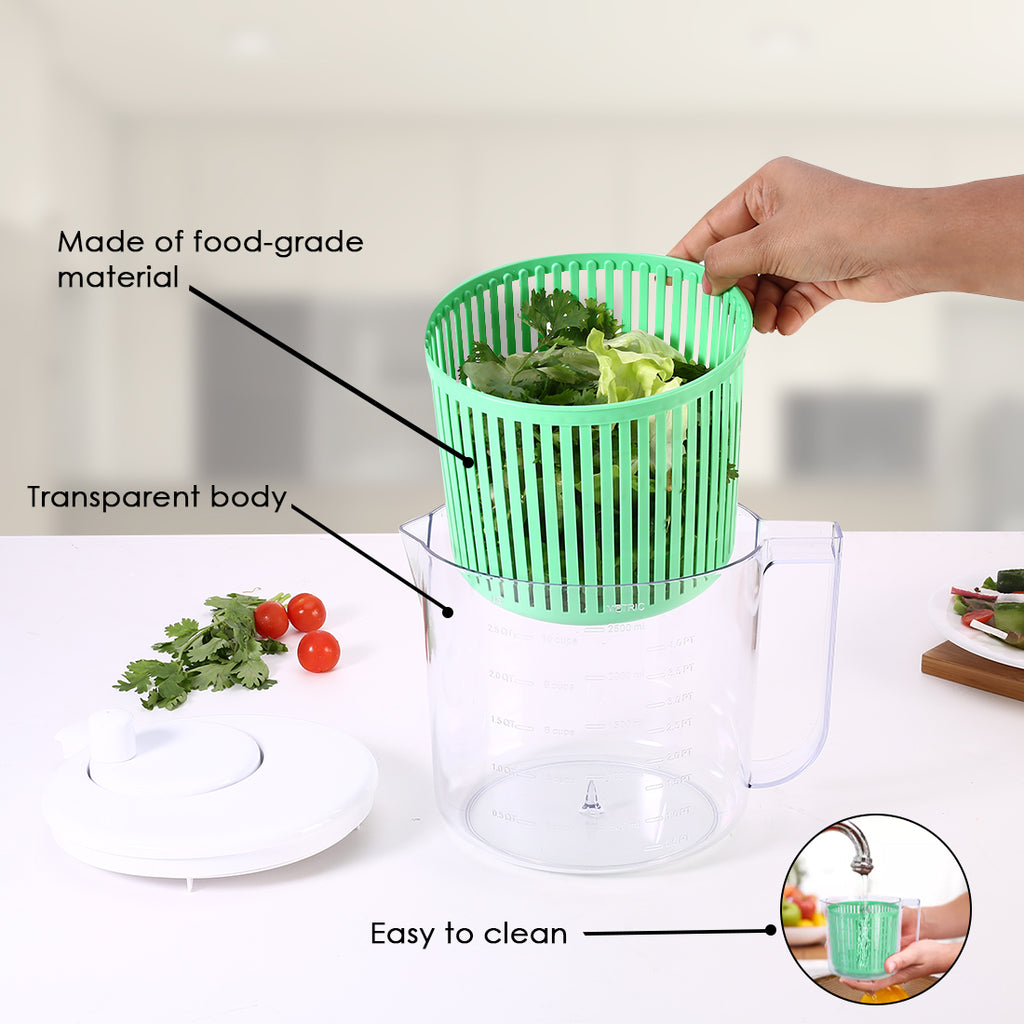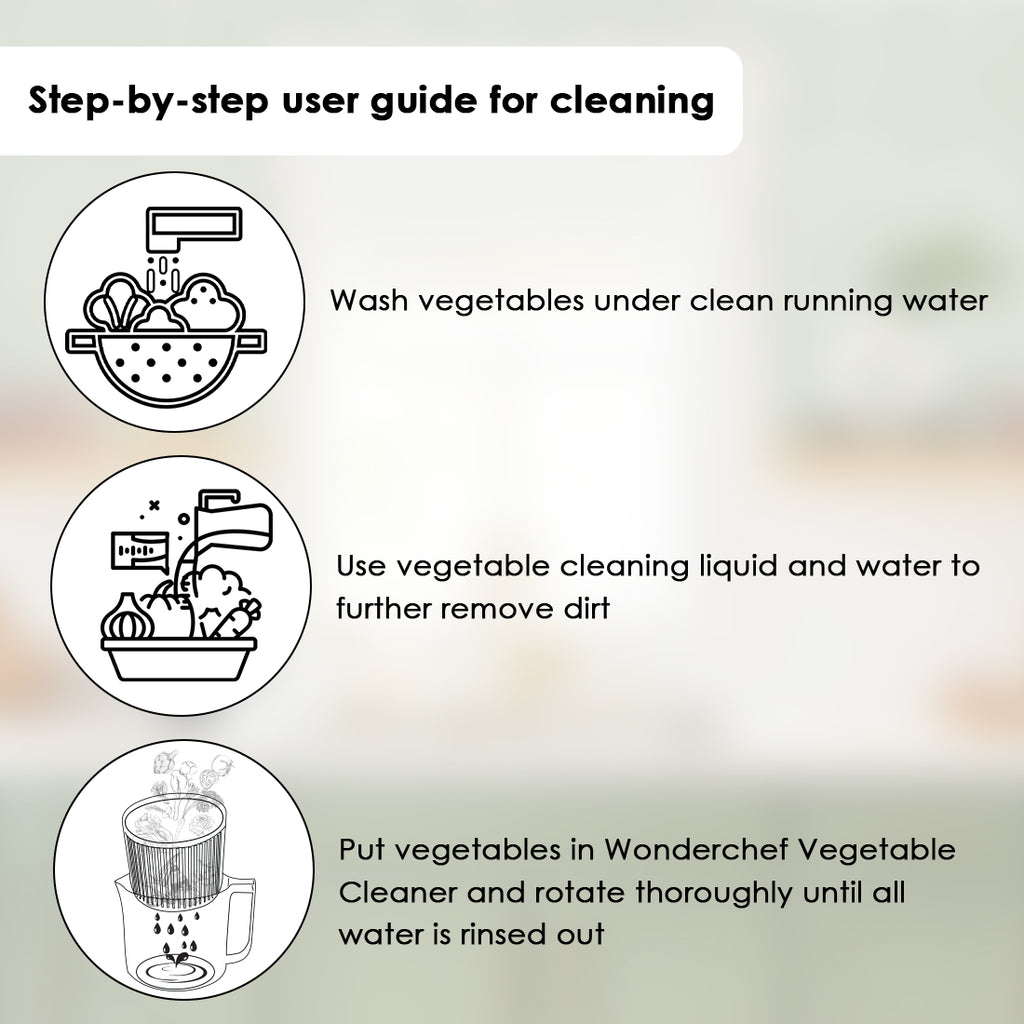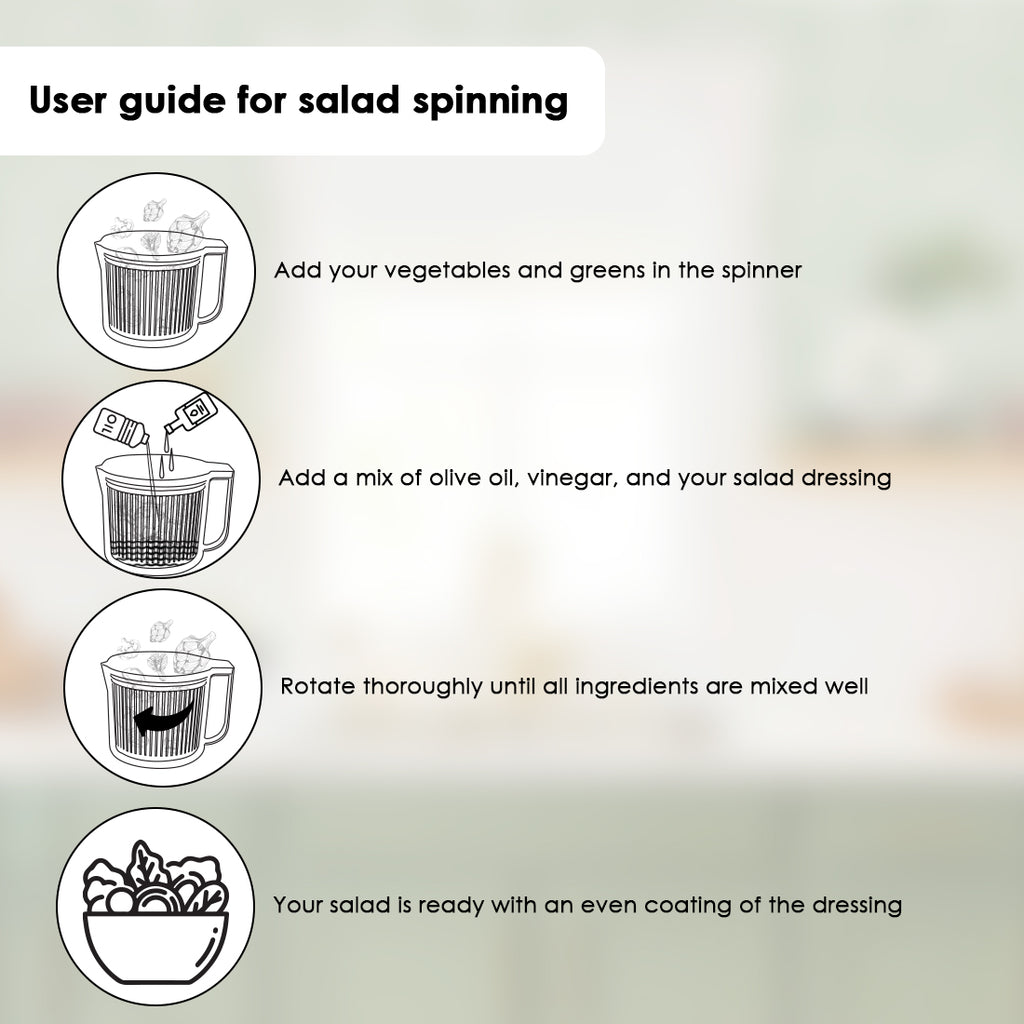 Vegetable Cleaner and Salad Spinner, Removes Excess Water and Pesticides, Cleans Vegetables Thoroughly, Use for Mixing Salad with Dressing, Food-grade Plastic, Transparent Body
About The Product
Wonderchef Vegetable Cleaner and Salad Spinner is your first step towards healthy eating. It uses the centrigual force to throw out excess water and pesticides from your greens and other vegetables, leaving them absolutely safe for consumption, even in raw form! Don't just clean, as this salad spinner also helps mix your salads to perfection, spreading that tasteful dressing evenly through all vegetables and other ingredients! Make this a part of your journey to healthy eating!
Raw and leafy vegetables have a lot of chemicals and pesticides and often they are stored in unhygienic conditions. We tend to consume them in raw form, specially mint and coriander leaves which are used to make fresh chutney everyday. To avoid harmful effects of these chemicals, it is essential to wash them thoroughly before use.
The Solution: Wonderchef Vegetable and Dhaniya Cleaner uses centrifugal force to throw out excess water & pesticides leaving your contents safe to consume.
Multi-Purpose Use: In addition to cleaning vegetables and leafy greens, the spinner can also be used to dry washed herbs and berries. Transparent Body: The transparent body allows you to monitor the cleaning and spinning process, so you can stop it at the desired time.
Tasty Salad: For a fresh and crisp salad, rotate leafy vegetables, vinegar, olive oil and salad dressing together. Easy-to-Clean: The removable parts are designed for easy and quick cleaning, saving you time and effort in maintenance.
Made of Food-grade Materials: Made from high quality food-grade plastics, this compact cleaner is made to fit perfectly in your kitchen, without occupying too much space. Use it everyday to foster the health and wellness of your family.
Warranty: Wonderchef products are inspired by Italian Design and adhere to German Quality Standards. They are covered by reliable Wonderchef Warranty, T&C apply.
Brand: Wonderchef
Material: Plastic
Warranty: 1 Year
Package Dimensions (LWH): 18.6 x 17.6 x 18.2 cm
Package Weight: 570 gms
Package Contents:
Wonderchef Vegetable Cleaner with Salad Spinner: 1 Pc
Manufacturer Name: Imported by Wonderchef Home Appliances Pvt Limited


Sturdy and Reliable – A Kitchen Companion
The durable build and efficient water removal make this spinner a reliable companion. I trust it for clean, crisp veggies every time!
Saves Time and Effort in the Kitchen
With this vegetable cleaner, I've cut down my prep time significantly. It's a must-have for anyone looking to streamline their kitchen routine.
User-Friendly Design, Hassle-Free Experience
The food-grade plastic and transparent body make using this spinner a breeze. Cleaning veggies has never been this easy and enjoyable!
Efficient Vegetable Cleaning Power
This cleaner works wonders, removing pesticides and excess water effortlessly. Now, I can enjoy salads worry-free!
A Kitchen Essential for Health-Conscious Folks
This transparent salad spinner ensures thorough vegetable cleaning. It's become my go-to for mixing salads with the perfect dressing.
Reliable Warranty

Complete peace of mind

Customer Service

1860 266 0788

Fastest Delivery

Free shipping above ₹799