Ultima C-Line 60cm 1400 m3/hr Auto Clean Curved Glass Chimney | Baffle Filter | 1400M3/Hr powerful suction | Touch + 3 speed Motion Sensor control | Low Noise | 7 Year Warranty on Motor | Black
Sold out
...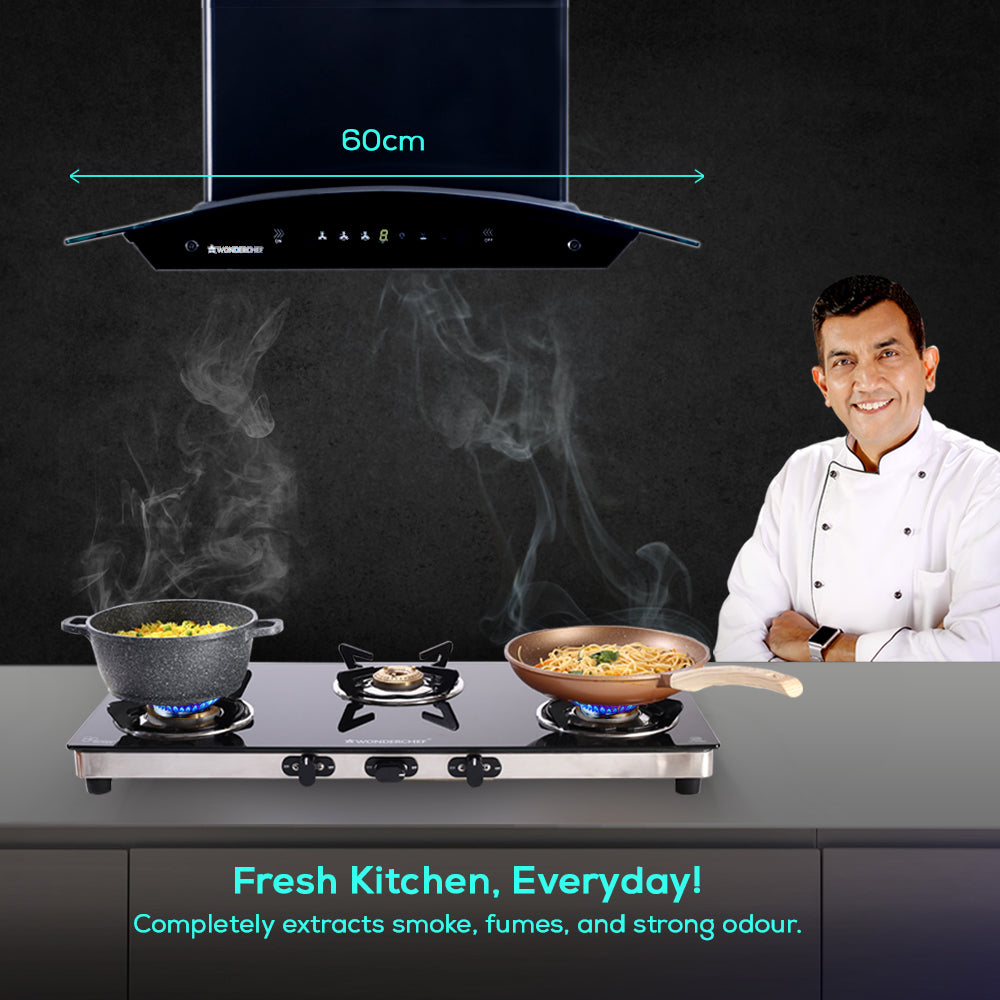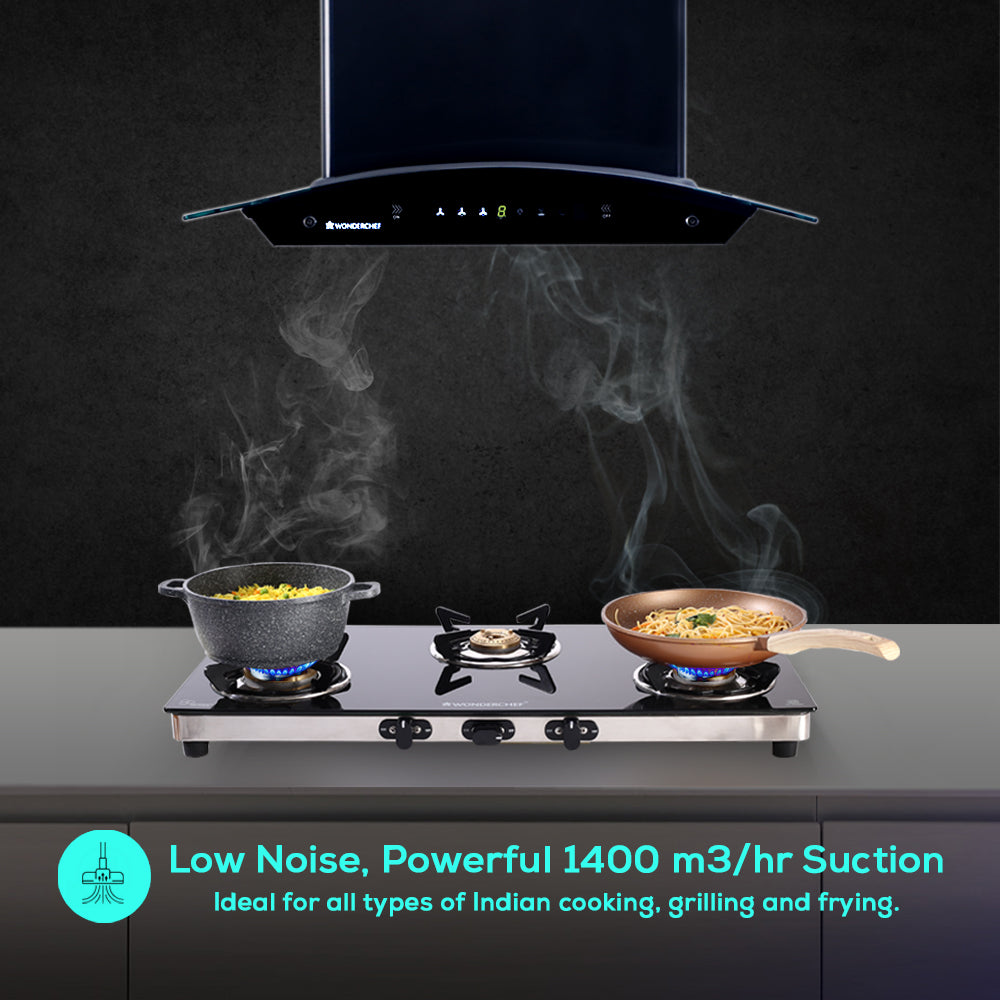 Ultima C-Line 60cm 1400 m3/hr Auto Clean Curved Glass Chimney | Baffle Filter | 1400M3/Hr powerful suction | Touch + 3 speed Motion Sensor control | Low Noise | 7 Year Warranty on Motor | Black
About The Product
Experience the future of kitchen technology with our Ultima C-line Filterless Auto- clean Chimney, designed to create a truly smoke-free haven. Say hello to a kitchen where the air is as fresh as your culinary creations, as our advanced system eliminates smoke and odors without the hassle of traditional filters. Embrace a healthier, more enjoyable cooking environment with our innovative solution, making every meal a breath of fresh air.
Experience an advanced technology that ensures a smoke-free, odourless cooking environment with minimal effort – innovation at its finest!
Hassle-free Cleaning: Wonderchef Ultima C- line Chimney comes with an advanced filter-less auto-clean technology, which helps to clean the oil particles around the blower body with ease. No more hassle of cleaning the filter every week!
Clean and Smoke-free Kitchen: With a maximum suction capacity of 1400 M³/Hr*, the chimney draws in all the smoke, oil fumes, keeping your kitchen smoke & stain free.
Easy to Use: Ultima C-line Chimney comes with a super easy touch control & motion sensor technology that helps to control the operations with a simple hand wave, and operates at the touch of a button.
Auto-clean Mechanism: The chimney has an oil collector bowl in which oil residue gets collected enabling to easily clean the chimney.
Warranty: Wonderchef products are inspired by Italian Design and adhere to German quality standards. They are covered by reliable Wonderchef Warranty. T&C apply.
Wonderchef Ultima C-Line Filterless Chimney
The Wonderchef Ultima C-Line Filterless Chimney will revolutionise the way you prepare meals. The chimney is brilliantly constructed with a compact design and a stylish look. With the suction capacity of 1400 m3/hr, it makes cooking smoke- and odour- free. The LED lamps provide the ideal amount of light for your cooking. Your kitchen will have a contemporary feel with this chimney.
Filterless technology
Ultima C-Line Filterless Chimney comes with an advance filter-less technology which ensures hassle-free filter cleaning every week.
Tempered Glass
Wonderchef chimneys use tempered glass for your safety and long-lasting performance of the chimney.
Oil Collector Tray
It has an oil collector tray in which oil residue gets collected and helps to easily clean the chimney.
Powerful Motor
Powerful motor with metal housing and blower for low noise operation. Listen to soothing music of your choice as your create magic in your kitchen.
Maximum Suction
This attractive chimney comes with an amazing feature called motion sensor touch control for more convenience.
Reliable Wonderchef Service
We are confident of our quality. In case of any performance issues with normal usage within the service period, we shall offer you free service.
Brand: Wonderchef

Tech Specs :
Suction: 1400 m3/h
Motor: 200W
Package Contents:
Ultima C-Line 60cm : 1 Pc
Filter: SS Baffle
Blower: Plastic
Power Consumption:
Voltage: 230V~50Hz
Wattage: 200W
Country of origin: India
Manufacturer Name: Inflame Appliances Limited
Manufacturer Address: VILLAGE BAGWALI,KHASRA NO.40/14-15-16-17/1,BLOCK RAIPUR RANI,NH-73,DIS-PANCHKULA-134202,HARYANA INDIA
Fantastic Suction Power
This chimney's 1400M3/Hr suction is incredible, effortlessly clearing kitchen fumes. Cooking has become a breeze with a clean and fresh kitchen every time!
Quiet and Efficient
Despite its powerful suction, this chimney operates quietly, allowing for peaceful cooking sessions. Its efficient, powerful, and quieteverything you could wish for!
Easy Touch Controls
The touch and 3-speed motion sensor control make operating this chimney a delight. Its as simple as a touch to maintain a smoke-free kitchen.
Stylish and Low Maintenance
The curved glass design adds a touch of elegance to my kitchen, and the auto-clean feature saves me from the hassle of cleaning. Low maintenance and high style in one package!
Long-Lasting Warranty
With a 7-year motor warranty, I have peace of mind knowing that my investment is protected. This chimney not only enhances my kitchen but also comes with a promise of durability and reliability.
Reliable Warranty

Complete peace of mind

Customer Service

1860 266 0788

Fastest Delivery

Free shipping above ₹799