Regalia Mixer Grinder 750W, 230V~50Hz, 3 Stainless Steel Jars, Black, 5 Years Warranty
...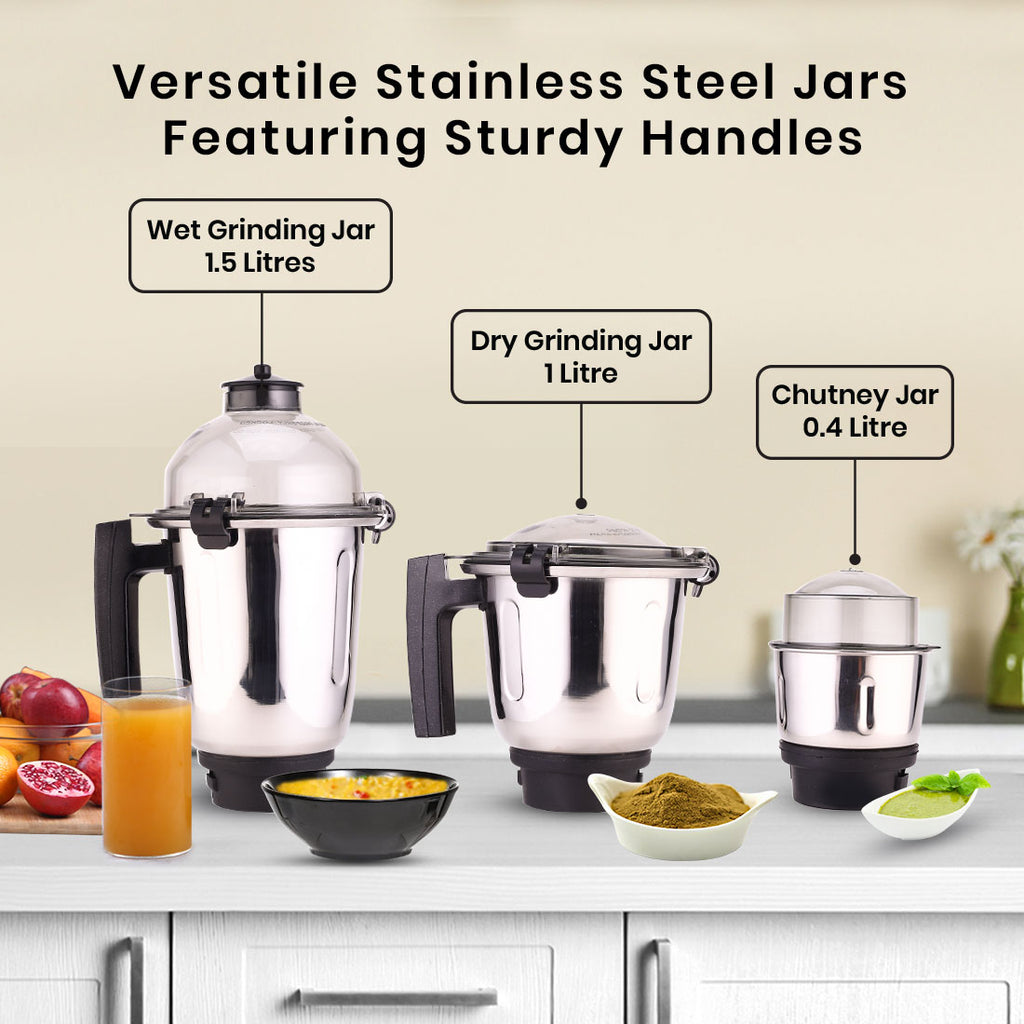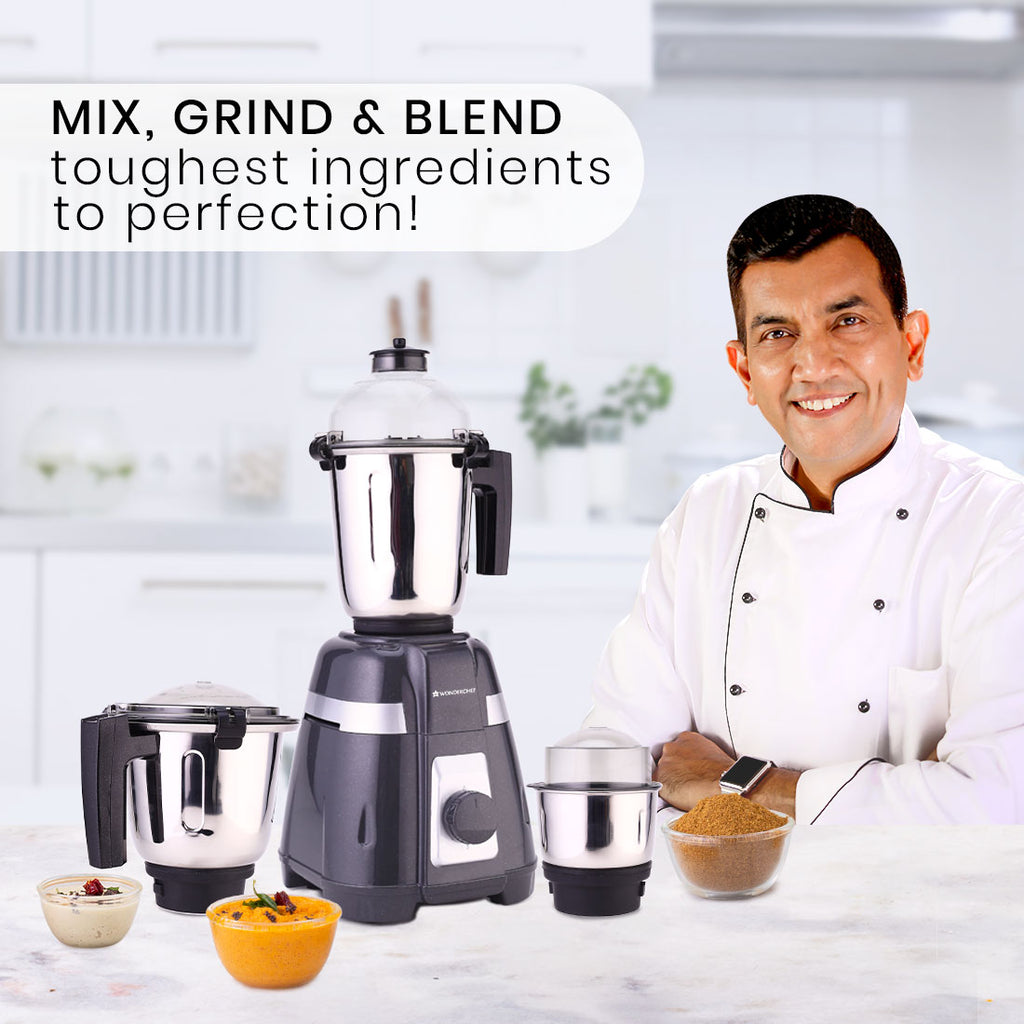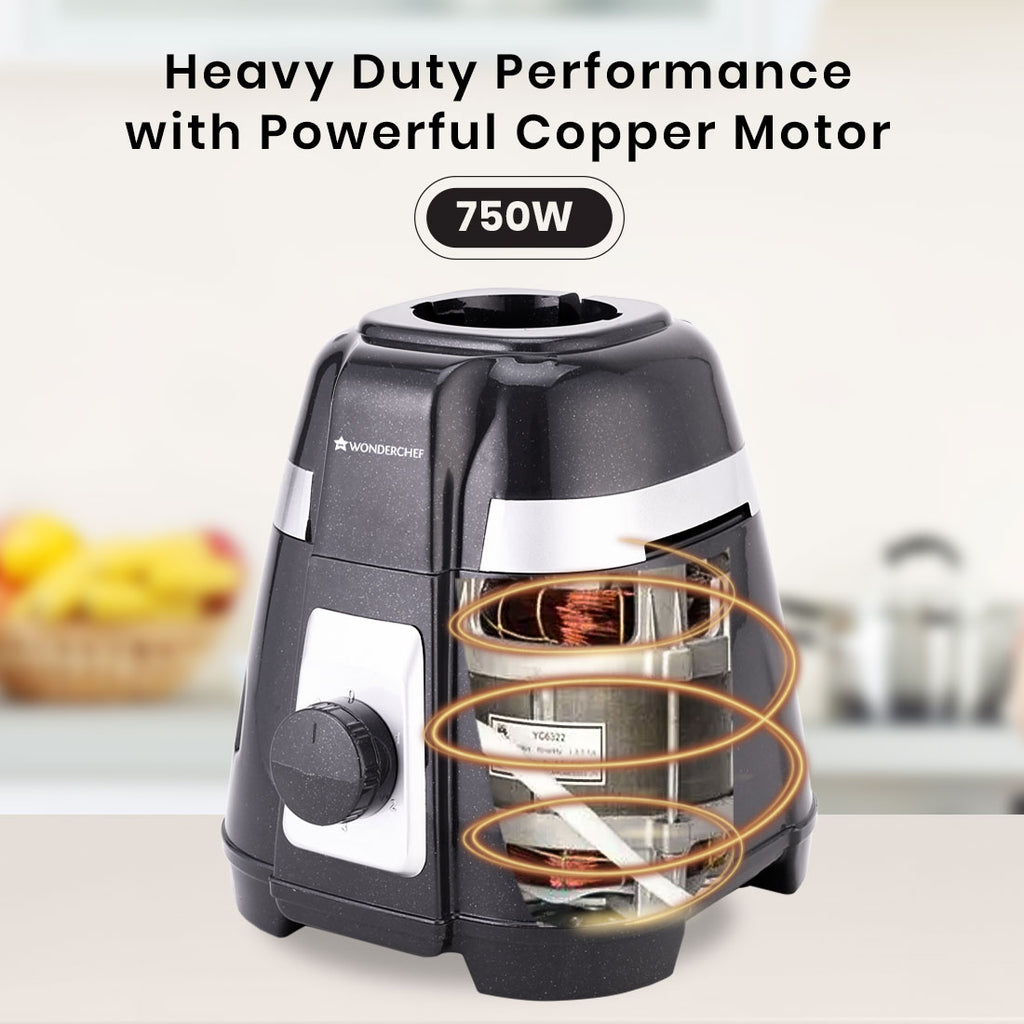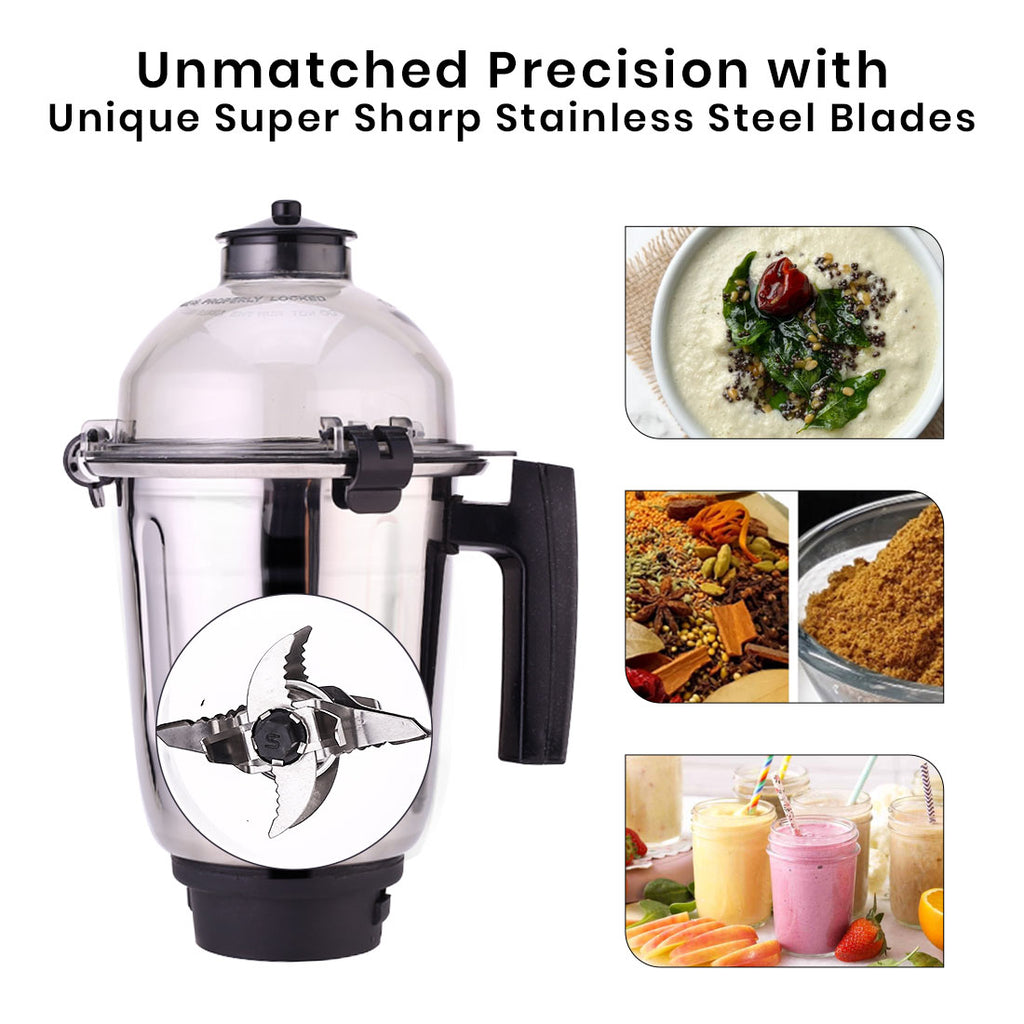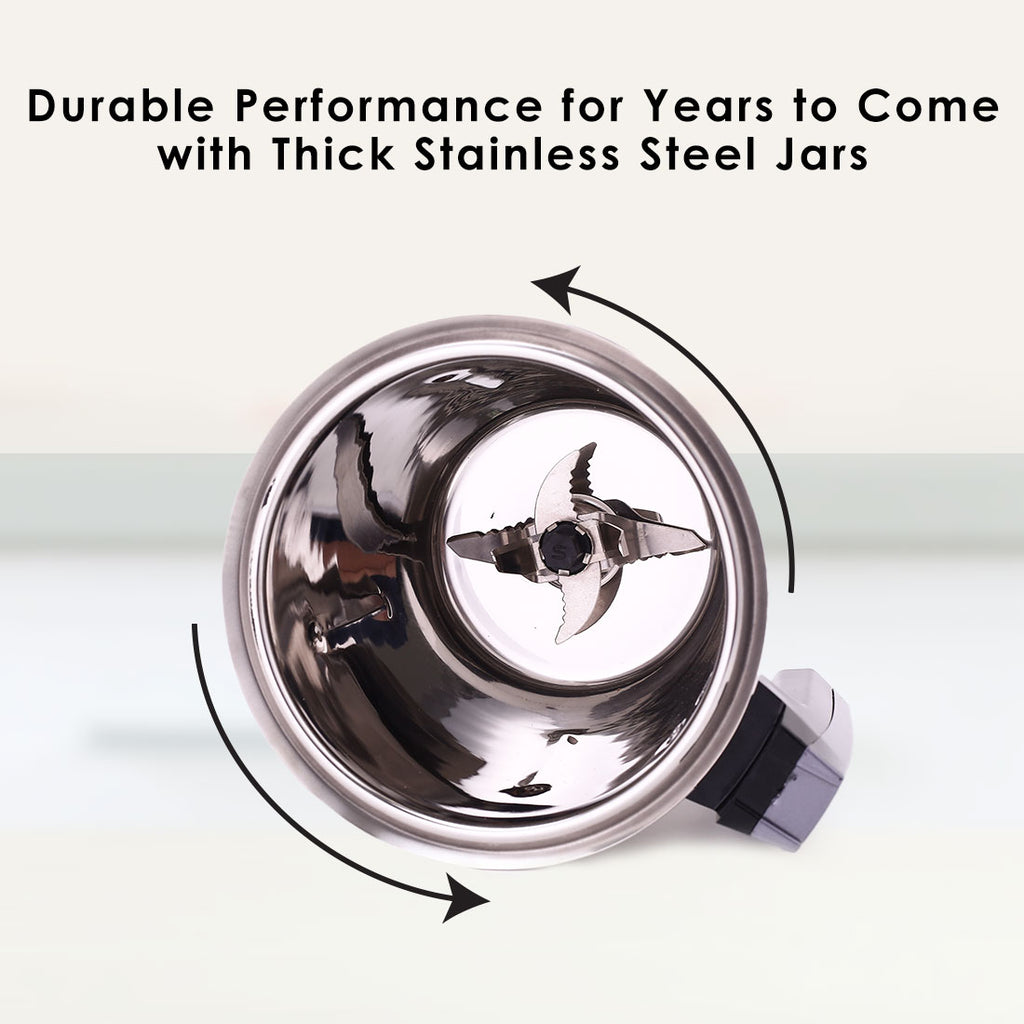 Regalia Mixer Grinder 750W, 230V~50Hz, 3 Stainless Steel Jars, Black, 5 Years Warranty
About The Product
The finest mixer-grinder with a powerful 750W motor, high quality jars and blades, regalia mixer grinder is meant to ease your cooking time and efforts! The mixer-grinder comes with (2/3/4) jars, all of them specially designed to perform their own unique tasks in the kitchen. Make this product a part of your home and achieve the perfect masalas, chutneys and juices everytime.
Powerful Motor: Regalia Mixer-Grinder is a powerful 750 W mixer-grinder with high performing motor, unique tower shaped design & low-noise functioning
Strength and Stability: The solid cuboid base ensures extra stability and strength, so you don't struggle with holding the mixer in it's place

High quality stainless steel blades: Superior quality anti-rust stainless steel blades ensure high performance during wet, dry and chutney grinding.
Contamination free blending: The concealed bush makes sure you operate the mixer without any contamination

Contamination Free: The jars come with a concealed bush under the blades, so your ingredients are always free of any contamination
High performance motor: It has a 30 minutes motor rating (5 min on and 2 min off, ensuring 6 cycles in one go)
Engineering Excellence: Jars with flow-breakers and strong suction feet for stability reflect the engineering intelligence of this machine.
Variety in blending/grinding: Now use the toughest of ingredients to make amazing podis, chutneys, masalas, batters, purees, pastes, milkshakes, smoothies and much more with ease
Warranty: Wonderchef products are inspired by Italian Designs and adhere to German Quality Standards. They come with reliable Wonderchef warranty. T&C apply.
very home-maker wants a reliable mixer-grinder which does not break down again and again and lasts for years. Presenting Regalia Mixer Grinder the most reliable mixer by Wonderchef. It comes in a stunning black and silver combination that will instantly add a touch of sophistication to any kitchen. The powerful and efficient 750 watts motor made with heavy-duty copper armature provides optimum performance, get ready for effortless cooking with Wonderchef Regalia Mixer Grinder.
Super Sharp Stainless Steel Blades
Crafted from high-quality stainless steel, these blades boast outstanding durability, retaining their sharpness even after extensive use for long-lasting performance. These blades are meticulously engineered to deliver precise and uniform grinding of various ingredients, ensuring consistent texture and flavour in your dishes.
Thick Stainless steel jars
Three differently sized jars offer a grinding solution for different purposes. The big wet grinding jar of 1.5L blends both wet and dry ingredients and works especially well for smoothies and shakes, the dry grinding jar of 1L enables effortless grinds of spices, nuts, seeds, coffee beans and more while the chutney jar of 400ml is great for grinding flavourful chutneys, sauces, dips and pastes.
Hands-free operation
Regalia mixer grinder offers complete hand-free operation for dry grinding and blending thanks to the specially designed jar lid locks.
Low Noise Operation
Equipped with robust double-walled frontage Regalia Mixer Grinder is engineered to operate at operating noise levels of 80-90DB, reducing noise levels significantly compared to conventional mixers. Enjoy a peaceful cooking experience without disturbing others around you.
Speed Control
Just adjust the dial and customize your grinding with three pre-programmed speed settings - low, medium, and high. A whip feature enables vigorous blending for a uniform mix.
Effortless Mixing and Grinding
The sharp food grade stainless steel blades ensure that you achieve the perfect texture whether it is chutneys, masalas, smoothies, juices or dips.
Unique Tower Shape
Solid double-walled cylindrical build and the tower-shaped body lends robust stability and durability. The compact-sized components allow the mixer grinder to fit easily even in tight kitchen spaces and on smaller countertops. It can be easily stored away when it is not in use.
Easy Cleaning and Maintenance
Cleaning the Regalia Mixer Grinder is a breeze. The detachable jars and blades are easy to clean, making maintenance hassle-free. Additionally, the outer body is designed to resist stains and smudges, keeping the mixer looking new for a long time.
Reliable Wonderchef Service
We are confident of our quality. In case of any manufacturing defect found within the service period, we shall get it resolved immediately.
Brand: Wonderchef

Warranty:
5 years on motor.

2 years Overall.
Package Contents:
Motor Unit - 1N
Wet Grinding Jar - 1.5 Litres: 1N

Dry Grinding Jar - 1 Litres

: 1N
Chutney Jar - 0.4 Litres: 1N
Material:
ABS Plastic Body
Stainless Steel Jars
Power Consumption :
Manufacturer Name: Arwa Plastics & Electricals Private Limited
Manufacturer Address: GALA NO 7 ,E.D INDL ESTATE, SURVEY,NO.22/69, SAGPADA VILLAGE, DEODAL KOLHI,TAL.VASAI.DIST.PALGHAR - 401208,MAHARASHTRA INDIA
Superior Grinding, Minimal Noise
I'm impressed by how quietly this mixer grinder operates, and yet it effortlessly grinds spices and ingredients to perfection. It's a game-changer for my daily cooking needs.
Durable and Reliable
I've been using this mixer grinder for a while now, and it's still as efficient as day one. The sturdy build and 5-year warranty ensure it's a reliable kitchen companion.
Saves Time and Effort
The Regalia Mixer Grinder is a time-saver with its quick grinding capabilities. Its three stainless steel jars are perfect for various culinary tasks, making my cooking experience hassle-free.
Easy to Clean and Maintain
Cleaning up after use is a breeze thanks to the smooth surfaces and easy-to-remove jar parts. It's a low-maintenance appliance that simplifies my daily chores.
Smooth and Consistent Results
Whether it's making smoothies or grinding spices, this mixer grinder consistently delivers smooth and even results. It's become an essential part of my kitchen routine.
Reliable Warranty

Complete peace of mind

Customer Service

1860 266 0788

Fastest Delivery

Free shipping above ₹799