Nigella Tri-ply Stainless Steel 18 cm Cooking Pot | 2.6mm Thickness | Silver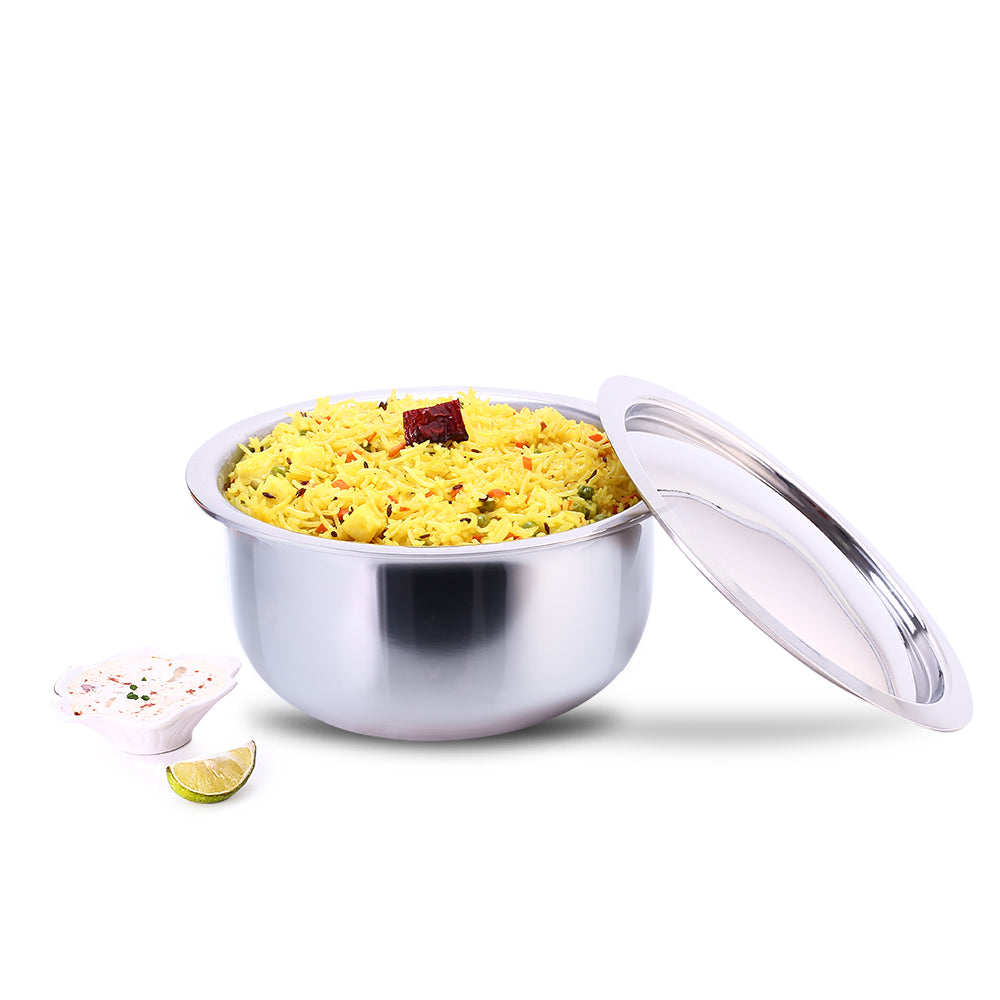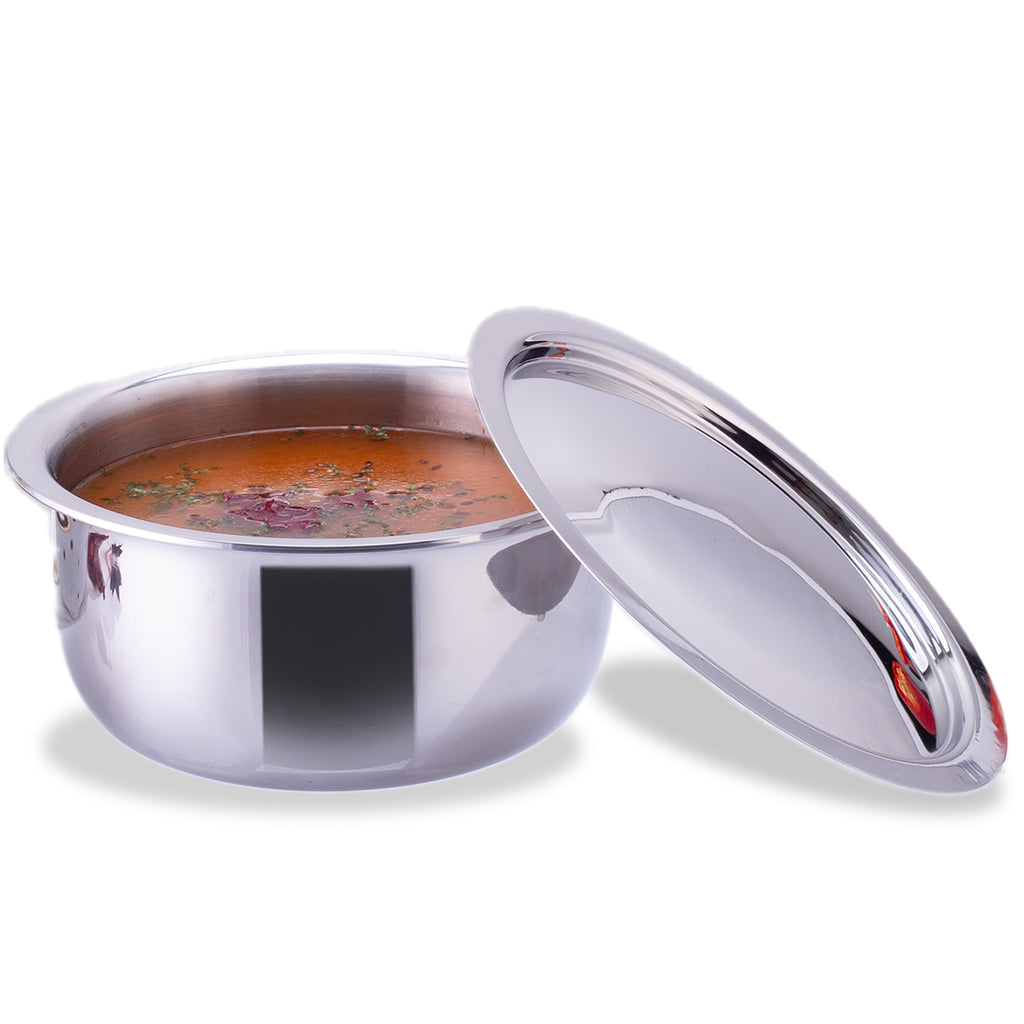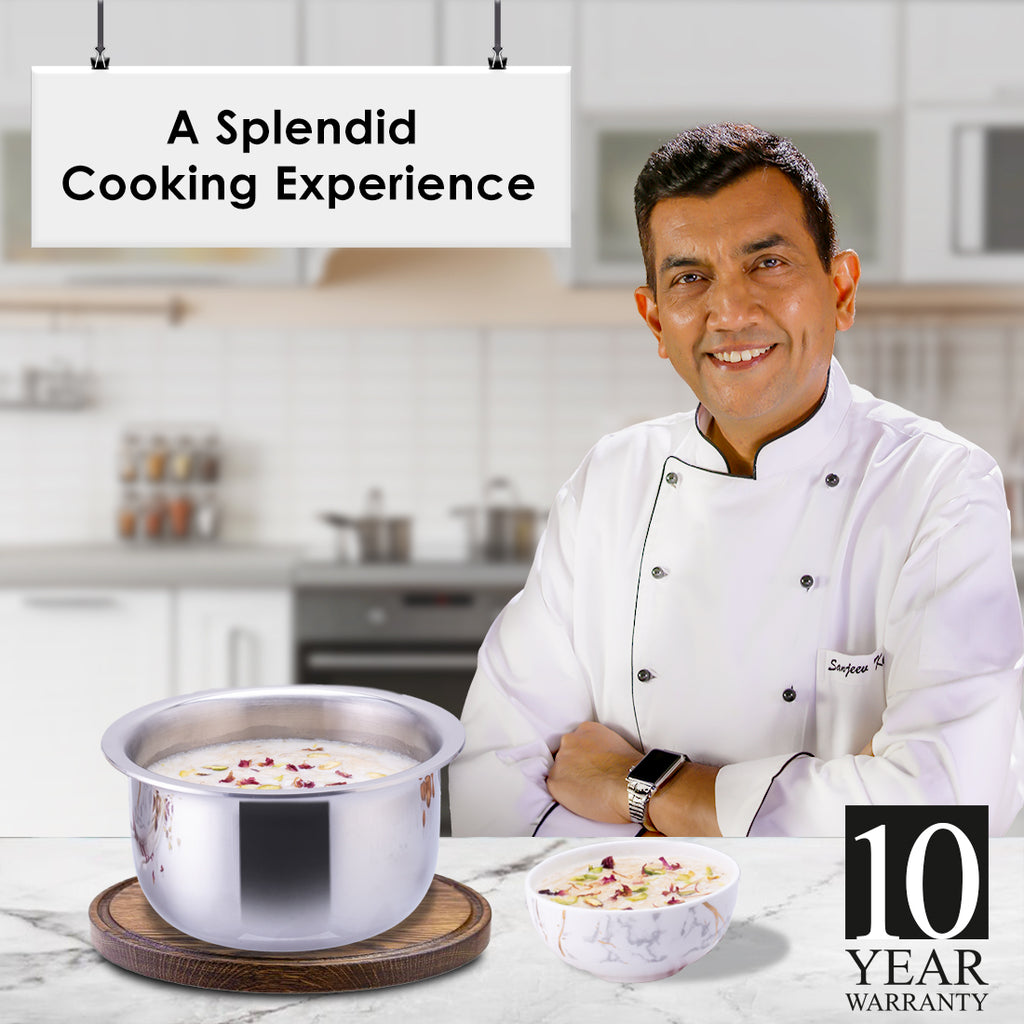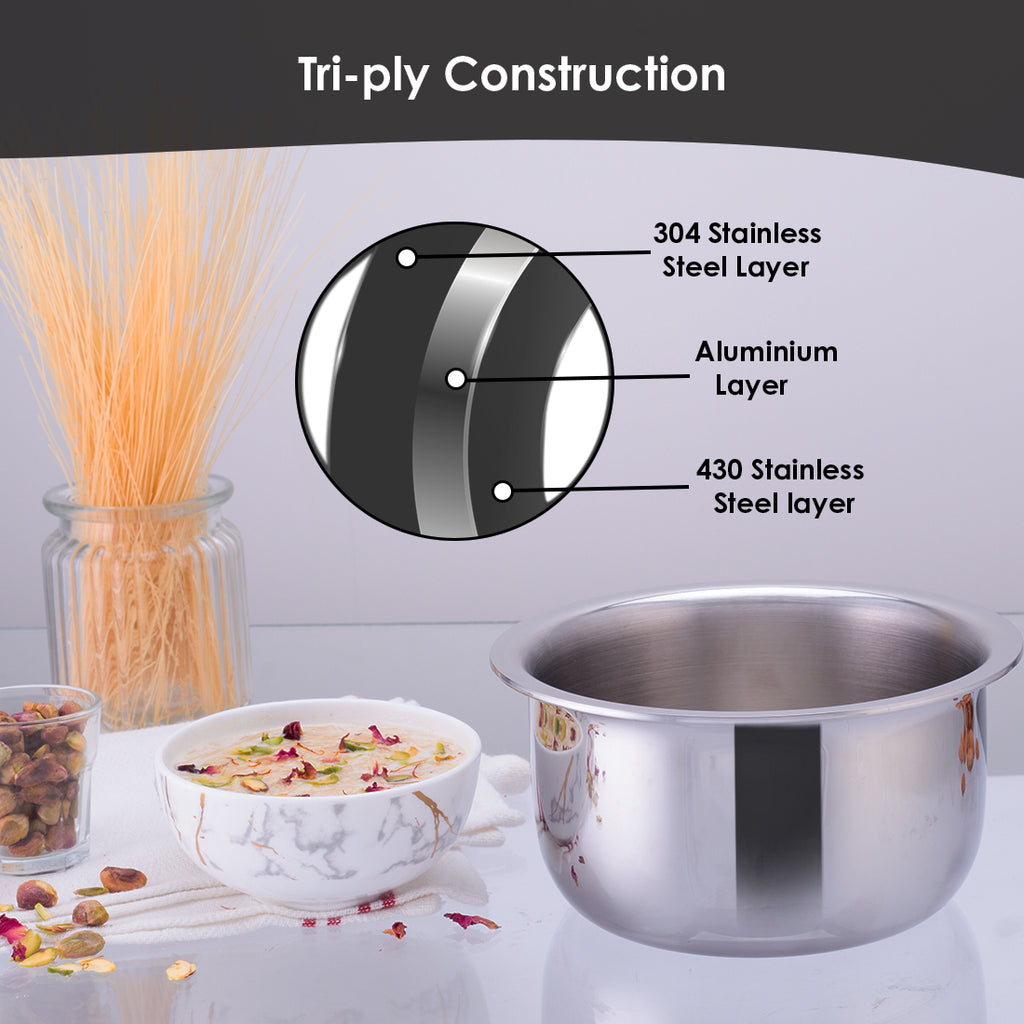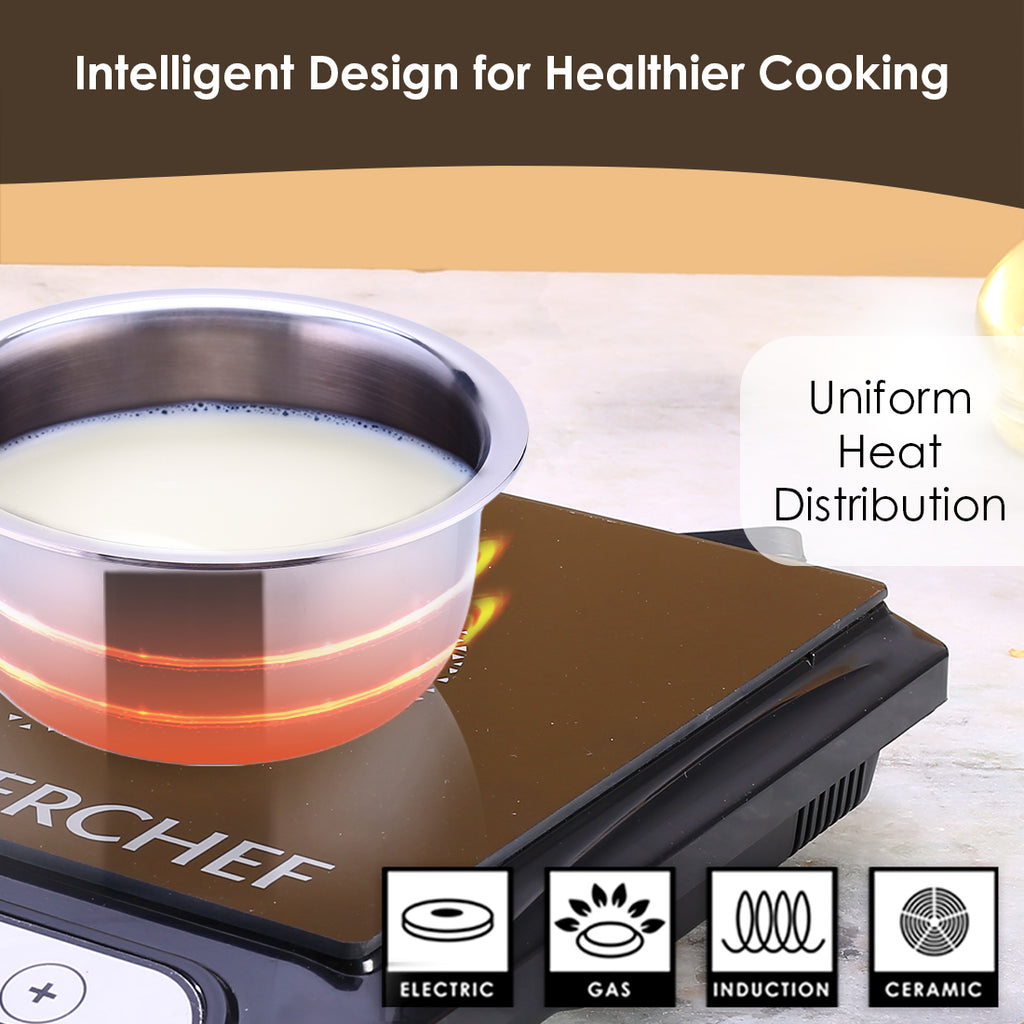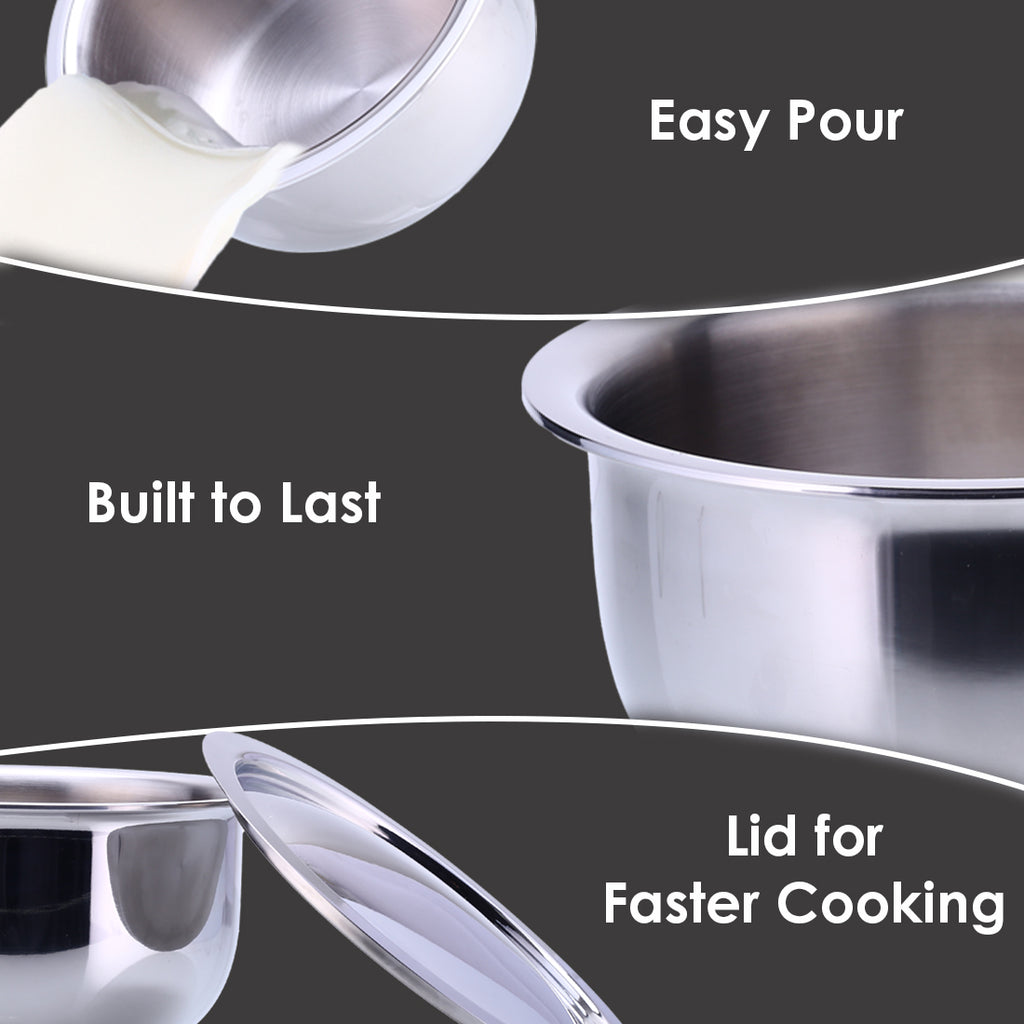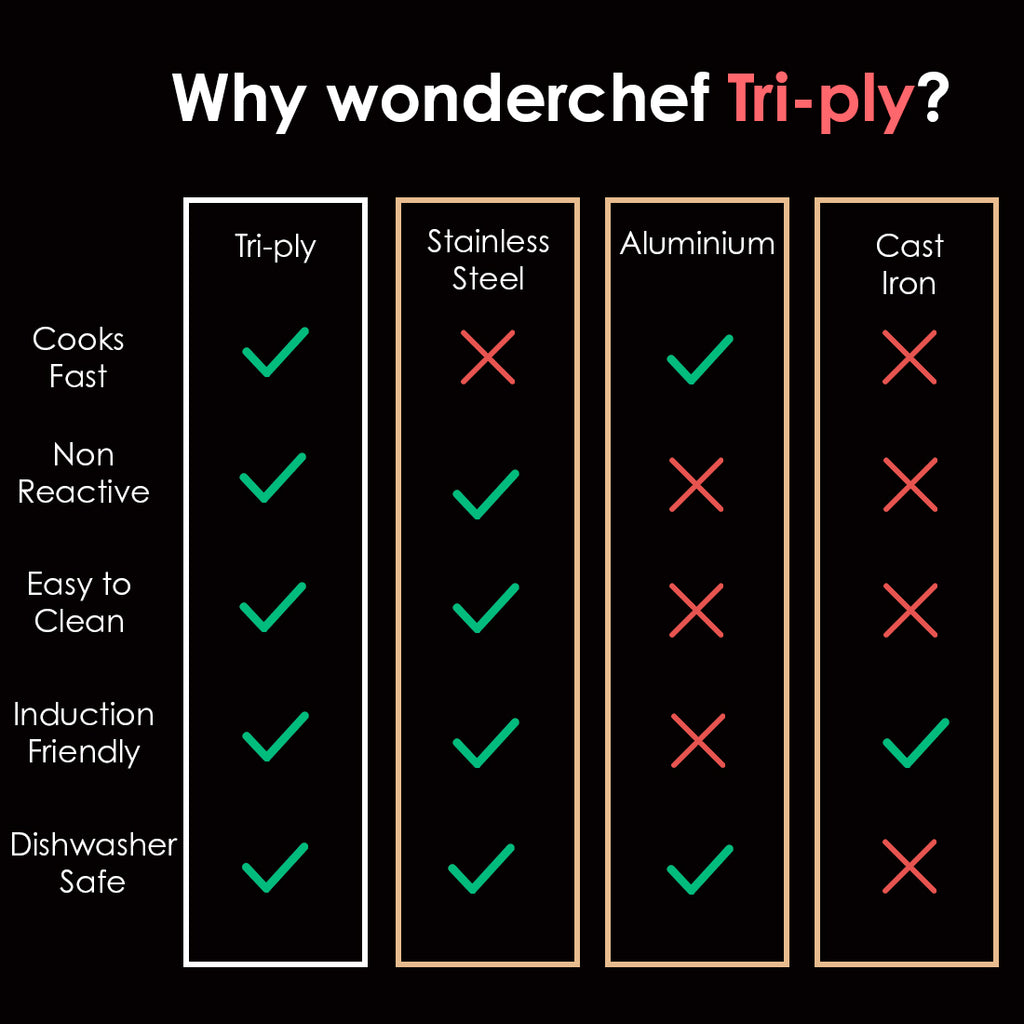 Nigella Tri-ply Stainless Steel 18 cm Cooking Pot | 2.6mm Thickness | Silver
About The Product
Cook tasty dishes like biryani, pulao, curries with meat, koftas, Kheer, Rasam, Sambhar, healthy stews, and vegetable stock with Wonderchef Nigella Biryani Pot. 
Nigella Biryani Pot is made of food-grade stainless steel with a thick bottom for good heat retention, and the mirror finish makes it adorable.
The induction base allows greater contact with the heat source and faster cooking, helps to save 30% energy, and the Tri-ply bottom with steel-aluminium-steel ensures even cooking.
An easy-to-pour design makes pouring gravies easy without the mess of dripping.
Cool touch silicone handles for comfortable grip and safety.
A heavy stainless steel lid enables faster cooking and retains moisture and nutrition in the food.
Nigella Biryani Pot is dishwasher safe.
Wonderchef products are inspired by Italian Design, adhere to German Quality Standards, and are covered by Reliable Wonderchef Warranty. T&C apply.
Manufacturer Name: Kshitij Kitchencare Pvt Ltd.
Manufacturer Address: Plot No.84, Government Industrial Estate, Masat, Silvassa, Dadra & nagar haveli & Daman,diu,.396230.INDIA
book a demo
For high-value products, you can request a demo. And our trained staff will give you a demo either at home or via a video call as per your location and convenience.
Frequently Asked Questions
Food grade stainless steel is steel that met all criteria to be deemed safe for food preparation, storage and dining. The most common food grade stainless steel is Type 304. But 304 grade stainless steel also goes by another name or code, 18/8 and 18/10 stainless steel. Wonderchef Nigella range is made with 304 stainless steel - best quality and hence it is healthy for cooking.

Triply cookware is made of three-ply material which is basically three layers sandwiched together. Most often this is an inner layer of stainless steel, middle layer of aluminum and an outer layer of stainless steel. Wonderchef Nigella range of cookware is made with Tri-ply steel.

Is 3-ply stainless steel cookware better than the regular stainless steel cookware?

Aluminum is an excellent conductor of heat,  far better than stainless steel by itself. It causes heat to diffuse all over the cookware uniformly. Triply cookware only utilizes the heat conduction benefits of aluminum while making sure that food does not come in contact with it.

Always avoid using hard, abrasive cooking utensils like stainless steel or cast iron  and instead choose bamboo, wood, silicone, or nylon. All four of these are soft enough to protect your cookware's surface from scratching.

Tri - ply construction is composed of - 304 Stainless Steel layer inside, Aluminium layer in the centre & 430 Stainless Steel layer outside.
Tri - ply steel is the best choice for professionals as well as home chefs because of its even heat distribution.
It does not react with acidic food and is 100% safe for cooking.

430 Steel outer surface makes it compatible with all types of heat sources. Nigella cookware can be used on all cooking appliances - stove top, gas cooktop, induction cooktop, hot plate, infrared cooktop and ceramic cooktops.

To clean, hand wash the cookware in warm, soapy water, and then rinse and thoroughly hand dry.

Yes it is heavy product due to Steel and Aluminium Inside of 2.6 mm but not heavier than Cast Iron.

Some cookwares are Dishwasher Safe but not Microwave Safe.

Wonderchef gives 10 Years warranty and cookwares are replaceable if any manufacturing defect or steel tears.

Yes because, the thick base ensures the food does not get burnt and the 3-ply walls ensure even heat distribution throughout.

Almunium is inside which is better conductor of heat so don't need to warm it before cooking every time .

Avoid placing heated pan directly on any wet surface.

Yes Nigella cookware helps to cook food evenly for a delicious taste.

A layer of aluminium is sandwiched right through, even at the sides, between two layers of high-grade steel: superior food-grade 18/8 stainless steel on the inside and 430 magnetic stainless steel on the outside, making the pan highly heat conductive and induction friendly.

304 Stainless Steel layer inside, Aluminium layer in the centre & 430 Stainless Steel layer outside. Tri - ply steel is the best choice for professionals as well as home chefs because of its even heat distribution. It does not react with acidic foo d and is 100% safe for cooking.

At Wonderchef, the inside non - porous surface is made from 304 Grade Stainless Steel which does not react with food and thus retains the flavor and nutrition. The outside steel is 430 grade which is magnetic in nature and allows the pans to be used on induction cooktops besides on gas stoves.

To avoid food sticking to the surface, season the Nigella cookware. Place the pan on a medium heat source and heat the pan for 1 minute. Remove the hot pan and add one tablespoon of oil and swirl it over the inside surface. Place the pan back on the heat source and heat until it begins to smoke. Turn off the heat and let the cookware cool down completely. Remove the extra oil. Your pan is ready with non – stick coating."

Yes, Nigella range has inside layer of 304 grade stainless steel, second layer is of aluminium and outer layer is of 430 Grade S.S.

 Nigella pans, casseroles and kadhais come with cool - touch strong die - cast handles. Yes they are riveted.
Exceptional Heat Distribution, Quick Cooking
This cooking pots tri-ply stainless steel design ensures rapid, even heating, making my cooking time much shorter and meals tastier.
Sturdy and Easy to Clean, Saves Time!
The 2.6mm thickness not only adds durability but also makes cleaning a breeze, saving me precious time after every meal preparation.
Perfect Size for Everyday Cooking
At 18 cm, it's just right for my everyday cooking needs. From soups to sauces, it accommodates all with its ample capacity, making my cooking hassle-free.
Value for Money, Quality Assured
Investing in this Nigella Tri-ply cooking pot was a great decision. Its excellent quality, efficient cooking, and easy maintenance make it worth every penny. I highly recommend it to all home cooks!
Elegant and Practical Design
The sleek silver finish not only looks classy but also adds a touch of elegance to my kitchen. Plus, the sturdy handles make it easy to handle, ensuring a comfortable cooking experience.
Wonderchef Nigella 3-Ply Stainless Steel Cooking Pot 18cm
Reliable Warranty

Complete peace of mind

Customer Service

1860 266 0788

Fastest Delivery

Free shipping above ₹799