Galaxy Dosa Tawa 28cm, Midnight Blue, 2 Years Warranty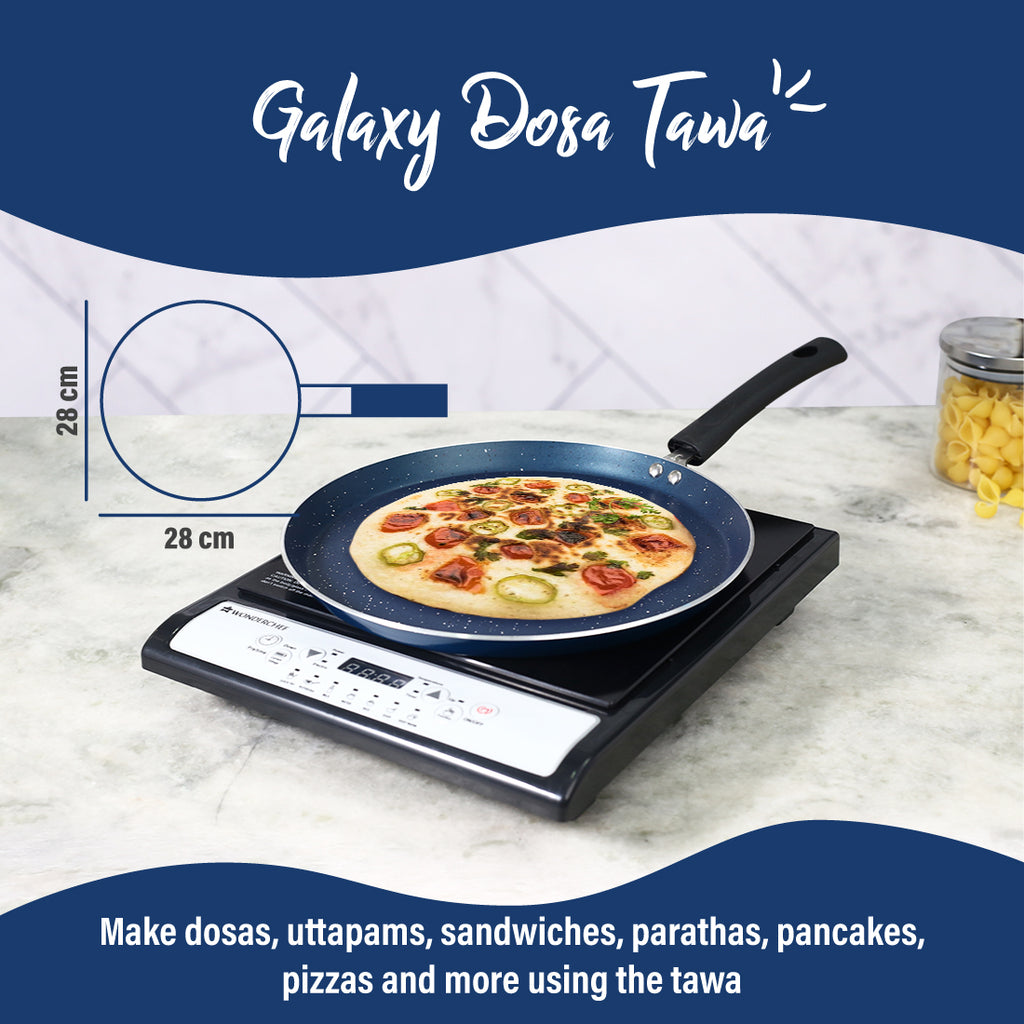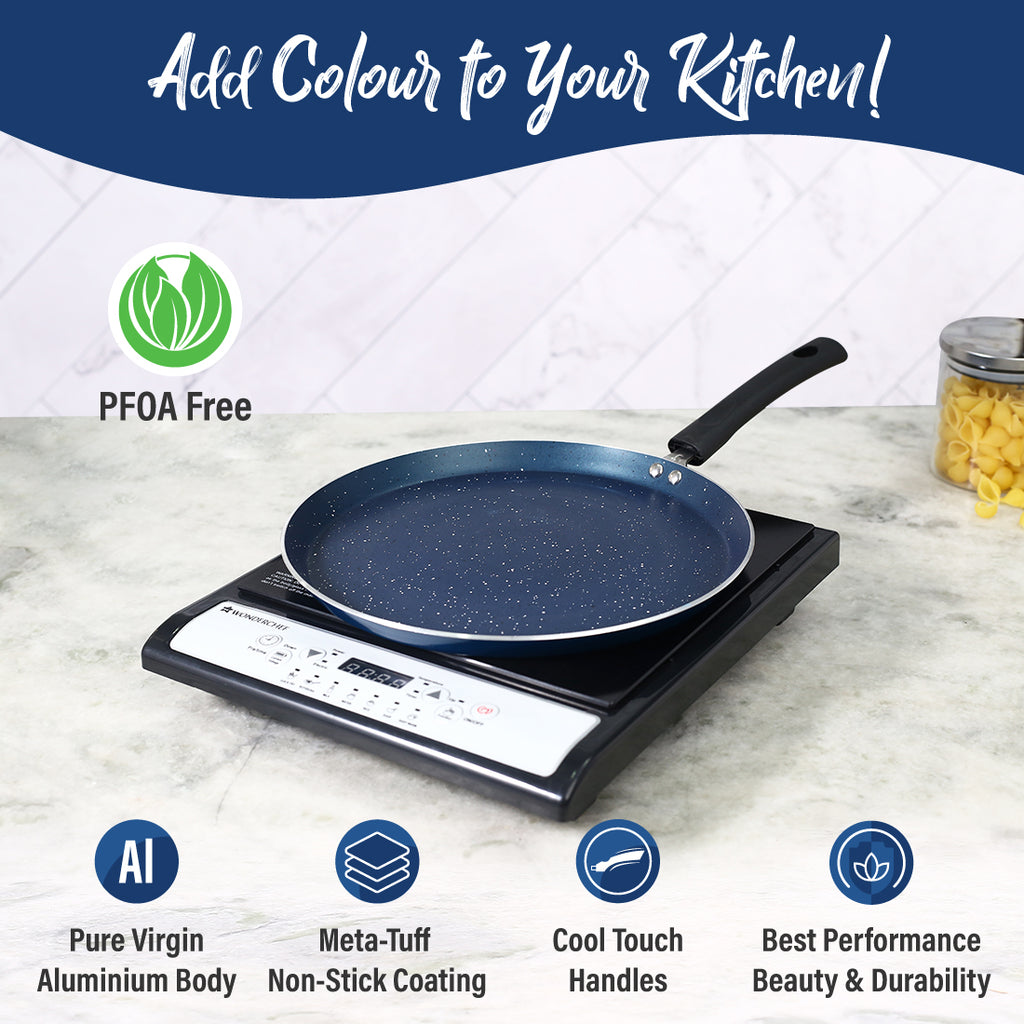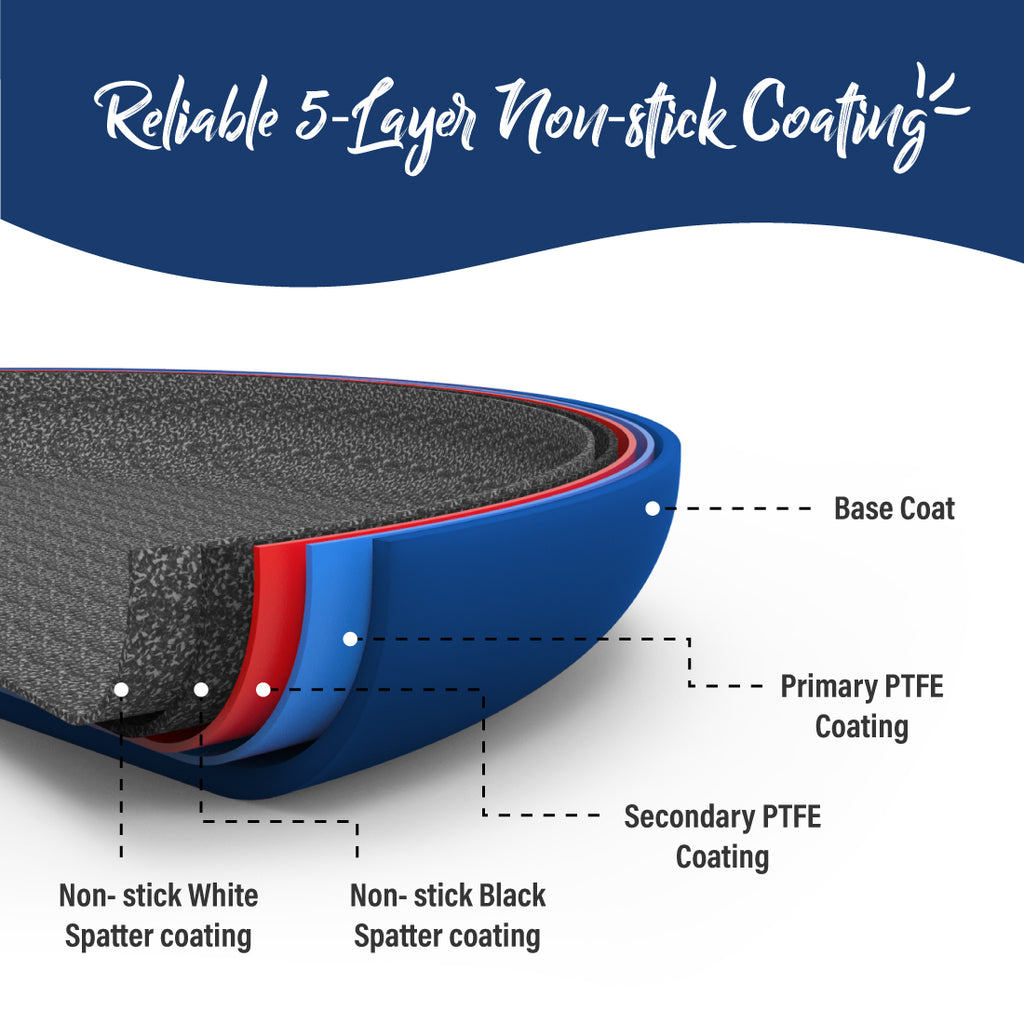 Galaxy Dosa Tawa 28cm, Midnight Blue, 2 Years Warranty
About The Product
Wonderchef Galaxy cookware in the stunning midnight blue colour will add beauty to your kitchen. Start cooking healthy meals with minimum oil. PFOA free, healthy non-stick coating. Make omelets in the fry pan, use the tawa to make delicious dosa's, chillas, parathas. Prepare delicious curries in the kadhai.
Kadhai with tempered glass lid, frying pan and dosa tawa to cook multiple dishes every day.
PFOA and heavy metals free, healthy non-stick coating suitable to cook with almost no oil.
Made from virgin aluminium which is 9 times better conductor of heat than steel.
Cookware set is compatible with all cooktops including induction. Easy to clean with water and soap. Dishwasher Safe.
Non-stick coating has excellent food release properties.
Cool-touch handles for safe grip.
Glass lid with steam vent to help retain moisture in the food while cooking.

Wonderchef products are inspired by Italian Design and adhere to German Quality Standards. They are covered by reliable Wonderchef Warranty. T&C apply
Galaxy Dosa Tawa – 28cm
Galaxy cookware brings convenience to your everyday cooking. The dosa tawa in the beautiful midnight blue colour has heavy metal and PFOA-free non-stick coating that makes cooking food easy. Loaded with features and beautiful looks, Galaxy cookware is an ideal choice for gifting too.
Pure Grade Virgin Aluminium
Virgin Aluminium is 9 times better conductor of heat, cooks faster, and saves energy and time. We do not use recycled aluminium which is generally found in cheaper products.
Cook Multiple Dishes
Make crispy dosas, uttapams and parathas for breakfast in no time and almost no oil!
Cool Touch Handle
The cool touch handle of the dosa tawa lends a comfortable and soft grip while cooking.
Compatible with Cooking Surfaces
It can be used on all cooking surfaces - stove top, gas cooktop, hot plate, infrared cooktop and ceramic cooktops.
Easy Care & Cleaning
To clean, hand wash the cookware in warm, soapy water, and then rinse and thoroughly hand dry.
 Safety Instructions
For added longevity, pre-heat on low flame for 1 minute only. Cook on low to medium flame for best performance.
Use silicone or nylon spatula to avoid any damage to the non-stick coating.
When on a gas cooktop, use a burner nearest in size to the diameter of the cookware bottom to avoid hot spots, over-heating of sidewalls and handles.
Wash when cooled, do not place heated pan directly on any wet surface to avoid thermo-shock and to keep the coating safe.
When using it on ceramic- or glass-topped cooking surface, avoid dragging the cookware to protect the cooking surface.
Avoid placing cookware one inside another to avoid scratches.
Reliable Wonderchef Service
Say WhatsApp 'Hi' on +91 070595959 for after sales service. We are confident of our quality. In case of any manufacturing defect found within the service period, we shall get it resolved immediately
Brand: Wonderchef
Package Contents:
Material: Aluminium
Color: Midnight Blue
Coating: Non-Stick
Manufacturer Name: Aequs Consumer Products Pvt. Ltd.
Manufacturer Address: HUBBALLI DURABLE GOODS CLUSTER(HDC),Survey No 11 , Hissa No 12 , Ittigatti Village, Dharwad -580114, KARNATAKA,INDIA
Warranty: 2 Years
Versatile and durable
I love how versatile this tawa is! I can use it not only for dosas but also for making uttapams and omelets. The sturdy construction gives me confidence in its durability, and the ergonomic handle makes it comfortable to use.
Perfect for crispy dosas
This dosa tawa is amazing! It heats up quickly and evenly, allowing me to make delicious, crispy dosas every time. The non-stick coating ensures easy flipping and cleaning, making my cooking experience a breeze.
Effortless cooking experience
This tawa has made my cooking experience so much easier. The non-stick surface requires minimal oil, and the heat-resistant handle provides a comfortable grip. I can now cook healthy and delicious dosas without any hassle.
Later onn
I have not used it till date.
Excellent heat distribution
The Galaxy Dosa Tawa delivers exceptional heat distribution, ensuring that my dosas are evenly cooked every time. The thick base prevents any hot spots, allowing me to achieve perfect browning. I'm extremely satisfied with its performance.
Sleek design, easy storage
I adore the sleek and modern design of this dosa tawa. It not only adds elegance to my kitchen but also fits perfectly in my cabinets. The compact size makes it easy to store, without compromising on its cooking performance.
Galaxy Dosa Tawa 28cm, Midnight Blue, 2 Years Warranty
Reliable Warranty

Complete peace of mind

Customer Service

1860 266 0788

Fastest Delivery

Free shipping above ₹799