Sold out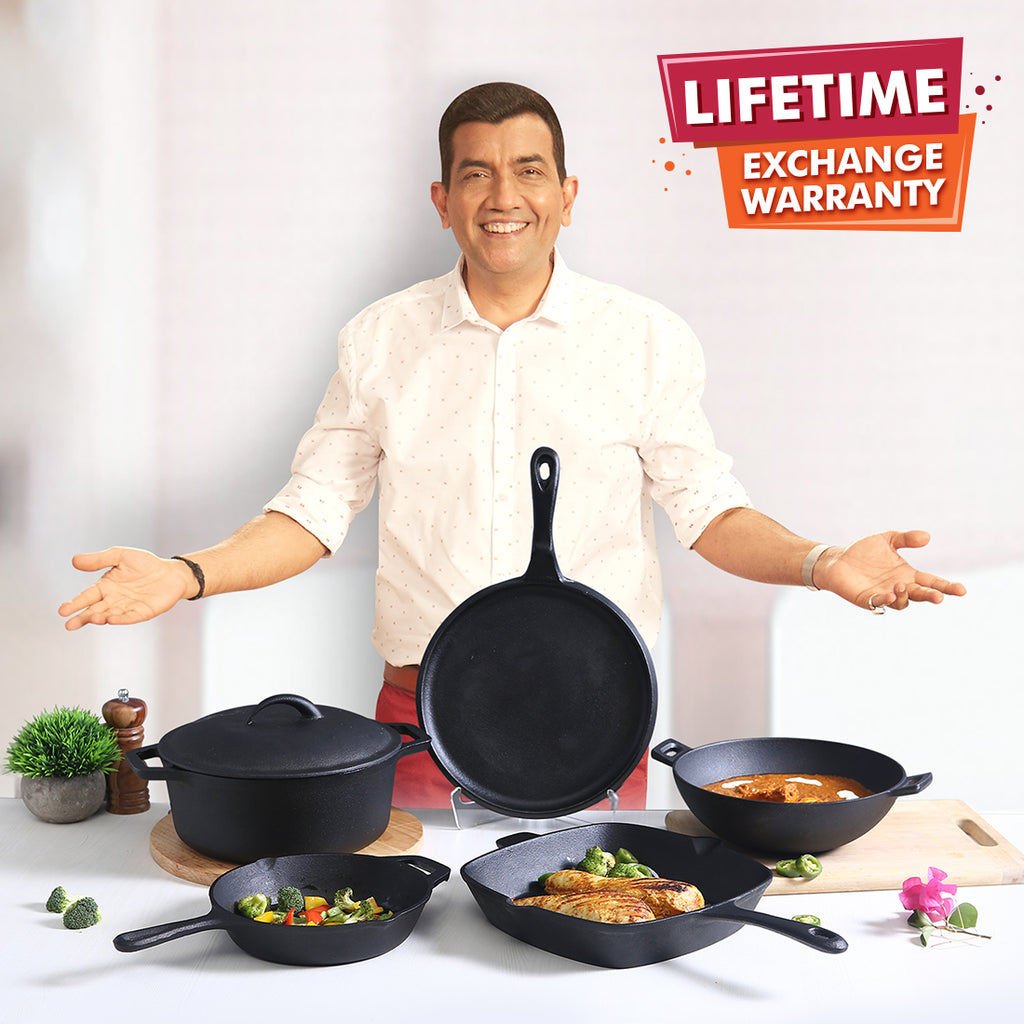 Forza Pre-Seasoned 30 cm Cast-iron Dosa Tawa
MRP: ₹ 2,200/-
OFFER PRICE: ₹ 1,399/-
customers are viewing this product
Food prepared in Forza cast-iron pre- seasoned Dosa Tawa will give the authentic traditional taste to your cooking. Indian cooking is always packed with flavours and cast-iron helps to enhance those flavors. Strong, sturdy and packed with 2goodness of iron, it is most suitable for Indian old style slow cooking. Enjoy tender and aromatic food cooked in Forza Dosa Tawa
Heavy cast-iron retains & transfers heat evenly for the best Dosa, Chillas, Parathas, Crepes, and a lot more.
Pre-seasoned with 100% vegetable oil which allows direct contact of iron with food so you can get your essential dose of iron ions.
All cooking surfaces friendly.
Forza cookware is oven, grill & freezer safe.
Wonderchef products are inspired by Italian Design and adhere to German Quality Standards. They are covered by reliable Wonderchef Warranty, T&C apply.
Brand: Wonderchef
Package Content: Dosa Tawa 1 Unit

Material: Cast-Iron

Dimensions & Capacity: Dosa Tawa Pan 30 cm
Warranty: Lifetime Exchange
Manufacturer Name: Sorathia Foundry
Manufacturer Address: SURVEY NO.913, PLOT NO.27-28-29, MAHADEV INDUSTRIAL-3, RAVKI MAKHAVAD ROAD, RAVKI, TA - LODHIKA, RAJKOT, Rajkot, Gujarat, 360004
Traditional Flavours
Food prepared in Forza cast-iron pre- seasoned dosa tawa will give the authentic traditional taste to your cooking. Indian cooking is always packed with flavours and cast-iron helps to enhance those flavors.
Variety of Dishes
Forza Dosa Tawa is suited for age-old home-style cooking and even for exotic foods. Prepare health meals for your family like the dosas, chillas, parathas, or something more indulgent like crepes and pancakes in the Forza Dosa Tawa.
Durability
Cast-iron is very strong and sturdy. It will last you a lifetime, indestructible cookware!
Slow Cooking
It is most suitable for Indian old style slow-cooking, seals all the moisture for tender and aromatic food.
Superior Quality & Finish
Wonderchef gives a constant and smooth finish without any rough edges in our cast-iron cookware, which is otherwise difficult to achieve. This is possible only because of our high quality casts and precision engineering.
Health Benefits
Forza Cast-iron tawa is pre- seasoned with 100% vegetable oil. This allows the iron to be in direct contact with your food, giving you healthy dose of essential Iron ions every day! After using, just wipe with a little oil to keep them rust-free.
Retention & Even Transfer of Heat
Heavy material retains & transfers heat evenly for the best Biryanis, Dum dishes, Koftas, and Curries. This also tenderizes meat and softens tough root vegetables. We have specially designed Forza to ensure it is not as heavy as other cast-iron cookware, and is easy to pick up and use.
Safe for all cooking surfaces Benefits
It can be used on all cooking surfaces - stove top, induction and oven. When using it on ceramic- or glass-topped cooking surface, avoid dragging the cookware to protect the cooking surface. It is oven, grill & freezer safe.

Use and Care
You can wash the Forza cast-iron pre-seasoned dosa tawa and start using it
Wash under water with a soft sponge.
Once it is clean, dry the tawa completely before storing it. This will prevent rusting of iron
How to Season
Forza cast-iron is pre-seasoned. But if you need to season it again with time, then first wash it in warm water, heat the tawa on medium flame for 2 – 3 mins.
Then apply cooking oil & leave it for 6 – 8 hours.
Heat again for 5 mins on medium flame and then store it in a dry
Reliable Wonderchef Service
We are confident of our quality. In case of any performance issues with normal usage within the service period, you shall get free service.
Versatile and Durable Dosa Tawa!
I love the versatility of this 30 cm Dosa Tawa. It can be used to make not only dosas but also pancakes, crepes, and more. Plus, its pre-seasoned surface ensures long-lasting durability.
Sturdy and Easy to Clean!
This cast iron Dosa Tawa is exceptionally sturdy and provides even heat distribution for consistent cooking. Cleaning is a breeze as it comes with a smooth, non-stick surface.
Perfectly Sized for Family Meals!
The 30 cm diameter of this Dosa Tawa is ideal for preparing delicious dosas for the entire family. It saves time and allows me to cook multiple dosas at once.
Authentic Tastes with Minimal Effort!
With this Forza Dosa Tawa, I can effortlessly achieve the authentic taste of South Indian dosas without any sticking or burning. It's a must-have for dosa lovers!
Excellent Dosa Tawa for Perfect Results!
This Forza Pre-Seasoned Cast Iron Dosa Tawa is amazing! It distributes heat evenly, resulting in perfectly cooked, crispy dosas every time.
Reliable Warranty

Complete peace of mind

Customer Service

1860 266 0788

Fastest Delivery

Free shipping above ₹799