Forza Cast-Iron 25 cm Dosa Tawa Pan | Pre-Seasoned Cookware | Induction Friendly | 3.8 mm| With Lifetime Exchange Warranty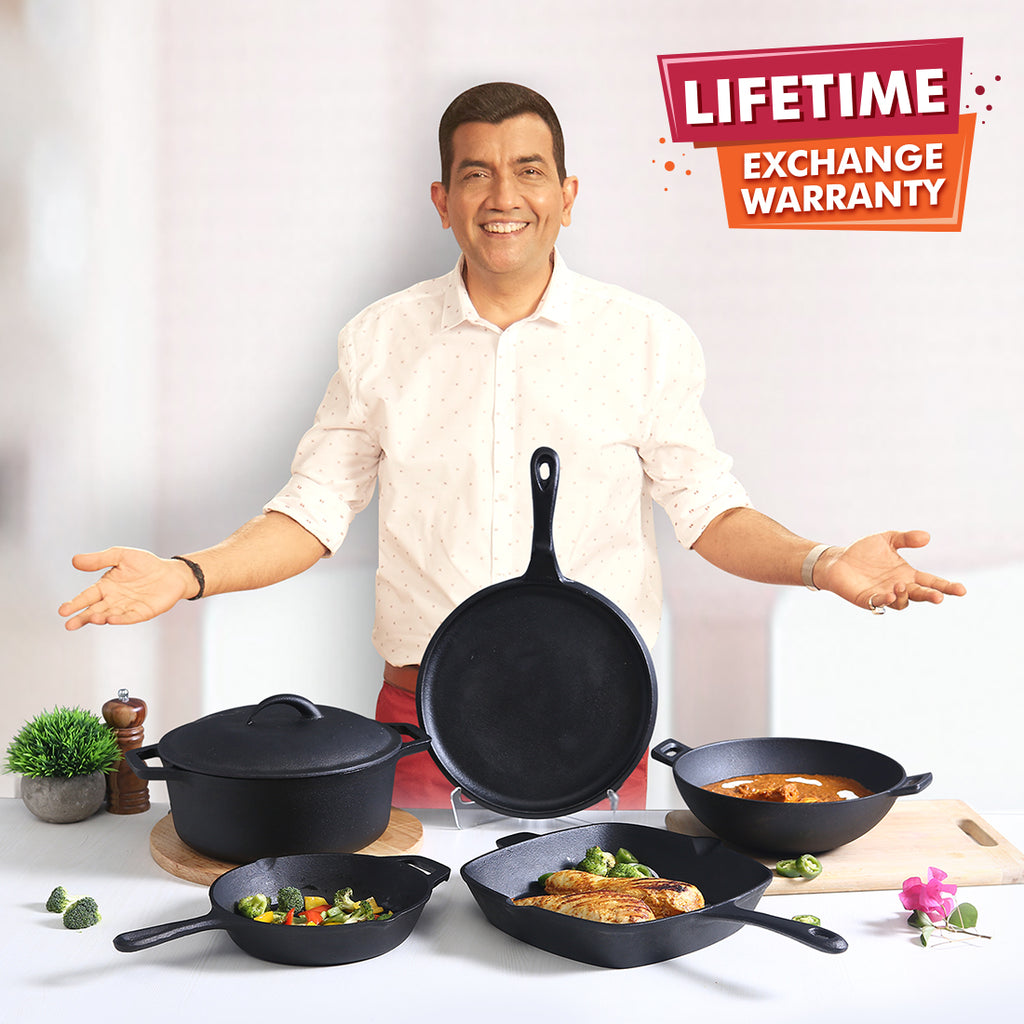 Forza Cast-Iron 25 cm Dosa Tawa Pan | Pre-Seasoned Cookware | Induction Friendly | 3.8 mm| With Lifetime Exchange Warranty
About The Product
Make the most flavoursome meals with the Forza pre-seasoned Cast-Iron Dosa Tawa Pans. Enjoy the traditional taste of food with unmatched health benefits in Cast-Iron cookware. And now with lifetime warranty for the Forza cast-iron cookware it gets even more special. The Forza range is now covered for 25 long years against manufacturing defects, breakage and cracks.
Designed for old-style slow-cooking. Bring back the magic in cooking just like how your grandma used to cook. Lay your hands on those closely guarded family recipes and get started with Cast-Iron cooking
Forza Dosa Tawa is suited for age-old home-style cooking and even for exotic foods. Heavy Cast-Iron retains & transfers heat evenly. Prepare healthy meals for your families like the dosas, chillas, parathas, or something more indulgent like crepes and pancakes in the Forza Dosa Tawa. The material is very highly durable and so the Dosa Tawa will last you till eternity
It is pre-seasoned with 100% vegetable oil. Cast – Iron enhances the Iron content in your food, so if your body is Iron deficient, now get your essential dose of Iron ions with every meal. Since the pan is pre-seasoned, you can cook healthy food with very little oil.
It is difficult to achieve a constant and smooth finish without any rough edges in a Cast-Iron pan. It requires very high-quality casts and precision engineering. Wonderchef offers you that level of finish and quality in its Cast–Iron. The sturdy handle gives a firm grip, easy to hold and move the pan around. We have specially designed Forza to ensure that it is not as heavy as other Cast – Iron cookware, making it easy to pick up and use.
All cooking surfaces friendly. Though when using it on ceramic or glass-topped cooking surfaces, avoid dragging the cookware to protect the cooking surface from scratching.
Forza cookware is oven, grill & freezer safe. The Dosa Tawa is easy to clean. Hand wash the pan in warm soapy water and rinse thoroughly. Ensure the cookware is completely handed dry to avoid rusting. Reliable Wonderchef warranty, T&C apply
book a demo
For high-value products, you can request a demo. And our trained staff will give you a demo either at home or via a video call as per your location and convenience.
Reliable Warranty

Complete peace of mind

Customer Service

1860 266 0788

Fastest Delivery

Free shipping above ₹799