Acura Blender Pro Mixer Grinder 500W, 230V~50Hz, 4 Jars( 2 Stainless Steel + 2 Polycarbonate Jars), Black & Blue, 5 Years Warranty
...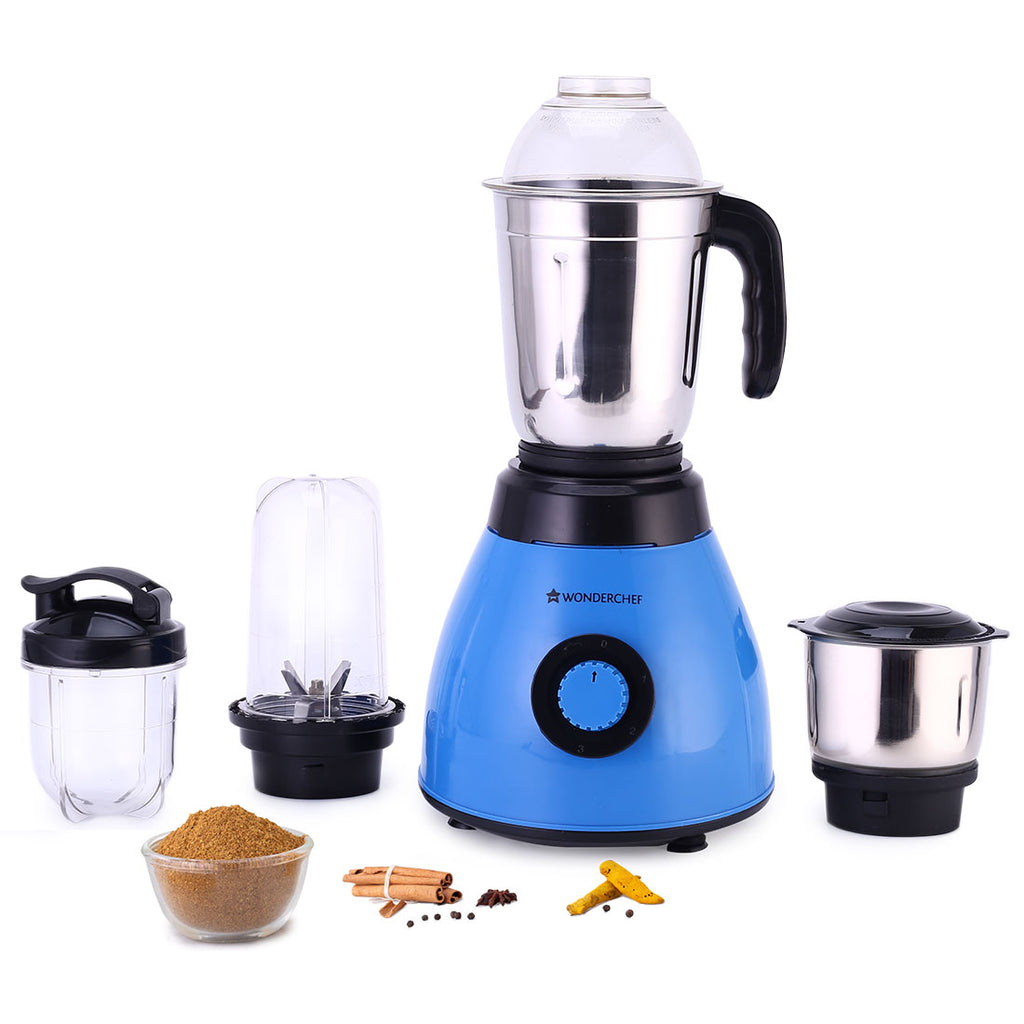 Acura Blender Pro Mixer Grinder 500W, 230V~50Hz, 4 Jars( 2 Stainless Steel + 2 Polycarbonate Jars), Black & Blue, 5 Years Warranty
About The Product
The finest mixer-grinder with a powerful 500W motor, high quality jars and blades, Acura Blender Pro is meant to ease your cooking time and efforts! The mixer-grinder comes with (2/3/4) jars, all of them specially designed to perform their own unique tasks in the kitchen. Make this product a part of your home and achieve the perfect masalas, chutneys and juices everytime.
500-Watt Motor: The Acura Blender Pro Mixer Grinder is equipped with a robust 500-watt motor that ensures efficient grinding and blending of ingredients, making it suitable for various kitchen tasks.
High-Quality Stainless Steel Blades: The mixer grinder comes with sharp, high-quality stainless steel blades that can handle tough ingredients and provide smooth and consistent results.

High-Grade Stainless Steel Jars with Flow Breakers: The set includes durable and corrosion-resistant stainless steel jars that offer ample capacity for different purposes. They are equipped with flow breakers, which enhance the grinding efficiency by creating a vortex inside the jar, ensuring even and thorough blending of ingredients. They are easy to clean and maintain, ensuring long-lasting performance.
Unique Tower Shape: The mixer grinder features a distinctive tower-shaped design to give extra stability and strength.

Contamination Free: The jars come with a concealed bush under the blades, so your ingredients are always free of any contamination.
Overload Protection: The grinder features an overload protection switch that cuts off power supply to the appliance to prevent the motor from overheating.
Warranty: Wonderchef products are inspired by Italian Design and adhere to German Quality Standards. They are covered by Reliable Wonderchef Warranty, T&C apply
Presenting the first ever mixer-grinder with a take-away sipper! Acura Blender Pro comes with 4 jars – 2 stainless steel jars and 2 unbreakable transparent jars which fulfill all mixing-blending-grinding purposes and give you an all-in-one solution. The powerful and efficient 500 W motor provides optimum performance. Get ready for effortless prepping with Acura Blender Pro.
Comes with a take-away Sipper
India's first mixer grinder which comes with a take-away sipper – blend delicious smoothies and juices and carry them instantly by using the sipper lid which comes with the mixer-grinder. Consuming nutritious beverages has become that easy!
Multi-purpose Jars
Four differently sized jars serve different purposes. The stainless steel grinding jar has a generous 1.25L capacity, thus making dry and wet grinding of larger quantities convenient. The inverted blending jar is 580ml, thus helping blend smoothies for a quick mid-morning meal. The chutney jar of 400ml is perfect for grinding all kinds of chutneys, dips and pastes. The product also includes a 380ml storage cup with sipper lid so you can carry your blends anywhere!
Super sharp Stainless Steel Blades
Crafted from high-quality stainless steel, these blades boast outstanding durability, retaining their sharpness even after extensive use for long-lasting performance. These blades are meticulously engineered to deliver precise and uniform grinding of various ingredients, ensuring consistent texture and flavour in your dishes.
Low Noise Operation
Wonderchef Acura Blender Pro Mixer Grinder is engineered to operate at low noise levels of 80-90DB, reducing noise levels significantly compared to conventional mixers. Enjoy a peaceful cooking experience without disturbing others around you.
Contamination Free Blending
The jars feature a concealed bush which helps keep the ingredients inside contamination free ensuring a healthier way of cooking and consuming food.
Strong Build
The unique tower shaped base and strong suction feet lend robust stability and durability. The compact-sized components allow the mixer grinder to fit easily even in tight kitchen spaces and on smaller countertops. It can be easily stored away when it is not in use.
Efficient Cooling System
To prevent overheating and ensure optimal performance, the mixer grinder is equipped with an efficient overload protection switch that cuts off power supply to the appliance. This feature allows for extended usage without the risk of damage to the motor.
Easy Cleaning and Maintenance
Cleaning the mixer grinder is extremely easy. The detachable jars and blades are easy to clean, making maintenance hassle-free. Additionally, the outer body is designed to resist stains and smudges, keeping the mixer looking new for a long time.
Reliable Wonderchef Service
We are confident of our quality. In case of any manufacturing defect found within the service period, we shall get it resolved immediately.
Brand: Wonderchef

Warranty:
5 years on motor.

2 years Overall.
Package Contents:
Blending Jar - 1.2 Litres: 1N

Dry Grinding Jar - 1 Litres

: 1N
Chutney Jar - 0.4 Litres: 1 Pc
Material:
ABS Plastic Body
Stainless Steel Jars
Power Consumption :
Manufacturer Name: Arwa Plastics & Electricals Private Limited
Manufacturer Address: GALA NO 7 ,E.D INDL ESTATE, SURVEY,NO.22/69, SAGPADA VILLAGE, DEODAL KOLHI,TAL.VASAI.DIST.PALGHAR - 401208,MAHARASHTRA INDIA
Quiet and Reliable Companion
The Acura Blender Pro impresses with its quiet operation, allowing me to whip up culinary delights without disturbing the household, making it a reliable and convenient kitchen companion.
Efficient and Time-Saving
The 230V~50Hz power ensures quick and efficient blending, saving me valuable time in the kitchen, while the five-year warranty gives me peace of mind about its durability.
Stylish and Functional Design
The sleek black and blue aesthetics not only add a touch of style to my kitchen but also complement the robust functionality of this mixer grinder, making it a win-win.
Versatility at Its Best
With four jars, including durable stainless steel and polycarbonate options, this mixer grinder adapts to my every culinary need, from grinding spices to blending smoothies.
Powerful Performance in a Compact Design
The Acura Blender Pro's 500W motor effortlessly tackles various ingredients, and its compact size is a game-changer for my kitchen space.
Reliable Warranty

Complete peace of mind

Customer Service

1860 266 0788

Fastest Delivery

Free shipping above ₹799