Sicilia Life Happens Coffee Helps Mug 370 ml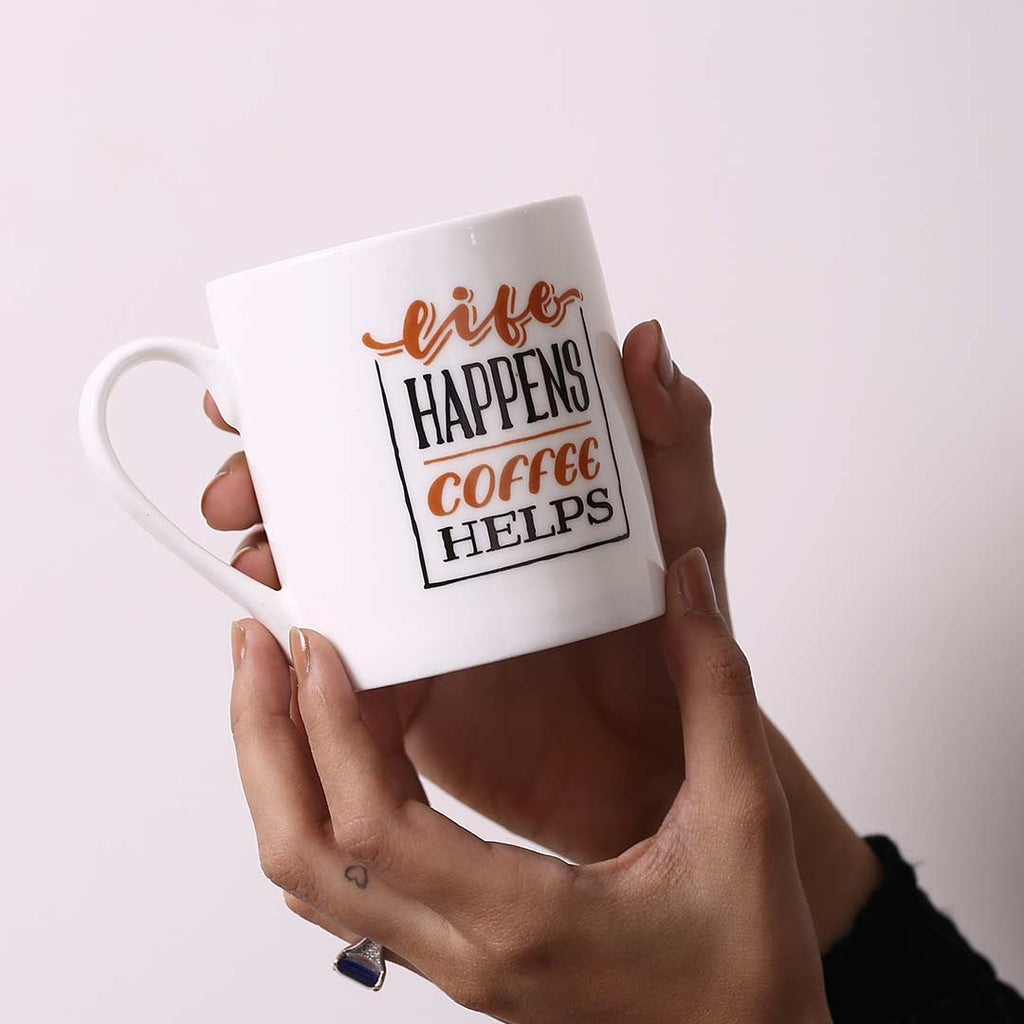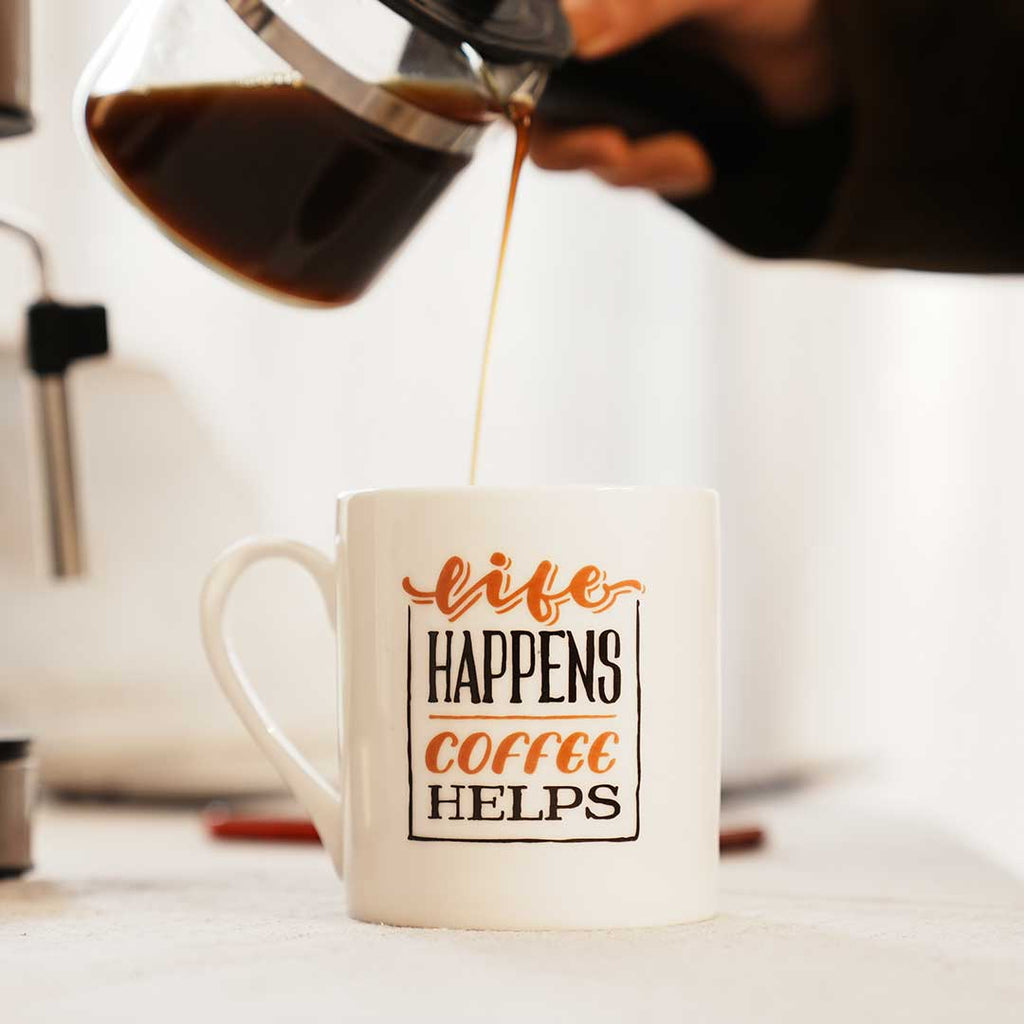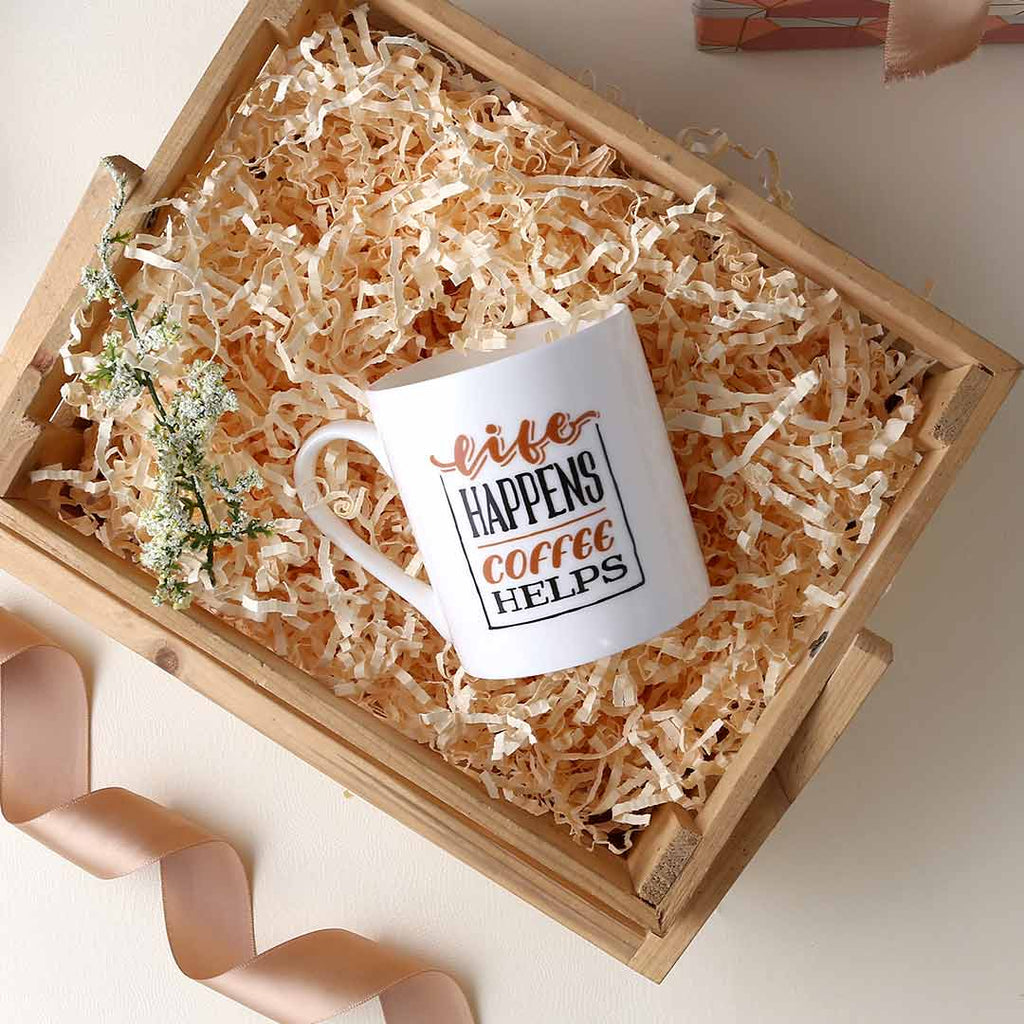 Sicilia Life Happens Coffee Helps Mug 370 ml
About The Product
The thoughtfully crafted line on the Sicilia mug will be your morale booster for tough days. Made in fine bone china, these mugs will inspire you everyday. The entire set of fun, quirky and motivational lines on Sicilia mugs is perfect choice for everyday use and for gifting too.

Wash & Care
Do not use in Microwave
Do not use in Dishwasher
Wonderchef Sicilia Premium Mugs made in fine bone china epitomize elegance and style. The beautiful shapes, sophisticated colour palettes and mood-elevating statements written in quirky font styles will surely be conversation starters while you sip your coffee. Perfect for everyday use these mugs are ideal for gifting as well. If you are a coffee aficionado this mug will be your next favourite thing.
Fine Bone China
Wonderchef Sicilia Mugs are made of high-quality fine bone china. The material is fired at high temperature giving it strength, brightness and translucency.
Ideal Pairing
Make an impression with Sicilia Mugs beautifully paired with our Casablanca trays and coasters.
Wash & Care
Hand wash only, not dishwasher safe
Use non-abrasive scouring pads with a mild cleanser
Heat resistant up to the temperature of 140°C
Not microwave safe
Not freezer safe
Reliable Wonderchef Service
We are confident of our quality. Reach out to us for order related queries.
Material: Fine Bone China 
Dimensions
Capacity
Color: Brown
Finish: Glossy
Package Contents:
Manufacturer Name: Raghuvar India Ltd.

Manufacturer Address: Raghuvar India Ltd., Station Road, Durgapura 302018
Perfect Morning Pick-Me-Up!
This coffee mug is my go-to every morning. It's the ideal size for my daily dose of coffee, and the witty Life Happens, Coffee Helps design always brings a smile to my face.
Functional and Eye-Catching
Not only does this mug hold my favorite beverage perfectly, but it also stands out with its vibrant colors and amusing quote. It brings joy to my mornings and makes my coffee break even more enjoyable.
Quality Mug, Quality Coffee Time
The Sicilia Life Happens Coffee Helps mug exudes quality with its durable ceramic material. It keeps my coffee hot for longer, allowing me to savor every sip and indulge in peaceful moments of relaxation.
A Mug That Keeps Me Company
This mug has become my trusty companion throughout the day. Its sturdy build and comfortable handle make it a pleasure to hold, while the generous 370 ml capacity ensures I stay energized and focused.
Sip in Style
I love how this mug adds a touch of elegance to my coffee routine. The Sicilia design is beautiful, and the 370 ml capacity is just right for enjoying a relaxing cup of coffee any time of the day.
Reliable Warranty

Complete peace of mind

Customer Service

1860 266 0788

Fastest Delivery

Free shipping above ₹799