Ebony Hard Anodized 34 cm Deep Kadhai with Lid | 8 L| 3.25 mm thick| Ideal for Healthy Stir-frying, Saute, Curry | Black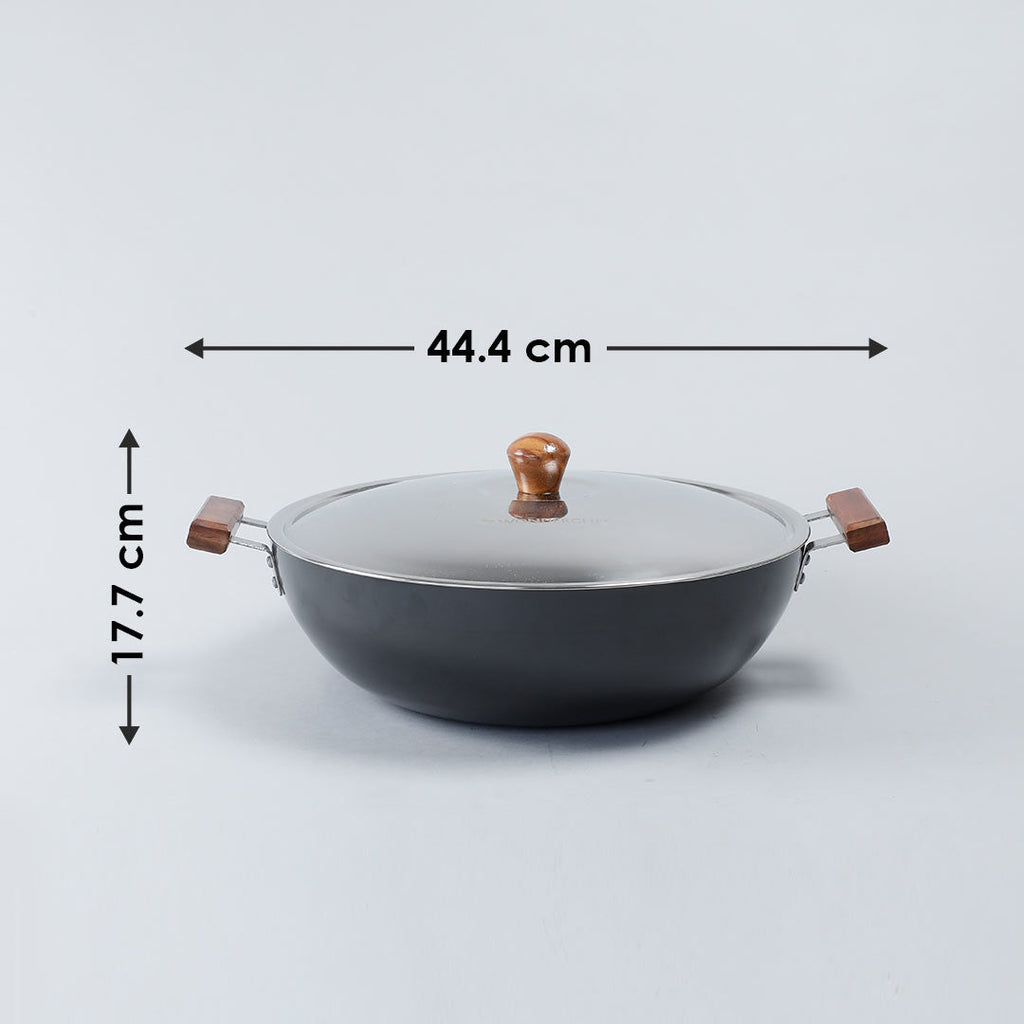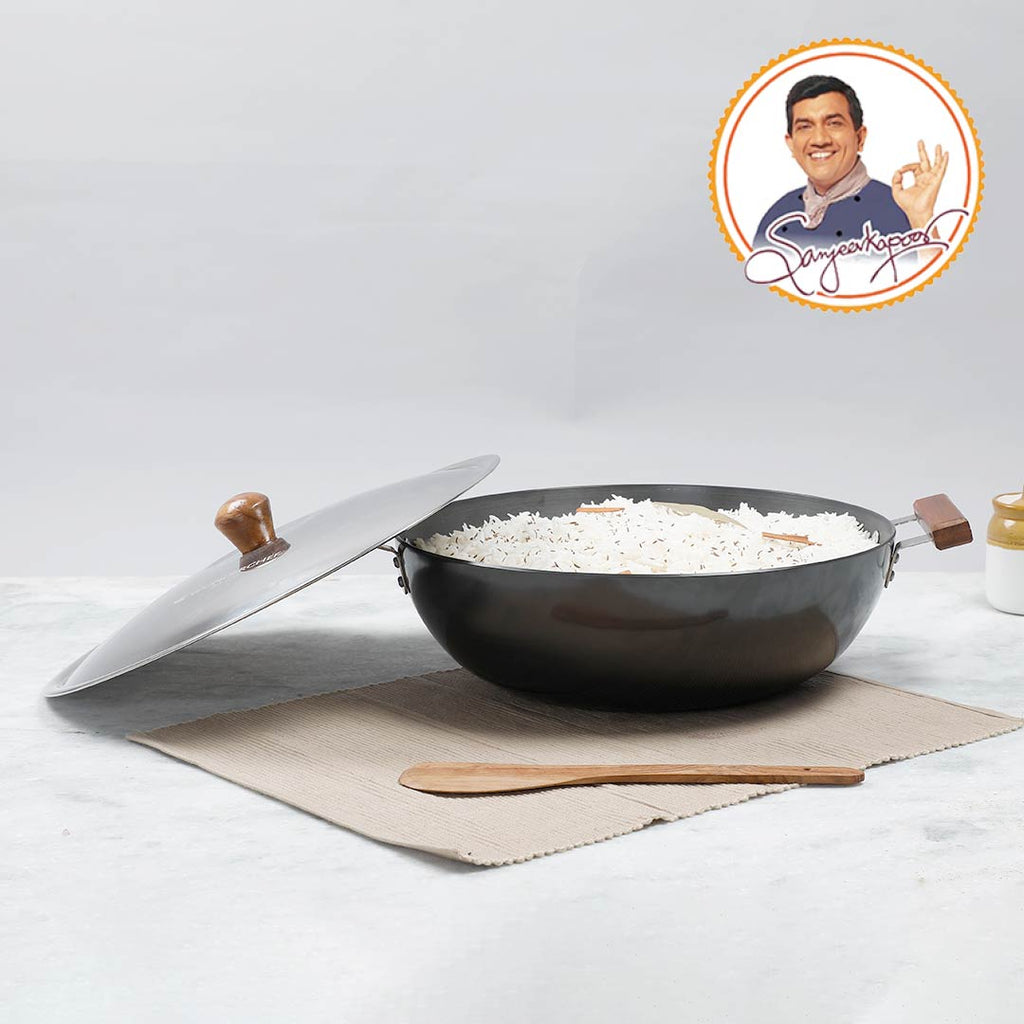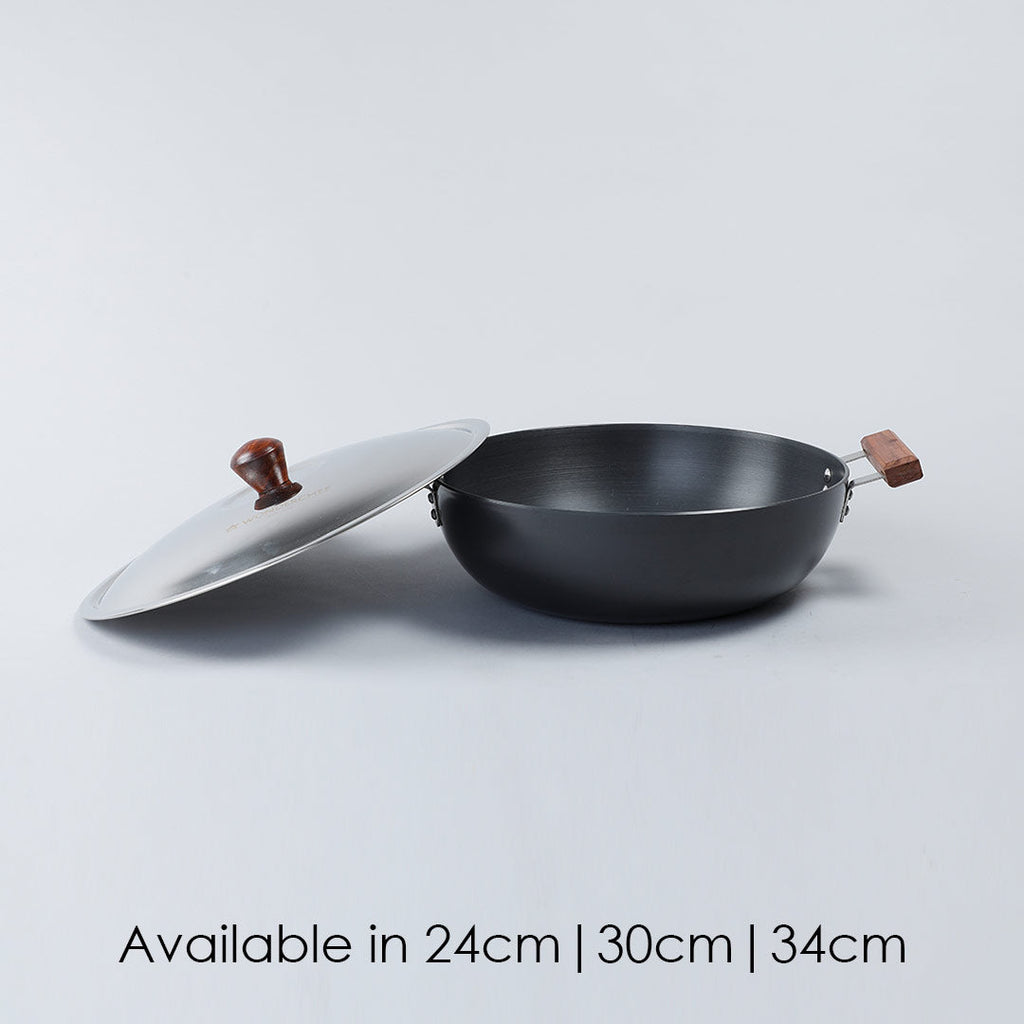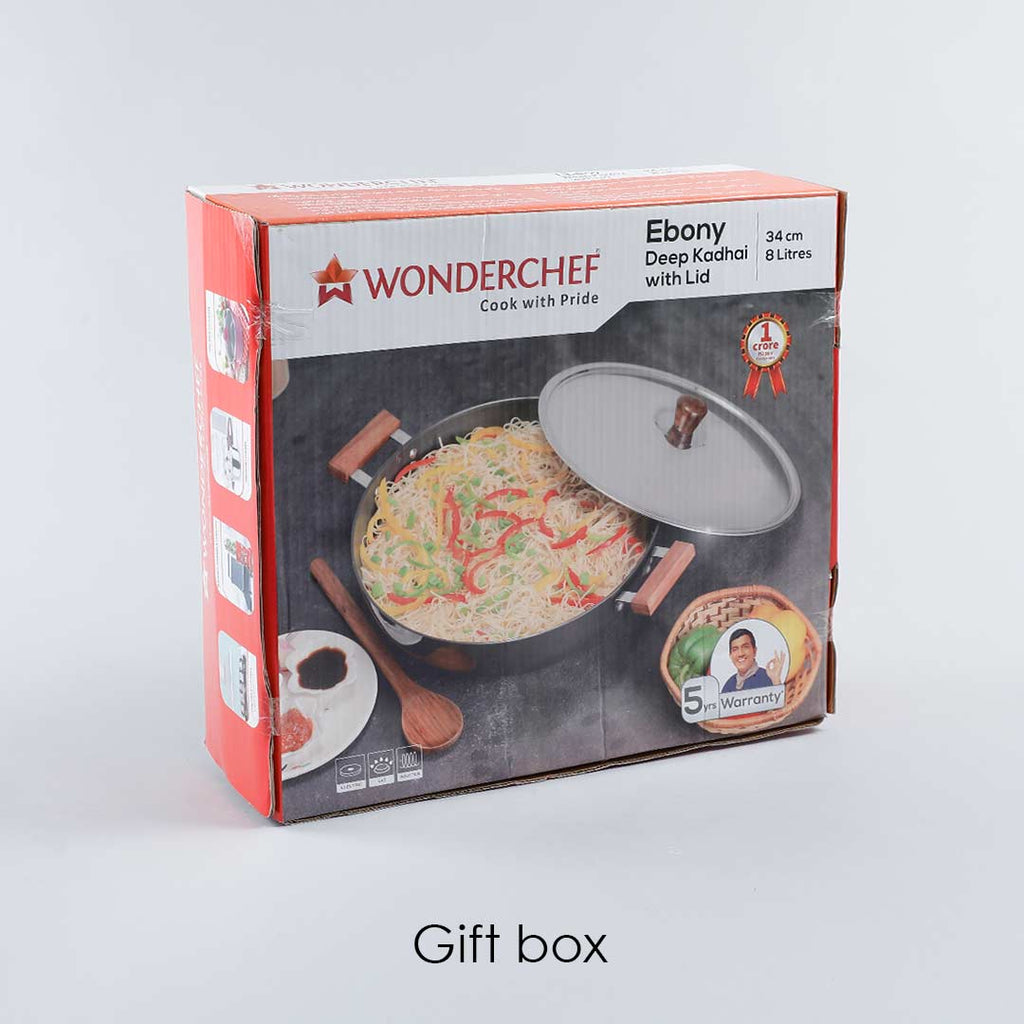 Ebony Hard Anodized 34 cm Deep Kadhai with Lid | 8 L| 3.25 mm thick| Ideal for Healthy Stir-frying, Saute, Curry | Black
About The Product
Bring home the beautiful Ebony Cookware Range from Wonderchef
Stunning grey colour with wooden handles give a sophisticated look to your kitchen.
The process of anodizing makes the aluminium harder and non-reactive.
This ensures years of hassle-free use, faster cooking and even heat distribution.
60 microns anodized coating makes it 2.4 times harder than steel.
Stain and corrosion-resistant, easy to clean and maintain.
Suitable for use on gas, electric & glass stovetops.
Reliable Wonderchef warranty, T&C Apply
Package Content:Wok(1 unit),Lid(1unit)
Manufacturer Name - Sanjay Industries

Manufacturer Address - J-107 , Sector 4 , Bawana Industrial Area,New Delhi-110039, DELHI,INDIA
GST Product State :
Maharashtra
Frequently Asked Questions
Anodizing is an electrochemical process that converts the metal surface into a decorative, durable, corrosion-resistant, anodic oxide finish. Anodizing is accomplished by immersing the aluminium into an acid electrolyte bath and passing an electric current through the medium.

Wonderchef hard anodized cookware comes with unique Stainless Steel Lid, Made from high quality Stainless Steel. Elegant wooden knob firmly riveted to the surface does not get heated or interfere with the cooking Surface. It gives you a firm grip thus, enhancing your cooking experience.

It is made of unique Stainless Steel lid.

Hard-anodized aluminium has undergone a chemical process to oxidize the cooking surface of the pan so it's more durable, non-stick, and doesn't discolour food.

It is non- toxic. High heat levels will not damage the anodized finish. Anodized surfaces are heat-resistant to the melting point of aluminium (1,221°F). Most important for cookware, hard-anodizing makes cookware surfaces so ultra-smooth that they become virtually non-porous (without pores).

The heat and harsh chemicals in the dishwasher will eat away at the exposed aluminium. After repeated cleaning like this, the anodized surface may start to chip off, leaving more raw aluminium exposed to erosion. To avoid damaging your cookware, it is best not to put hard anodized cookware in the dishwasher.

Yes, they are soft touch handles & adds elegance to your kitchen.

You can any kind of spatulas silicone, wooden, nylon or even a metal spatula for all Wonderchef hard anodised cookware range.

Yes, you can. With functional design, flat induction bottom, deep curved sides the Ebony range adds style to your kitchen as well.

Ebony Hard Anodized 60 microns hard anodized coating on pure grade aluminium makes the cookware 2.4 times harder than steel. For SKU specific thickness specification, kindly visit the product description section.

Yes, works on gas stoves and induction cooktops both.

Yes, using hard anodized aluminium cookware is completely safe as the coating is non-toxic, stain and corrosion-resistant. It does not react with food and retains the original flavours.

Hard anodised cookware has 5 Years Warranty, for SKU specific warranty specification, kindly visit the product description section.

The non-stick coating makes hard-anodized aluminium excellent all-purpose cookware that can be used for cooking a large variety of foods, including delicate ingredients like fish or eggs. The coating also makes the cookware easy to clean.

Yes it can be used for deep frying.

To clean, hand wash the cookware in warm, soapy water, and then rinse and thoroughly hand dry. Rinse thoroughly in warm water and pat dry using clean cloth. Clean stubborn stains with a baking soda and water. Use a hard anodized cleaner to restore the lustre of the hard anodized finish.

Wonderchef uses premium quality 60-micron hard anodized coating on pure grade aluminum thus making the surface durable, scratch-resistant and literally 2.4 times harder than steel. This process make hand anodized cookware safe and long lasting.
It is perfectly safe as it is 100% safe with no PFOA, Cadmium, Nickel, Arsenic or Lead and is US FDA approved as well.

While this is certainly a valid concern with non-anodized cookware, the anodizing process naturally prevents the metal from corroding with or without a non-stick coating. Therefore, hard-anodized cookware is safe to use.
Wonderchef Bring home the beautiful Ebony Cookware Range. Stunning black colour with wooden handles give a sophisticated look to your kitchen.
Healthy Cooking Made Simple
Cooking with this kadhai is a breeze. It's ideal for sauting, and the hard anodized surface means I can use less oil without sticking. My meals are now healthier and tastier.
A Must-Have for Curry Lovers
I love making curries, and this kadhai has become my go-to. The thick construction ensures even cooking, and the lid traps flavors perfectly. Say goodbye to unevenly cooked curries!
Fantastic Kadhai for Delicious Stir-Fries
This kadhai is a game-changer in my kitchen. It's spacious, heats evenly, and the deep design prevents spills. Stir-frying has never been easier!
Good quality, have started using it
Good product, proper packaging and tracking
Easy Cleanup A Busy Cook's Dream
Cleaning up after cooking can be a hassle, but not with this kadhai. It's non-stick and easy to clean, saving me precious time in the kitchen. A great addition to any cook's collection!
Spacious and Stylish
This kadhai is not only functional but also stylish. The sleek black design adds a touch of elegance to my kitchen. Plus, the 8L capacity is perfect for cooking large family meals.
Reliable Warranty

Complete peace of mind

Customer Service

1860 266 0788

Fastest Delivery

Free shipping above ₹799